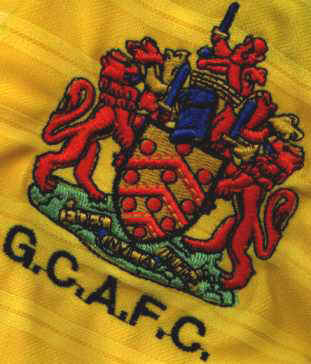 We welcome all contributions to the T-Ender. Send by e-mail to the address above.

Disclaimer
The views expressed on these pages are not those of Gloucester City A.F.C., it's directors, or of any other company mentioned. Neither do they represent the official views of the Gloucester City Supporters Club or its committee.
While we make every effort to ensure information placed here is accurate we do not accept responsibility for errors that may occour. If you do find a mistake please let us know.

All pictures unless otherwise stated are the site's own.

1997/98 Season Review
The Stats
| | | | | | | | | | | |
| --- | --- | --- | --- | --- | --- | --- | --- | --- | --- | --- |
| Lge. Pos. | P--W--D--L--F--A | Pts Total | from Title | from drop | FA Cup | FA Trophy | Lge. Cup | County Cup | Ave Att. | Top Scorer |
| 11th | 42-16-11-15-57-57 | 59 | -30 | +15 | 4th q | 3rd | Q-F | S-F | 637.23 | Mainwaring (18) |
Escape to Mediocrity ?
When the 1996-97 season ended with the bitter disappointment of seeing City narrowly miss out on both a Wembley final and promotion to the Conference the only comfort left for the fans was the promise of next season. However it soon became clear that the successful squad would fall apart as money considerations came to the fore. Outrage ran high as fan favourite and top scorer Dale Watkins was sold to newly promoted rivals Ch@#tenham Town for a cut price fee, soon followed out of Meadow Park by David Holmes, Andy Kirkup and managerial staff Tim Harris and Don O'Riordan. From the outside it seemed new Chairman Rob Thomas was indulging in some ruthless asset stripping -and the fans wanted him out.
However it soon came pretty clear that the financial situation at the club was worse than anyone had guessed, the bills left unpaid by former Chairman Keith Gardener were in danger of swamping the club. The players who remained took a pay cut and manager Rosenior was left with a tight budget to try and meet the fans expectations. The season started with the frustrating inconsistency that was to dog the side all season. Dropped points against weak sides like Hastings, Rothwell and St. Leonards contrasted with hard won victories against Merthyr and away against jinx side Halesowen. However even at this early stage it was clear a title challenge was less likely than a relegation scrap. Without Watkins the side struggled for goals and morale seemed low, Adcock visibly wilting under the pressure of ending City's goal drought. An injury to new goalkeeper Steve Mokler at Merthyr returned David Coles to the City side, and began a period of disastrous instability that almost sank the season by October.
Hope for the club's salvation on and off the pitch seemed to hinge on a money-spinning Cup run, having battled through to the final qualifying round with a mixture of fortune and grit. A home draw against Wisbech Town saw City travel to the Fens for what had become a crucial replay. City stormed to a 2-0 halftime lead on the back of terrific vocal away support, but saw that turned into a 3-2 reverse as players and fans collapsed under a barrage of appalling racist taunts and physical intimidation. Morale slumped further as the great hopes of the previous May became ever more forgotten, gates dropped and the team's form became increasingly erratic. The highs of wins against Bromsgrove and Halesowen were offset by elimination from the County Cup by Forest Green and poor results against Rothwell, Salisbury and Sittingbourne. Matters came to a head with an atrociously lackluster display at Worcester which lead to Rosenior audibly berating his players, only slightly appeasing the frustrated Gloucester fans. Of particular concern was the loss of form of key players like Burns and Cooper, and the general indiscipline of players like Hoskins, Elsey and Mings. City seemed to be staring down the barrel of a relegation gun.
However the Christmas period saw a distinct upturn in fortune. A 1-1 away draw at local table toppers Forest Green seemed inspired by two players: returning 'keeper Steve Mokler who made a string of miraculous stops, and new signing Andy Mainwaring who grabbed City's goal. Mainwaring seemed set to fill the void left by Watkins' departure. This was confirmed as high flying Bath City came crashing to ground with a 4-0 defeat at Meadow Park in front of a rejuvenated T-End. Goals from Mings and Burns were topped by a double from Mainwaring, including a superlative 25-yard chip that convinced City fans they could at last dare to dream of better things. However the cause for the player's new found passion was soon to be revealed to the fans...
In the second week of 1998 Chairman Rob Thomas revealed the full extent of City's financial trauma. The club had to find £85,000 within a fortnight or face extinction with a High Court winding-up order served by the Inland Revenue. Suddenly the lack of success on the pitch was put into perspective as the board and supporter's drew together to insure the survival of the club. Local businesses answered the pleas of the city's MP to help rescue the club, and their donations were more than matched by the fans who dug deep to try and 'Save the Tigers'. Tearful fans traveled to Basingstoke to see City win the 1st Round Trophy tie, knowing it could be the last time Gloucester City played. Few who were there will forget the feelings of united respect and emotion as players, manager, supporters and Chairman applauded each other at the end of the game. Only the release of the next day could beat the sheer energy of that occasion -as Rob Thomas announced a short-term loan from the local council had saved the club. Whilst grown men wept into their chequebooks the club had been drawn together into a close knit community by the crisis, a feeling of shared purpose and mutual admiration linked board and supporters.
The new optimism off the pitch was clearly felt by the players on it, results picked up and a gutsy display against Burton in the 2nd round of the Trophy was rewarded with a nail-biting penalties victory. This took the side to Conference Stevenage fresh from their cup exploits against Newcastle. City battled hard for a draw, and a lucrative replay at Meadow Park. A bruising encounter saw City feel cheated of further progress, but whatever the outcome the tie had swollen the Tiger's coffers a little, and this season was now all about financial survival. Generally better performances saw City push themselves back in to the top half of the table, the highlight of the late season a Mainwaring hatrick in a 4-2 win against Burton. While inconsistency continued to haunt Rosenior with bad defeats at Bromsgrove and elimination from the League Cup at Redditch a seven match unbeaten run gave cause for hope next season. New signing Darren Keeling added much needed pace on the wing, while Mings and Mainwaring seemed to be building a profitable understanding. Midfielder Andy Tucker ran into a rich vein of form that eclipsed his earlier shambolic Autumn, while Gary Thorne furthered his reputation as one of non-league's most accomplished centre-backs and deservedly won the Player of the Year award.
What conclusions to draw? City should be doing better than 11th, even accounting for the loss of quality players like Watkins the remaining squad should have been capable of finishing in the top six. Hopefully with some new additions deepening the squad and better luck with injuries next season should see a promotion push. Much will depend on the continuing development of the Mings-Mainwaring axis up front, while the added experience gained by Holloway, Thorne and Tucker should stand them in good stead next year. Rosenior will be hoping older players like Burns and Mings will display more discipline in the coming campaign, they owe it too younger players to set an example even in a highly charged atmosphere. I think the fitness of Steve Mokler could be crucial as he gives great confidence to the defence in front of him, while Rosenior will be looking to solve the problem left-back position and needs to find creative alternatives in midfield for the injury-prone David Webb. The last campaign was disappointing and we should expect better next year -but the key to success will lie on the form of the T-End almost as much as that of the players. Too often this season the depression of the fans has been tangible to the players, next year the fans will have to lift the players too greater heights, as we know the T-End roar can. The bizarre success of Forest Green and Cheltenham leaves us very much the County's 3rd side, the next season will be vital to us. The financial trouble put the disappointment of the season in perspective, at least we still have a club -but out of adversity can come strength. The current spirit within the club is our greatest asset, we must try and harness it and translate it to victory on the pitch by our vocal support. Most of all, we have to believe -we can do it. As Leroy has said, next season; "losing is not an option".
DML Premier 1997/98 Final Table
| | | |
| --- | --- | --- |
| | | P Pts GD |
| 1 | Forest Green...... | 42 89 +38 |
| 2 | Merthyr Tydfil...... | 42 84 +38 |
| 3 | Burton Albion....... | 42 71 +21 |
| 4 | Dorchester Town.. | 42 70 +25 |
| 5 | Halesowen Town... | 42 69 +32 |
| 6 | Bath City................ | 42 69 +21 |
| 7 | Worcester City....... | 42 69 +10 |
| 8 | King's Lynn............ | 42 65 -1 |
| 9 | Atherstone United.. | 42 63 +6 |
| 10 | Crawley Town...... | 42 63 +3 |
| 11 | Gloucester City... | 42 59 0 |
| 12 | Nuneaton Borough. | 42 57 +7 |
| 13 | Cambridge City....... | 42 56 -8 |
| 14 | Hastings Town.... | 42 54 -3 |
| 15 | Tamworth............. | 42 53 +3 |
| 16 | Rothwell Town....... | 42 49 -18 |
| 17 | Gresley Rovers....... | 42 48 -18 |
| 18 | Salisbury City....... | 42 48 -19 |
| 19 | Bromsgrove........ | 42 45 -18 |
| 20 | Sittingbourne...... | 42 44 -19 |
| 21 | Ashford Town..... | 42 29 -51 |
| 22 | St Leonards........ | 42 25 -49 |
End of Season League Movement
Dr. Marten's League Premier Division
Promoted as Champions: Forest Green Rovers
Runners Up: Merthyr Tydfil
Relegated:* Sittingbourne, Ashford Town, St. Leonards Stamcroft
*Bromsgrove avoid relegation due to Chelmsford being denied promotion on ground standards.
Dr. Marten's League Midland Division
Promoted as Champions: Grantham Town
Also promoted: Ilkeston Town
Dr. Marten's League Southern Division
Promoted as Champions: Weymouth
Runners Up: Chelmsford City*
*Chelmsford City denied promotion due to the standard of their ground at Billericay.
GM Vauxhall Conference
Resigned to join the Ryman League: Slough Town
Relegated to the Unibond League: Gateshead, Stalybridge Celtic
Feeder League Reshuffle
Entering the DML Premier: Boston United move from the Unibond League.