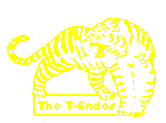 We welcome all contributions to the T-Ender. Please send any material for the site by
email to the address above.

Disclaimer
The views expressed on these pages are not those of Gloucester City A.F.C., its directors or officials, or of any other company mentioned. Neither do they represent the official views of the Gloucester City Supporters' Club or its committee.
While we make every effort to ensure information placed here is accurate we do not accept responsibility for errors that may occour. If you do find a mistake please let us know.

All pictures and material unless otherwise stated are the site's own and is
© www.t-ender.co.uk
All material may be reproduced with permission and appropriately attributed.
Money - where it's gone...
Being a sad catalogue of financial intrigue and ineptitude,
perhaps in some places 'fictional', sadly not in all...

For those of you new to the tangled web of City's financial plight this is a summary of our position with what has been said, suggested and happened. However with so many inconsistent statements and so few clear answers this cannot be offered as a definitive factual statement...

Includes:
Summary of Club's Accounts & Debts as Last Filed
Chronological List of Comments on City's Finances since May 2000
Links to historic financial quote's; Supporter's Views; Companies House

It should be remembered that whilst every effort has been made to present all the events in chronological order I can make no absolute claim that any of this is either right or true. City's finances are not easy to follow, even without all the apparent smoke and mirrors.
All figures are approximate as reported, not all opinions expressed are those of the site owners, all stories or quotes taken from the local press are used in good faith, failure to keep up payments may result in your browser being repossessed, stocks and shares can go down as well as up, in some cases white may be black, and a whole lot of other qualifications and riders to try and prevent any of this being seen as libelous in any way at all...





Useful Links

Details of current Gloucester City commercial activity

Fans can also check on official records held on the club at Companies House.
The club is registered as a private limited company under the name Gloucester City AFC (1980) Ltd.
It was incorporated on the 14th February 1980, and is company number 01479143.

Financial Comments - pre 2000
Supporters Club News (including aims of the club re. finances)
Current News & Gossip
Archive of Old T-Ender Articles

Account Summaries

Last Full Accounts 30/6/02

Turnover dropped again from £129,473 in 2001 to £102,739 in 2002.

Operating profit rose from £20,025 in 2001 to an increased profit of £22,322 in 2002.

In 2000 a total of £141,449 worth of director's loans were written off. This made a large contribution to an overall profit of £108,331 for 2000. In 2001 this was added to be an overall profit of £3,751 and in 2002 a further increase to £8,463.

The amount owed to creditors with one year was £178,452 in 2000. This increased slightly to £184,424 in 2001 before dropping back to £171,481 in 2002.
The amount owed to creditors over a period longer than a year in 2000 was £387,716. this had dropped slightly in 2001 to £383,965 and again in 2002 to £375,502.

Meadow Park as freehold property was revalued on 24th January 2000 and was considered to have £140,000 marketable value. It had previously been valued in the accounts at £300,000.

At the AGM held at Meadow park on 30/3/03 shareholders agreed to back a decision to effectively split the club from both the Meadow Park stadium and the historic debt which has proved an obstacle to long term investment. Under the arrangement the bulk of the current £625,552 debt will pass to a new holding company owned by major shareholder Eamonn McGurk and his wife. The debt is secured on Meadow Park and will be repaid by City at £40,000 a year, with Gloucester City effectively becoming tenants on a secured 7 year lease. The plan immediately opens the way for expansion of the board as directors will no longer be responsible for the previous debt, instead being left with a more manageable amount of approximately £45,000.

Summary Comparison of Recent Accounts

| | | | | | | |
| --- | --- | --- | --- | --- | --- | --- |
| | 2002 | 2001 | 2000 | 1999 | 1998 | 1997 |
| Turnover | £102,739 | £129,473 | £181,565 | £330,000 | £659,000 | - |
| Gross Profit | £89,996 | £115,121 | £151,161 | £239,000 | £554,000 | - |
| Wages & Expenses | £40,648 | £52,955 | £96,587 | £247,915 | £292,139 | £322,453 |
| Creditors Due in 1 Year | £171,481 | £184,424 | £178,452 | £363,417 | £214,869 | £555,188 |
| Creditors Due more than year | £366,279 | £350,443 | £356,120 | £288,301 | £305,766 | £273,751 |
| Profit/(Loss) | £8,463 | £3,751 | £108,331 | -£319,000 | £105,000 | - |

Figures at Previous AGM on Next Page

Summary of Current Known Creditors

Creditor
Type of Debt
Amount
Due

Barclays Bank

Mortgage

£134,815

Loans 28/12/04
& 16/08/06

Barclays Bank

Loans & Overdraft

£1,730

Within Year

Tax & DSS

Debt

£55,109

Immediate

Britannia Homes

Debenture

£100,000

31/07/15

Various

Loans & Credit

£15,374

Within Year

FA

Loan

£3,429

29/01/03

Bass

Loan

£24,895

2018

Various Trade

Debt

£95,250

Within Year

Deferred Income

=

£16,961

Within Year

Various

Longterm loans

£4,435

Various 2003+

EMG Ltd.

Interest Free loan

£89,018

Open
Debts with Claim on Meadow Park

(as returned to 31/12/01)
Total of 12 Mortgage Charges
Entitled Persons
Date
Registered
Value
Type

Barclays Bank

31/10/85

As Mortgage

Legal Charge

Barclays Bank

8/5/89

As Mortgage

Legal Charge

Clifton Homes

2/8/90

As Loan

Mortgage

Barclays Bank

26/11/91

As Mortgage

Debenture

Carlsberg-Tetley

24/9/94

£220,000

Mortgage Debenture

Carlsberg-Tetley

24/9/94

£220,000

Legal Charge

Keith Gardner

25/11/95

£36,000

Legal Charge

Carlsberg-Tetley

29/8/96

As Loan

Legal Charge

Carlsberg-Tetley

29/8/96

As Loan

Legal Charge

EMG Ltd

17/12/99

As agreed 3/10/97 ?

Mortgage

Sarah Christie

17/12/99

£35,000

Mortgage

EMG Ltd.

29/11/00

£89,018.19

Legal Charge
Significant Shareholders

(at 31/12/02 - holders of 5000 plus)
Name

Holding

E McGurk

69,000 (46%)

P Duncliffe

16,900

T Newport

10,000

C Hill

8,430

D Phillips

6,638

P Barnes

5,000

R Wallace

5,000

Financial News since 2000

6/2/04 - Colin Gardner tells a board meeting that he intends to resign as Chairman and step down from the board of directors at the end of the current season. He cites having paid £55,000 to keep the club stable over the last two and a half years and says, "I am not prepared to be a 'cheque-book chairman and that is what I am becoming. I am practically down at the club every day and I am supposed to be retired."

His resignation letter states City should be self-funding but having already written off an earlier loan he has now had to put in a further £10,000 and takes his contribution this season to over £25,000.


9/1/04 - Colin Gardner is proposing to split the current board of directors into two, with a non-executive section overseeing the football side while the remaining board of executive members concentrate on fundraising.Gardner believes the step may help the club move forward and concentrate efforts on bringing in the additional resources needed to build the club. He told fans "We have already made a £10,000 profit this season and we expect to double that by May." Up to six other directors who are not actively contributing to the club will be asked to formally step down, possibly to make way for new people who may be able to bring in fresh funds or expertise.


9/10/03 - Colin Gardner writes off a £10,000 debt owed to him by the football club from the period before he re-joined the City board. He has also persuaded former director Brian Cook to write off a debt of £3,600 debt owed to his company Whitehouse Press. The deals now reduce the club's debt to £30,000.


9/9/03- Chairman Colin Gardner issues an ultimatum – help me raise funds or I'll leave at the end of this season. Gardner had high hopes for the new board that was expanded in the summer, but complained that many of the new appointees are not making the contribution expected. Gardner told The Citizen, "I am advertising for four new directors as I simply won't let the current directors get away with doing nothing. If that is their attitude they will have to go. If the board raised as much as the Supporters Club there would not be a problem."


28/7/03 - Striker Jimmy Cox signs a two year contract at Gloucester City, becoming the first player to sign a contract with City since August 1999 when the club broke the terms of existing contracts and were placed under an FA embargo. This was only lifted in May 2002 after donations from the Supporters Club helped clear the contract dispute with former players.


30/3/03 - Shareholders at the club's AGM unanimously backed a decision to effectively split the club from the Meadow Park stadium and the historic debt which proved an obstacle to long term investment. Under the arrangement the bulk of the current £625,552 debt passes to a new holding company owned by major shareholder Eamonn McGurk. The debt is secured on Meadow Park and will now be repaid by City at £40,000 a year, with Gloucester City becoming tenants on a secured 7 year lease. The plan opens the way for expansion of the board as directors will no longer be responsible for the previous debt, instead being left with a more manageable amount of approximately £45,000.

Shareholders also approved 2001/2 accounts showing that despite a drop in income to £102,739 from the previous year's £129,473 a major decrease in expenses saw City's overall profit increase from £3,751 in 00/1 to £8,463 in 01/2. This decrease is partly due to another fall in wages and expenses from £52,995 to £40,648 in 01/2. A further factor behind the increase in profit is the efforts of the Supporters Club to take on additional costs from the main club, match & travel expenses fell by £5,447 while cleaning expenses fell by £1,850.

Chairman Colin Gardner also announced a major sponsorship deal with Keyway, to run for five seasons. The first two seasons will bring in £20,000 per season for sponsorship of the T-End stand and City shirts. The remaining 3 years of the deal will be dependent on what division City is in at the time. Long term Gardner hoped City would move to a new development next to Meadow Park, and City will apply for planning permission to do this next season. However these plans may be frustrated by problems with the exact point of a new access road from Spinnaker Road, ironically details supported by the football club but opposed by the Supporters Club at a planning inquiry two years ago.


2/2/03 - Colin Gardner has agreed a sponsorship deal with local insurer Brunsdons who have agreed to provide the club's cover for the coming year. The deal is worth in excess of £5,000 as Meadow Park has suffered from severe flooding as well as a series of break-ins in recent years. Owner Eamonn McGurk has also negotiated a £2,500 sponsorship deal through his business contacts with Molsons, suppliers of excavating equipment. The double boost comes together with news that the club is set to report a profit for the past year of approximately £8,000.


28/11/02 - City's Supporters Club have now raised a total of more than £30,000 since being reconstituted in February 2001. The money raised by the 184 members is all put towards specific costs passed from the football club and is aimed at leaving City's board free to put more money into stabilising the Tigers' long standing debts. City's main debt has meanwhile remained settled, mainly thanks to the contributions of Eamonn McGurk paying £500 weekly to the Inland Revenue and Colin Gardner paying regular sums to cover the local authority rates owed by City.


29/7/02 The Gloucester Citizen issued an apology after an error strewn article printed the previous Saturday. The page 3 article outlined the decision of local police not to proceed with a fraud investigation against former City chairman Tracy Newport. The paper implied an association with the financial allegations against Newport and the cash crisis at the football club. Unfortunately the witless reporter and clueless subs failed to remember that Tracy Newport had ceased to be City chairman in the immediate wake of the allegations made against him and was formally replaced by highly respected local businessman Colin Gardner back in December 2001.


17/3/02 - City shareholders unanimously passed the accounts for both 2000 and 2001. Accounts show that City made a profit of £108,331 in 2000, largely due to the clearance of directors loans of £141,449. City then made a small operating profit of £3,751 in 2001. City's expenditure has steadily fallen over the years as City cut their budget to more realistic and sustainable levels. In 1997 City's wage bill was a massive £322,453, falling steadily to £96,587 in 2000 and £52,955 in 2001. The overall impact of these savings still leaves City's debt payable in the next year at £184,424, a considerable sum, but more manageable than the £555,188 shown on Keith Gardner's departure in 1997.


21/1/02 - City settle contract dispute with former players Nigel Niblett and Nathan Wigg for a sum understood to be a total of £4,750, with half of the money donated by City's Supporters Club. Once the settlement is cleared by the FA City will be allowed to offer players contracts after a longstanding embargo.10/11/01 - Colin Gardner is confirmed as the new Chairman by a City board meeting. He replaces Newport who remains on the board but steps aside to concentrate on his legal problems.11/10/01 - Tracy Newport tells fans that the £18,000 debt to Banks' Brewery has been cleared. This is believed to be the same money that has been referred to as owed to Bass and the Wolverhampton & Dudley Brewery.


3/10/01 - Chairman Tracy Newport the future of the club was bleak unless fans and shareholders began helping the club. The last six months accounts were available to view, although others were said to be at accountants in preparation for the next AGM.
It was revealed the club is continuing to run at a loss this season, partly due to lost revenue caused by the flooding, but also because the player's wage bill remains over the £1500 per week budget. Long term debentures were also discussed, with £50,000 still owed to Y.J. Lovell (formerly Britannia Homes) and a further £18,000 to Wolverhampton & Dudley Breweries (formerly owed to Bass). A Club AGM is planned for early March.

A new debt in the region of £1500 has been discovered, an amount outstanding on the transfer of Adie Mings from Bath City way back in 1996.


14/01/01 Tracy Newport had threatened legal action after a newspaper suggested the players were not being paid but now admitted that lack of income had left the club with no option but to let the wages slip in weeks no games had been played. The club faces a fresh £500 fine for submitting late paperwork. City fans arrange a meeting to discuss action to address some of the club's problems.


10/01/01 Newport denies rumours the players have been unpaid during the flooding problems and again denies major shareholder McGurk is planning to sell the ground. He also tells the fans that they continue to seek new investment and that the club's books are open to scrutiny. Days after that newspaper interview football secretary Jason Mills quits complaining that "issues surrounding the club are not being taken seriously" and that he has lacked co-operation from the board.


15/12/00 Floods close Meadow Park causing thousands of pounds of damage. While the insurance will cover much of the cost of replacing lost equipment and ground damage the floods add to City's cash flow difficulties.


27/11/00 Tracy Newport says the club's "making headway with the finances" and that the FA's new Financial Compliance Unit are watching and remain happy with the club's position. He is meeting the £2,500 bill to former Manager Brian Hughes for unfair dismissal . The AGM covering the 1999/2000 season was now likely to take place in mid-March.


12/8/00 The City Supporter's Club are hit by a County Court summons for £700 relating to the delivery of the portakabin used as the club shop. The summons is beyond the settlement date but would appear to have been held by City for some period of time. The Supporter's Club had received no previous documentation relating to the debt.


8/8/00 Tracy Newport hints at a supporter's forum that there was a possibility that the club may be considering asking the police to look into the club's past affairs with a view to instigating criminal proceedings if there was found to be a case to answer.

The industrial tribunal against City brought by Brian Hughes is adjourned due to irregular paperwork. At the tribunal Newport is unable to produce evidence of a meeting when he claims the decision to sack Hughes was made. City remain unable to sign players on contracts, or to obtain FA grants, until the dispute with Wigg and Niblett is settled. Both players are reported to have filed cases in the County Court.

The playing budget for 2000/1 has been set at £1500 p/w. An AGM is announced for the 24th August, although this is outside the mandatory legal 21 days notice. The club's accounts are expected to be received by shareholders "shortly". Newport also told the meeting that the VAT repayment was up to date, and the Inland Revenue debt remained on a steady payment plan. The club's current debts are estimated to be £400,000.


3/8/00 Departing player Nigel Niblett continues to claim £3,900 he alleges is owed him from his contract. One other player, Nathan Wigg, continues to have a similar claim against the club.

Tracy Newport tells The Citizen "Unfortunately we do not have the funds to pay all the demands on us from the two players and Brian Hughes, and we have to ask the question, do we play football or do we go bust? I will not allow the club to be used or abused by outsiders as it was last year." Football director Richard Bull resigns from City's board to take over at newly formed Gloucester United, Commercial director Daryll Cox quits due to pressure of work.


23/6/00 The planning appeal regarding the proposed access road to Meadow Park found against developers Bishop & Brody and ordered them to complete access from Spinnaker Road through to Sudmeadow Road. the road is likely to enter directly on to land now owned by Eamonn McGurk's EMG and Mothel companies.

The new access brings to an end a struggle for the second access point that has been ongoing since the ground was built. It is up to the developers to now make a move towards completing the road.


10/5/00 The public inquiry into the access road to the Meadow Park area held at Gloucester City Council saw the club claim this access was part of the original plan when Meadow Park was built, and that the providing of access was a condition for the planning approval given for Spinnaker Road to be built. The company responsible for this, Bishop & Brody, challenged whether they still had to provide this access. The City board further want this access to be to the adjoining land, the land now owned by majority shareholder Eamonn McGurk.

City supporters at the inquiry opposed this, asking for the original access to the rear of Meadow Park and for this access to be limited to the land's use by the football club. During the inquiry the directors also stated that the land adjoining Meadow Park had been available to supporters as car parking throughout the past season, when it has been fenced off since August. This land was also discovered to be in the name of a third McGurk company called Mothel, not EMG as previously believed. The council also learnt for the first time of the change in usage of the Fieldings area, which they believed to be still in use as football pitches. One of the planning applications made in the name of Gloucester City for the McGurk owned land has had to be withdrawn as it wrongly included an assertion that consultation had taken place with Gantry.


15/04/00 Chairman Tracey Newport states the repayment of debt to the Inland Revenue continues at £2000 a week. A newspaper article the same day places the repayment at £1,000 a month. the board have plans to increase next season's playing budget slightly from the current £500 p/w and are looking at renting back the social club from Eamonn McGurk. The current tax bill is £18,856.9/3/00 At a meeting between the board and fans Eamonn McGurk promises not to build on Meadow Park at present, although he "can't see into the future". McGurk confirmed that with his wife and brother he owns a majority of the club. There were no answers to more searching financial questions.


07/03/00 The City board is to consider the offer from Colin Gardner to buy the shares of Eamonn McGurk, currently the majority shareholder at the club. Chairman Tracey Newport revealed that the 32,000 shares returned by former Chairman Rob Thomas had been bought by current directors Tracey Newport, Richard Bull, Darryl Cox and McGurk's wife Sarah Christie whose purchase guarantees McGurk a controlling share of the club.


05/03/00 Newport accuses former chairman Rob Thomas of lying to supporters in the Pink Un, accusing him of telling fans "what they want to hear. I only tell the truth and people don't always like the truth." He also claims to have been misquoted in The Citizen saying that club's debts "were close to zero" meant debts were closer to zero, having cleared £250,000. Newport also said the accounts inherited from Thomas were "a complete mess", but the books are now in order. Newport is unable to explain the resurfacing of a VAT bill dating between 1991-94. He also stated independent valuers have said Meadow Park is worth £100,000, but the club's debts are now "virtually five times the valuation of the stadium".


03/03/00 Former director and multi-millionaire Gloucester businessman Colin Gardner offers to buy both the shares of main shareholder Eamonn McGurk, or the 30,000 shares returned to the club by former Chairman Rob Thomas in November. 01/03/00 Supporters meet to discuss the position of the club following the sacking of Brian Hughes and latest reduction of the wage bill. The general attitude of the board in their personal dealings are condemned, but issues regarding finance and planning are also discussed. Hughes confirms he had only been receiving money for contract players, with non-contract players and himself being unpaid by the board. Four planning applications are in place on the Meadow Park area, all in the name of Gloucester City rather than EMG. They are to develop the whole site for business use, to build an office block on the current Fieldings changing rooms, to redevelop a two tier cafe and bar on the old social club and lastly to build a lorry park on part of the site. Only this last application has been approved by City Council planners. The Spinnaker Road access is subject to a public inquiry on May 9th which will decide if Pressweld have to pay for the access road. Access was an original condition of building the ground back in 1986.

23/02/00 A letter from non-executive director Chris Hill states that the club has received a winding-up order from Customs & Excise for an £8,000 debt, with the Inland Revenue owed £28,000 payable by April '00. The council is also owed £10,000, although the bank is apparently content with the club's current plans. The letter explains fencing of the car park as intended to increase pressure on the council to grant access through Spinnaker Road.


22/02/00 The board slash the weekly playing budget to £500 and cancel the contracts of the 9 remaining contract players. The board's statement places the budget as having been £2000 a week, some directors quote a figure of £2,500 while supporters believe the figure to be £1800 with only nine players being paid by the board.

It is stated the club is running even on a current basis, but this leaves long-term debts including some going back to 1991. Bills outstanding include those from the VAT, PAYE and vaguely, loan repayments, according to The Citizen including council rates on the social club. The board claims to have wiped out £250,000 of debt since taking over in July. Subject to planning a backer has been found to redevelop the social club site with a September opening target.06/01/00 Chris Hill's latest letter claims £120,000 of director's loans have been written off. This includes money that Rob Thomas has written off, along with the £8,000 owed to Colin Gardner and the unpaid wages owed to Mike Bullingham. However the club is still losing around £400 every match day. City still have four main debtors: Inland Revenue, Customs & Excise, Bass Breweries and Banks's Brewery. The playing budget is currently set at £2,000 a week.

New recruits to the City board are named as Colin Hygate (Managing Director of Environmental Solutions, a waste management, pollution control and brown field development consultant), Paul Duncliffe (a planning consultant), Richard Bull and Darryl Cox.