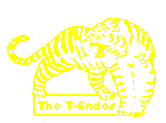 We welcome all contributions to the T-Ender. Please send any material for the site by
email to the address above.

Disclaimer
The views expressed on these pages are not those of Gloucester City A.F.C., its directors or officials, or of any other company mentioned. Neither do they represent the official views of the Gloucester City Supporters' Club or its committee.
While we make every effort to ensure information placed here is accurate we do not accept responsibility for errors that may occour. If you do find a mistake please let us know.

All pictures and material unless otherwise stated are the site's own and is
© www.t-ender.co.uk
All material may be reproduced with permission and appropriately attributed.
Jon Holloway

Position:

right wing-back

DoB:
Age:
Birthplace:

11 February 1977
-
Swindon

City Career
Transfer Details: One of Rosenior's first signings as a free transfer from Swindon Town on 20th March 1996.
City Debut: Vs. Atherstone United (a) SLPD, 23 March 1996, Lost 2-1.
City Stats
1995/6: 10 Apps, 2 Goals,
1996/7: 46(4) Apps, 1 Goal, 0 Shut Outs
1997/8: 53(1) Apps, 4 Goals,
1998/9: 50(2) Apps, 7 Goals
Totals: 159(7) Apps, 14 Goals, 0 Shut Outs

Career Club History: Swindon Town, Gloucester City, Bath City, Worcester City, Forest Green Rovers, Redditch United, Merthyr Tydfil, Bath City
Honours:

FA Trophy Semis 97/8, Bath City PoY 00/1

Pen Pic:

Was a firm T-End favourite for his whole hearted displays and pillaging forward forays, and was even lucky enough to be sponsored by this very website in one of it's earlier incarnations. A battling player who always played like a fan, and earnt extra Brownie points for never forgetting to applaud the supporters home or away. His popularity made his departure following arguments over the club's financial problems even harder to understand, especially as he was accused by Hughes of lack of commitment to City. Was snapped up on a free by near rivals Bath, despite having a contract running until the following May. Has gone on to play for Worcester, Forest Green and Merthyr before returning for a further spell with Bath City. Sadly niggling back trouble forced him to stop playing in October 2006, hopefully just a temporary break to rest his injury as it would be sad for him to have to bow out so young.
Holloway was a first year pro at Swindon and a transfer target for Scarborough when signed by City. Despite his training he arrived at Meadow Park very raw, his enthusiasm often bubbling over in to unnecessary bookings and poor positioning. Demonstrated his courage early in his City career by going in goal in 96/7 season's crunch clash with Gresley following David Coles' dismissal. Jon gradually mellowed in to an accomplished attacking wing-back and was rewarded on occasions by the captain's armband in the absence of Gary Kemp. Also showed an improved nerve as he finished the 98/9 season as the side's penalty taker crashing home several vital spot kicks, all celebrated with a characteristic show of passion overload.
| | |
| --- | --- |
| | |
| | Sponsor your favourite current City player for £50: Contact Trevor King. |