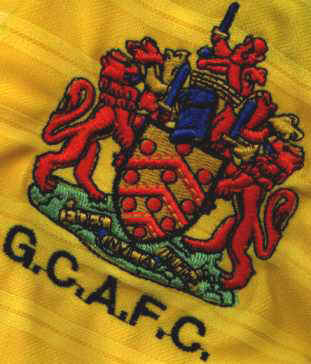 We welcome all contributions to the T-Ender. Send by e-mail to the address above.

Disclaimer
The views expressed on these pages are not those of Gloucester City A.F.C., it's directors, or of any other company mentioned. Neither do they represent the official views of the Gloucester City Supporters Club or its committee.
While we make every effort to ensure information placed here is accurate we do not accept responsibility for errors that may occour. If you do find a mistake please let us know.

All pictures unless otherwise stated are the site's own.
Gloucester City Youth
2002-2003
Gloucester City's youth team features players up to the age of 18. The side plays in the Southern Division of the Midlands Floodlit Youth League and has had a great deal of success over the years. The MFYL Southern Division title was won in both 1998/99 and 2000/01. Last season they finished a highly credible 5th in the division.

The side also has a strong record of producing players who go on to play for the Gloucester City first team. Some recent graduates include club captain Neil Griffiths, Steve Jenkins, Lee Smith, Tom Webb, Will Steadman and Matt Taylor. Current City player-manager Chris Burns has also previously managed the City youth team.
Current youth team boss is Kenny Blackburn who also manages Gloucester United in the Hellenic Premier Division.

The Youth Team play home games at Meadow Park and are always grateful for support with matches normally great entertainment. The youth team receives financial support equivalent to £50 a week from Gloucester City Supporter's Club, but is also seeking further sponsorship to cover kit and travel costs.


Fixtures & Results
Date
Opponents
Result
Scorers
Pershore Town (h)
1-0
Foxwell
2nd Sep. '02
Hereford United (h) FAYC1q
6-2
Foxwell(2), own goal, Walder, Surman, R.James.
9th Sep. '02
Evesham United (a)
2-1
Walder, Harris
16th Sep. '02
Salisbury Town (a) FAYC2q
1-2
Pyne
25th Sep. '02
Alvechurch (h)
4-2
Harris(2), Walder, Foxwell
7th Oct. '02
Kings Heath (h)
0-3
14th Oct. '02
Hereford United (h)
0-3
28th Oct. '02
Leamington (a) MYFL Cup
0-1
18th Nov. '02
Pershore Town (a)
5-2
Walder (4), R.James
1st Dec. '02
Deerswood (a) GFAYC1
6-2
Pyne (2), R.James (2), Walder, McBride
2nd Dec. '02
Malvern Town (a)
1-1
Walder
9th Dec. '02
Evesham United (h)
2-2
16th Dec. '02
Cirencester Academy (h) GFAYC2
5-3
23rd Jan. '03
Hereford United (a)
0-0
28th Jan. '03
Bromyard Town (a) HFAYC1
6-2
Walder (4, 1pen) R.James (2)
3rd Feb. '03
Worcester City (h)
0-3
10th Feb. '03
Bromyard Town (h)
7-2
Palmer (2), Walder (3), Thornton, Harris
26th Feb. '03
Bromyard Town (a)
3-2
Palmer, Walder, R.James
3rd March '03
Wellington (h)
2-2
Palmer, Harris
10th March '03
Newent (h) GFAYC SF
3-1
Palmer (2), Thornton
12th March '03
Kidderminster Harriers (a) HFAYC QF
0-9
17th March '03
Alvechurch (a)
2-2
24th March '03
Malvern Town (h)
0-2
3rd April '03
Castle Vale (a)
1-1
10th April '03
Cinderford (a)
1-1
22nd April '03
Worcester City (a)
1-1
26th April '03
Cinderford Town (h)
6-1
5th May '03
Filton College
(@ Shortwood) GFAYC Final 4pm
tbc
Wellington (a)
Season top scorer - Danny Walder with 14 league goals.

City Youth 2001-02
Gloucester City AFC Fixtures 2002-03
Index