City battled well in this clash between two in-form teams but ultimately our lack of strike power showed as the killer blow was never found.

With Baylo, Cox and Hoskins all sidelined with injury City boss Chris Burns joined Adie Harris as a makeshift forward line. At the back Steve Jenkins suspension saw Wilkinson given another opportunity to perform at the back. Both teams looked confident as the match started and with good cause, both teams having strung together good recent results.

City started the stronger of the two teams and applied some pressure on the visitor's defence in the opening spell of the game. Burns and Harris both worked well down the left to create an opening, but the problem that was to dog City all game was quickly evident as both players realised they had no-one in the box to pass to. Minutes later Webb was tripped and from the resulting Mustoe free kick Griff climbed highest but his header was only just past the post.
The ref then made the first of a number of crucial mistakes that played a big part in City's failure to get all three points. A deep ball from Thompson saw Lee Smith sprint in from the right to catch the Rugby keeper by surprise. Smith seemed to reach the ball just before the keeper and knocked it past him before rolling it into the net. However the ref indicated his challenge had involved a high foot, although Smith's challenge had looked below waist height. That seemed to galvanise City into further action and only alert United defending stopped Smith and Burns having further chances to shoot at goal.
After this City seemed content to bide their time and this allowed Rugby to come more into the game. For all their occasional wild and sliced clearances the visitors looked strong and well organised. Their attack though looked a little goal shy and when they pressed forward they tended to find Neil Griffiths in close attendance. On one occasion they did worry the City goal. Mustoe was caught napping as they sped past him on our right and their winger cut the ball across our goalmouth, thankfully beyond the reach of their forwards. It wasn't long before their players were becoming frustrated and Dutton was lucky not to be booked for pushing and then trampling on Griff.

Having seen one shot fly across an open goal at our end we did much the same to Rugby. Craig Temple was found by Adie Harris and the left-back's drilled cross seemed to catch everyone out. While Rugby's defence watched Tom Webb sprinted into the area, only to fail to collect or control the ball and the chance was lost. Moments later Smith missed a good chance at the far post, but then did much better with a short run and drive that forced a good stop from the United keeper.

The second half saw the injured Temple replaced by Gary Marshall who joined Chris Burns up front. The new arrival did not bring any extra pace or direction to the attack though, and the match was becoming more an absorbing midfield contest. The game ebbed and flowed with several crunching tackles and neither team really dominating for any length of time.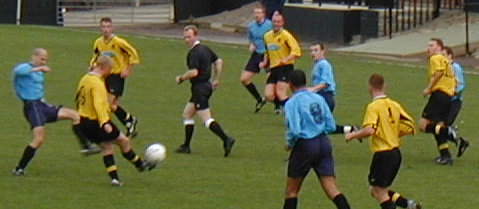 City try to prise open a midfield opening
Rugby had several chances to score, but were largely restricted to shots from distance as the defence looked more assured than City fans have become used to. Griff in particular had a solid and impressive performance. The visitors created one clear chance just after the break, but the shot eventually was placed wide. Only one of their many efforts from outside the box really caused concern, but Matt Bath again demonstrated his talent with a full length dive to tip it past his post.
City meanwhile were playing some excellent football in midfield, but really did lack that extra penetration in the area. Mustoe was at the heart of some excellent passing moves, while both Webb and Thompson showed good skills on several strong runs that carried them past defenders. Ultimately though City struggled to create shooting chances. Perhaps the best came when Marshall's corner fell to Neil Mustoe on the edge of the area, his drilled shot took a deflection and Pearcey in the Rugby goal did well to adjust and push it past the post.

As both sides got more desperate the game was getting more fractious. The ref did little to help with a reluctance to book players for bad challenges and another strange decision that cost City dear. Another good Chris Thompson run saw him exchange passes with Mustoe before swerving a shot into the Rugby goal. However for the second time City saw a goal written off as the ref decided he'd stopped the match before hand for a head injury to a Rugby player. Needless to say he recovered miraculously, a piece of gamesmanship that followed Rugby having earlier attacked from a throw-in after City had put the ball out for a player to receive treatment. Not long afterwards the ref made a hash of a City free kick, failing to see Nathan Thompson kick out at Gary Marshall, nor the punches thrown in the following scuffle. He ended the game with only one booking between the two sides when he decided even he couldn't avoid booking a Rugby player for trying to punch Neil Mustoe.
The best of the game came in the last five minutes as City enjoyed the better of a barnstorming finish. Adie Harris was involved at both ends. First he found himself making a crucial last-ditch tackle in our area before popping up at the other end charging past two Rugby players before his momentum saw him over run the ball as he got to the by-line. At the end City had perhaps their best chance, Thompson finding himself with the ball six yards out from goal. He turned but with the goal at his mercy his shot was weak and straight at the keeper. City pushed further, but still couldn't make that vital breakthrough.
City deserved their applause as all the team put in real effort today, although we may need to look again at our forward options if our three injured strikers don't recover soon. Burns did well up front at Ciren, but he didn't look to have the pace or movement to create chances in this game. Despite the lack of goals this was an entertaining contest and certainly not a performance or result that should leave City fans at all downcast. Our defence looked competent when under pressure and again we played some good football that on another day may have got greater rewards.