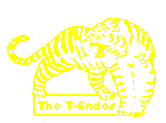 We welcome all contributions to the T-Ender. Please send any material for the site by
email to the address above.

Disclaimer
The views expressed on these pages are not those of Gloucester City A.F.C., its directors or officials, or of any other company mentioned. Neither do they represent the official views of the Gloucester City Supporters' Club or its committee.
While we make every effort to ensure information placed here is accurate we do not accept responsibility for errors that may occour. If you do find a mistake please let us know.

All pictures and material unless otherwise stated are the site's own and is
© www.t-ender.co.uk
All material may be reproduced with permission and appropriately attributed.
Neil Mustoe

Position:

central midfield

DoB:
Age:
Birthplace:

5 November 1976
30
Gloucester

City Career
Transfer Details:

Returned to City on the eve of the season in August 2003 after injury had disrupted a pre-season trial at Conference club Telford United.

City Debut:

v Atherstone United (h) SLWD, 17 August '02, Lost 2-1.

City Stats

2002/3: 33 Apps, 0 Goals
2003/4: 47(3) Apps, 1 Goal
2004/5: 40 Apps, 2 Goals
2005/6: 27 Apps, 4 Goals
2006/7: 45(4) Apps, 0 Goals
2007/8: 19 Apps, 0 Goals
Totals: 211(7) Apps, 7 Goals

Managerial Record:
P-1, W-0, D-0, L-1, Gls-4, Ag'st-5.

Career Club History: Robinswood, Manchester United, Wigan Athletic (1(1)), Cambridge United (116(30) -4), Cambridge City (loan), Gloucester City, Stevenage Borough (2(2)), Yeovil Town, Gloucester City, Cirencester United (loan 06/7)
Honours: England u-16s 5 Caps, FA Youth Cup Winner 1995, Football League Division 3 R-up 98/99, Cambridge United PoY 98/99, DML Western R-up 03/4

Pen Pic:

Mustoe is a vital midfielder who plays with the emotion and commitment you'd expect from a Gloucester born footballer playing for the the club he watched and supported as a boy. Now in his second spell with City and seems settled in the club having given up hopes of a return to League football and repeatedly rejected lucrative offers from other local clubs to stay at Meadow Park. Became something of a local celbrity as a youngster when he was picked up by Manchester United and appeared for England schoolboys, but despite a regular role in the Old Trafford reserve side it was once at Cambridge United that he found regular first team football. Despite success there injury and back problems led to him being released at a time when few clubs were taking on new players and initially headed to Meadow Park to keep himself match fit whilst pursuing trials with other pro clubs. Returned to Meadow Park for a second spell in June 2003 and has become a central fixture in the centre of the City midfield where he covers every inch of the pitch in hunting out the ball and closing down opposition attacks. His experience shows in the cover he provides for his defence and his steady distribution which is often the start of City's forward forays.

Mustoe looks to be returning to his best in the autumn of 2006 after recovering from a terrible double leg fracture sustained after a horror challenge in a relegation showdown match against Evesham United in February 2006. That saw Mustoe miss the rest of the campaign and only back in action as the new season started, but his determination in getting back to full fitness speaks volumes for his character and determination. That had already been in evidence for City fans as Mustoe has rejected several financially rewarding offers from other non-league sides, but made it clear if he was to settle into the semi-pro world he would rather enjoy his football at Meadow Park than get more money elsewhere. His experience and leadership skills made him a natural choice to briefly take over as temporary manager in January 2006 when Chris Burns resigned from the club helm, but despite showing great loyalty in agreeing to take the reigns he will have been relieved to be able to return to concentrating on playing when Tim Harris took over the manager's job on a permanent basis.

Mustoe is a tough tackling tenacious midfielder with plenty of talent on the ball and the experience to know how to use it. He previously spent some time at Meadow Park with the Gloucester City youth team before leaving for Manchester United. Must have had mixed feelings about his return to City colours, but he is a player who gives 100% and has even described as playing for City as a dream come true! Works exceptionally hard and can produce defence splitting passes altough he is often the kind of player whose contribution is sometimes missed by fans with an eye on attacking rather than defensive aspects of the game. Mustoe is also a familiar figure to Southern League referees, and whilst Mustoe has learnt to temper his crticisms there's no doubt he feels the drop in refereeing standards in the onon-league game - the fact he's often right doesn't really help when the ref reaches for the cards. The only part of his game sorely lacking is goalscoring, and even missed several penalties before finally breaking his duck. Since then he has enjoyed some better form from the spot, scoring a vital winner last season at Cirencester and in the dramatic FA Trophy shoot-out win over Tiverton.

Neil began his career in local football before being courted by a host of clubs from Bristol Rovers to Chelsea. Signed for boyhood heroes Manchester United and went on to earn England Schoolboy international honours. Spent several years at Old Trafford and won the FA Youth Cup but never broke into the first team and eventually left in search of first team football. Passed briefly through Wigan Athletic before settling at Cambridge United where he enjoyed a successful spell under Roy McFarlane, winning promotion into then Division 2. His hard working attitude made him popular with the Cambridge United fans, picking up the Supporters player of the year award. However an unfortunate spate of injuries two seasons later coincided with the team's loss of form and Mustoe found himself out of favour with a new manager at the Abbey Stadium. Having struggled for full fitness he was a victim of the post-ITV Digital contract cull and headed home to initially join City on a temporary basis in August 2002. To the amazement of City fans he stayed for half the season as several trials with League clubs came to nothing, eventually leaving for Conference champions Yeovil Town via a brief stay with Stevenage Borough. Was released by the Glovers in June 2003 and seemed set to join Telford United on a pro contract before an ankle injury curtailed his trial and again left him without a club. That disappointment and injury seemed to be the point Mustoe decided to look for work outside football and commit himself to leading the Tigers back to new glories.
| | |
| --- | --- |
| Neil Mustoe | |
| | Sponsor your favourite current City player for £50: Contact Trevor King. |