In many ways this was the classic Gloucester City performance, but in the worst possible way. For 81 minutes City played an already limited side further incapacitated by having lost their keeper and been reduced to ten men. Despite dominating possession City failed to break down a packed defence and limped to a frustrating goalless draw.

Even from the opening few minutes it was clear the visitors had rejected their expected part of hapless victims of a comprehensive beating. City looked a little sluggish and Rocester put together a couple of early attacks to worry the City fans.

City still looked like the side with more quality though as Mustoe got the ball after a few awkward minutes of missed passes and hefty clearances. Within a few minutes it looked like the Tigers were getting back on track and after a good move broke down Burns clipped in a ball over the top of the Rocester defence for Jimmy Cox to rush on to. He was met by the sprinting Rocester keeper who palmed the ball away from Cox, but in his panic he had lost his bearings and come beyond the penalty area. The hapless Richard Frogatt was red carded by the sympathetic but firm referee and was replaced in goal by full-back Mick Ede. City fans warmed their hands against the biting cold and readied themselves for an avalanche of goals.
City began to play some attractive football with Mustoe once again the key figure in a constant show of pass and move football. However this went on for twenty minutes with Rocester under near constant pressure but novice keeper Ede remaining untested. On two occasions City got behind the Rocester defence. First Burns helped Adie Harris with a one-two and his cross from the by-line saw Jimmy Cox lash his shot just wide. From the other flank Mustoe helped Chris Thompson create space to start a run that took him past two men before pulling his shot wide. It wasn't until the half hour mark that Mustoe's long range shot actually forced the new keeper to get his gloves dirty with a comfortable save.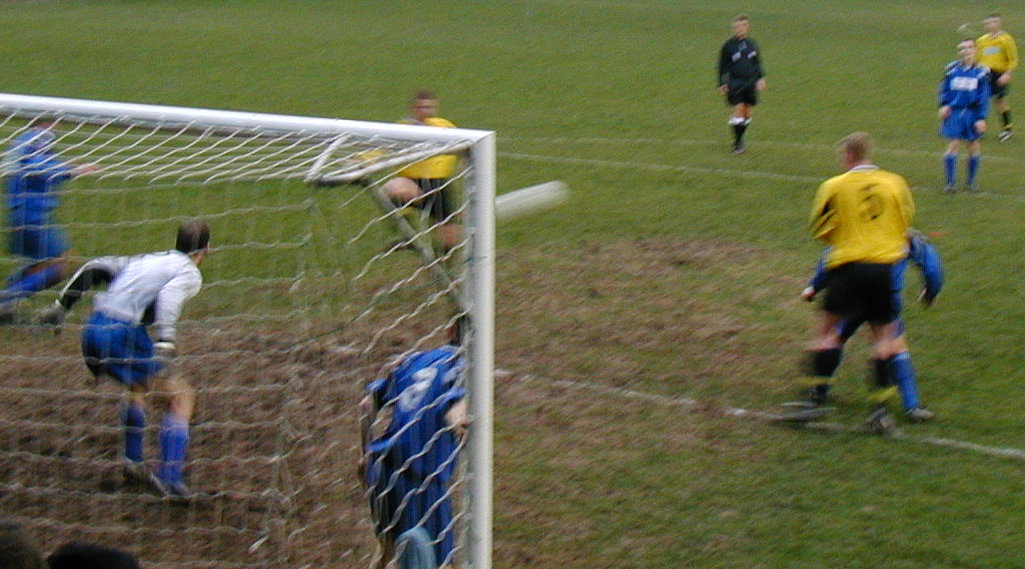 Cox puts his shot wide after an Adie Harris cross.
While City really should have scored it was Rocester who had the best chance in virtually their only meaningful attack. A hopeful clearance fell kindly for the visitors and caught both Griff and Steadman quite literally cold. The forward ran onto the ball convincingly enough put then looped his shot hopelessly wide of the goal.

City did continue their attractive passing but were not finding it easy to get much space to shoot. The defence was lying so deep that Cox had little chance to use his devastating pace and the packed defence meant our passing was getting ever more intricate. At one point Lee Smith burst in from the right and his pace and power led to a fierce shot that actually forced Ede into a good reaction stop. However City seemed to learn little from the success of this more direct attack and fell back into pretty but ineffective passing.

City set out with a greater sense of purpose in the second half. Burns had been covering for the injured Jenkins in defence but now pushed himself back into midfield while Tom Webb replaced the injured Adie Harris and Lee Smith found himself further up the pitch. It became apparent fairly quickly though that this was not going to suddenly find the spark that City so desperately lacked on the day. Webb made the keeper make a save with his legs but more often the ball got crowded out in a packed Rocester penalty area.
City's best moment came when Neil Mustoe bent a free kick in from the right. The ball terrified the defenders but eluded every one of the outstretched City legs waved in its direction. If ever there was a moment when you felt it would not be City's day it was then.
At least an even greater injustice was not served on us. With all the City domination of midfield it was with a sense of shock that fans watched as Rocester had their own five minutes of attacking play. With so much space to exploit Rocester zipped past a flailing defence and only quick thinking by Matt Bath prevented the Rocester forward having a straight run in on goal.

City got ever more desperate and the frustration showed on the faces of the players, but despite all the effort we never looked like putting the ball in the net. Will Steadman was unlucky not to get more direction having done well to win a header in a crowded penalty area, but the ball bounced wide. Tom Webb showed some real flair to jink past a couple of players but having got clear he fired his shot into the netting instead of crossing.
In fairness to Rocester their heroic defending and determined rearguard action did much to add to City's frustration. however City have to learn to unlock tight defences and find some extra flair or inventiveness to get in the extra man. there was also a marked reluctance to try to shoot, everyone trying just that little too hard to break the deadlock with a slide rule magical pass.
It was difficult to pick out any individually weak performances but after the fantastic result at Merthyr we were collectively poor. A disappointed Chris Burns reportedly gave his players a roasting, and rightly so. This was not the display of a top six side and they have to find some greater consistency in front of goal. The managers other worry will be that he now has two more injured players in Thompson and Harris, this with the busy Christmas fixtures just around the corner.