This was always a game stoked up by high expectancy. Such has been our recent collapse in stature that we know playing Newport County in the FA Cup was likely to be our match of the season. Chuck in a number of former players in each side and a manager of the opposition who remains a familiar face at Meadow Park and you had all the ingredients of a classic cup tie. City had won three on the trot so wholesale team changes were unlikely, Cox came into the side after suspension while Tom Webb was unlucky to make way for Dave Wilkinson with Thompson stuck back out to right back.
City started brightly and the opening exchanges suggested little of the divisions gap between the two teams. Newport County saw a few early efforts flash across goal, but they were well wide and not enough to worry the anxious City fans. In fact the first real chance fell to the home side and it was to be one of our best of the whole match. Good battling by Hoskins won a corner on the City left which Mustoe swung over towards the back post. Neil Griffiths had eluded the County defence, but his header was hacked off the line by a Newport defender.
However most of the game was being fought out in central midfield where Neil Mustoe suddenly looked like a league player again. He was snapping at the heels of every County player and generally getting in their way when they had possession, keeping the ball and keeping City moving forward when he got the ball. However Chris Burns looked off the pace against better quality players and was struggling. Newport were pouring forward with increasing regularity and while City were breaking forward through Cox and Harris neither was able to find much support.
The opening goal came after 21 minutes when former Cardiff man Jeff Eckhardt escaped from Steve Jenkins and sent over a cross for County's leading scorer Neil Davis. He held off Griff and drilled in a low shot that neat Matt Bath at his near post. The disappointment could have crushed City a few games ago, but for all our continuing frailties this is now a side with a bit more resolve.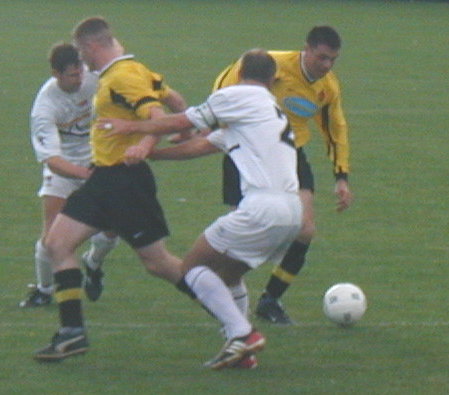 Hosky & Cox try to battle through the Newport defence

City still looked to be some way short of their best form but managed to produce some decent efforts in the rest of the half. Smart passing between Cox and Mustoe worked an opening for Adie Harris on the right, and he was felled by the County defender as he entered the box. It looked a penalty but the ref didn't want to know, and at least for once the City protests were vehement but brief. Not long afterwards there was a great moment when Newport had conceded possession just outside their area for treatment on one of their players. Mustoe stepped up to return the ball back to Pat Mountain but briefly shaped as if to shoot before rolling it to the keeper, causing their defender to have kittens and leaving Mustoe chuckling as he ran back off up the pitch. It's good to see him enjoying his football again.
Newport then had a great chance to put the game beyond City. Will Steadman had one of his dizzy moments and played the ball across goal and directly into Scott Walker who was clear on goal. However he thankfully had put his boots on the wrong feet and sliced his shot wildly into the T-End much to the glee and relief of the City supporters. Newport were now pressurising City but not creating any real openings, good work by Griff, Mustoe and Wilkinson being the main factors in our resistance.

City were still dangerous on their occasional forays forward though. Griff had another chance from a header, but this one was more difficult as he was under pressure from two County defenders. Hosky was confident enough to dribble towards defenders and had a decent shot from distance. Cox was obviously a worry to the County defence and was finding himself closely attended by at least one man all through the game. However shortly before half-time he shook himself clear and sent over a deep cross that saw Chris Thompson collide with the Pat Mountain in an aerial challenge. A few minutes later Thompson shuffled off still feeling bruised and was replaced by Tom Webb.
The second half started really brightly for City and the opening quarter of an hour was our best of the match. For once we made our pressure tell and grabbed the crucial goal while Newport were reeling. The extra pace of Webb on the right meant County were now stretched on both flanks and they had too much to worry about. The goal came after Newport must have hoped they'd repelled the initial onslaught, as it was they just got hit smartly on the counter-attack. Burns floated a wonderful ball into the run of Jimmy Cox who carried the ball forward to the edge of the area before unselfishly squaring to Andy Hoskins on the edge of the area. Hosky took the ball in his stride and powered his shot past Pat Mountain to send the T-End into delirium.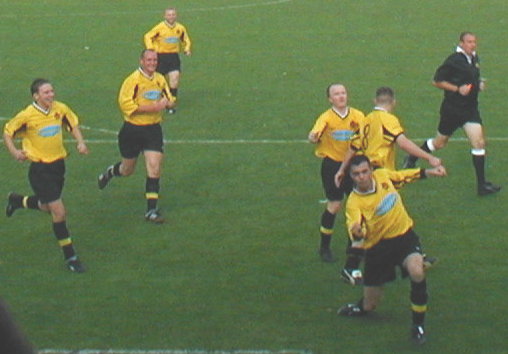 Hosky and the City players celebrate the equaliser
County look like a side who don't entirely believe in themselves and the self-doubt began to show in some shakey defensive clearances. In fact that mirrored what was going on at the City end too, as while you couldn't fault our determination we looked a little disorganised in defence. One county forward jinked into space only to fire wide, while Gloucester born Steve Cowe saw his shot cleared off the goal line by Adie Harris.
Meanwhile the T-End was confronting the group of Burberry clad cretins who seemed to have escaped from the Gwent creches for the day. Thankfully they scuttled back into the sewer before they succeeded in provoking trouble and everyone on the T-End deserves some credit for not putting them into their prams with some force. Someone should also point out to them that the Welsh would gladly give Newport back to the English if they'd take it. Sadly it's such a sh@#hole no-one wants it and the Welsh are stuck with it. I guess that's a discussion for another place...
Back to the football where the ageless Adie Harris was enjoying another great game down the City left and it was he who had our best chance to seal the win. He galloped down the left to collect a one-two with Burns and having cleverly sent the County defence scuttling towards Hosky and Cox he arrowed in a shot that Mountain did well to beat out of the Newport goal. Moments later another great City move saw Mustoe and Webb create space with some clever interplay down the right. The youngster was sent down towards the County by-line and his tantalising cross only narrowly eluded the stretching foot of Adie Harris on the far post.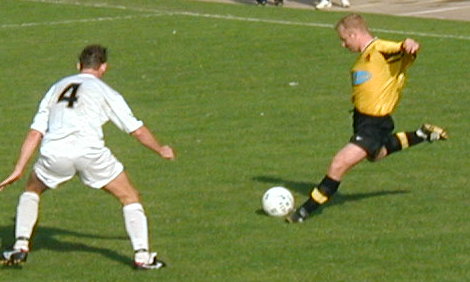 Neil Mustoe shapes to send over another searching cross
The last 25 minutes were end to end stuff and in the second half this really was a cracking classic FA Cup tie as both teams obviously fancied their chances of scoring. City sent on Lee Smith as they searched for the crucial goal, but Newport were now launching more forward efforts of their own. Plenty of chances seemed to come the way of Newport but their finishing was poor and City's defence was spirited if chaotic. Will blocked one blasted shot and Adie Harris threw himself at one cross to bundle it out for a corner. Mustoe was desperately trying to organise the defenders, but they were all to busy trying to kick the ball away to listen.
At the other end it was Hosky who was carrying the fight as Cox seemed to tire in the last stages. The battering ram of a striker sent in a few efforts but they were hopeful rather than dangerous. By and large he was well marshalled and rarely allowed to turn and charge at the Newport goal.
When the final whistle came it was greeted by a standing ovation for the City players and disconsolate jeers for the county side. It said everything about the two sides expectations from the match. Chris Burns and his players can be proud of the effort and commitment they showed today and can relish the chance of a replay at Newport where the wide open spaces can be enjoyed by the likes of Harris, Cox, Webb and Smith. The head may say our best chance of an upset has gone with this draw at home, however much credit that deserves. We have a few big game players who can raise their game still further, and if they can we could still be in with a shout on Monday night.