It's the hope that kills you as a City fan. Despite countless disappointments at this stage of the FA Cup in recent years there's always a lingering hope that this time it would be different. Despite a battling display City never quite hit top gear at Woodside Park and ultimately lost to a side who just had a little extra control in their play, and vitally, took their chances.

Stortford's new Woodside Park is a business like football stadium with all the fittings but little in the way of character. City's travelling fans made up nearly half the crowd on the day though, and both sets of fans did their utmost to create some atmosphere. Burns' team selection held few surprises, with Thompson replacing the injured Jenkins at left-back. City did seem to show some lack of squad depth, only managing to find four people to take their place on the subs bench.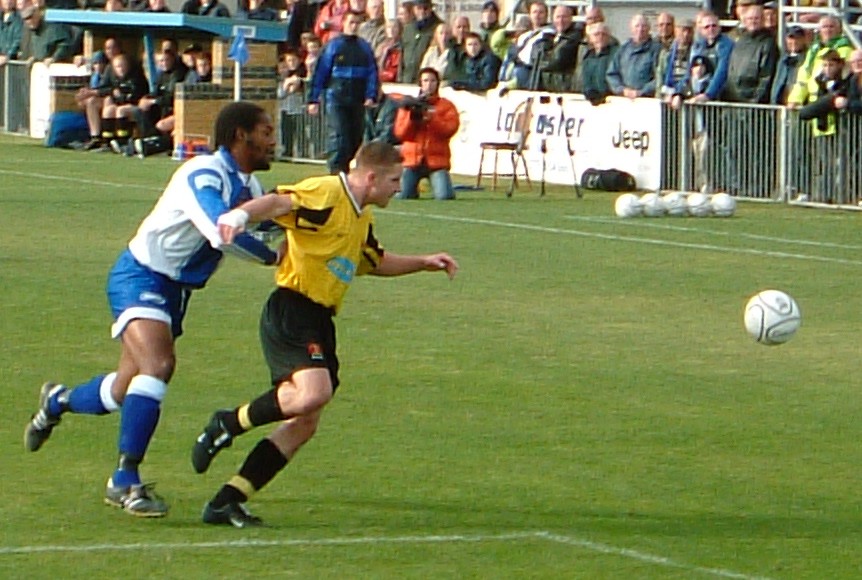 Cox battles off Barnett
The opening passages of play were scrappy as both sides tested out the opposition defence. Slowly but surely the home side began to dominate, with our midfield sinking further back towards our half. City were restricted to a couple of forays forward, with Jimmy Cox getting an early chance to show the Stortford defence his pace. He slipped the bal through to Hoskins but he snatched at his shot and sent it wide, showing little of the composure you'd hope for in a striker averaging a goal a game this season.
Stortford were looking the better side but were finding it difficult to create much in the way of shooting opportunities. Griffiths was snapping at ankles all along the back line, and when the home side did get a half chance it flew harmlessly into the crowd. City's defence was eager and the referee clearly one of the fussy types, giving a series of free kicks in the City half. However Jeffries and Bath dealt with everything in the air with some degree of comfort.
City did slowly seem to find their feet and with Neil Mustoe pivotal at the centre of midfield we began to get the ball down and play some of the slick probing football that has won previous matches. Smith was finding some space down the right, often sent free by accurate passes from Knight. However City looked less slick down the left, with Thompson reluctant to push forward and provide some balance on that flank. Cox and Mustoe were pulled closer to the touchline and at times we looked a little lop-sided. Andy Hoskins came closest to opening the scoring when an excellent Cox run took him past two players before sending over his cross. Hoskins timed his near post run well but his header lacked power and looped gently over the bar.
The match was now opening up and both sets of fans had moments of hope. Stortford were creaking at the back but still looked close to scoring themselves. The dangerous Renner came deep to pick up the ball on City's right and surged past Webb and inside Smith to take himself into the area. As Neil Griffiths came in for a tackle Renner went to ground at speed and the referee did well to withstand the appeals and book the forward for diving.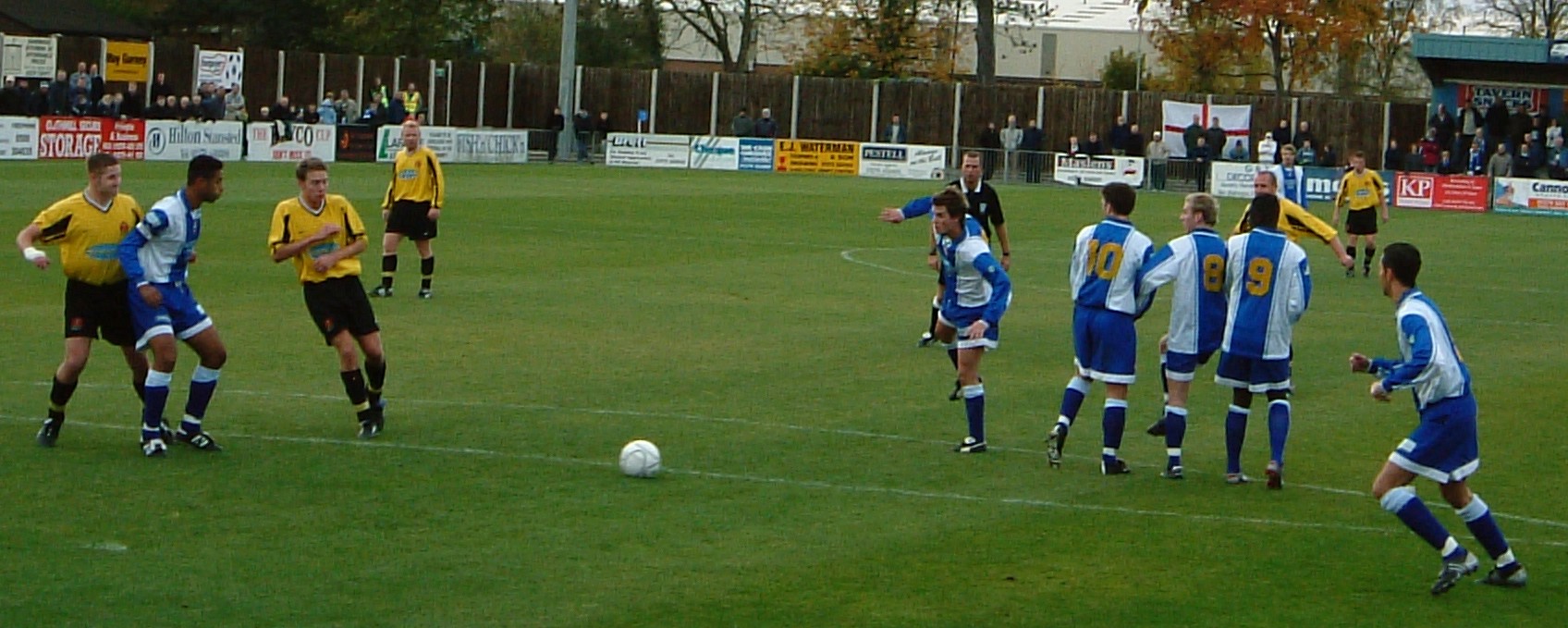 Burns' free kick skids through the Bishops' wall
City were making the home team work at the back but lacked that extra touch of composure to carve out a clear chance. Hoskins and Cox were linking up well and their diagonal runs and interchange of passing caused problems, Hoskins brought down by a scything challenge just outside the box. Burns stepped up to take the free kick but his low skidding effort lacked enough pace to trouble the keeper. Down the left Mustoe showed a great touch to nutmeg a defender, and although his cross was beaten away it instigated a string of City corners. The home side survived the pressure, Lee Jeffries coming closest as he stole in at the far post but his stooping header went in to the side netting. Another corner wasn't properly cleared and fell to Smith who pushed past one defender, but with the goal opening up in front of him he didn't seem able to choose between a shot and a cross to Cox - leaving his attempt to fly past the far post.
With five minutes left in the first half Matt Bath was called upon to make a superb save, leaping high to push over a dangerous dipping free kick from Cooper. His acrobatics received little reward though as City fell behind from the resulting corner. Our defence failed to pick up all the players in the box and left Barnett unmarked to win his header. The ball fell to Victor Renner who tapped in from close range.
City had little opportunity to get back into the game, but having steadied the ship we put some good moves together down the right through Webb, Knight and Smith. A Webb cross flew across the box and Neil Mustoe came flying in to charge down the clearance, at the same time leaving his foot in on Southam who was left to hobble off. The ref missed the challenge, but City could not take advantage of the ten men in the reaming few minutes and went into the break one down, but far from out of the contest.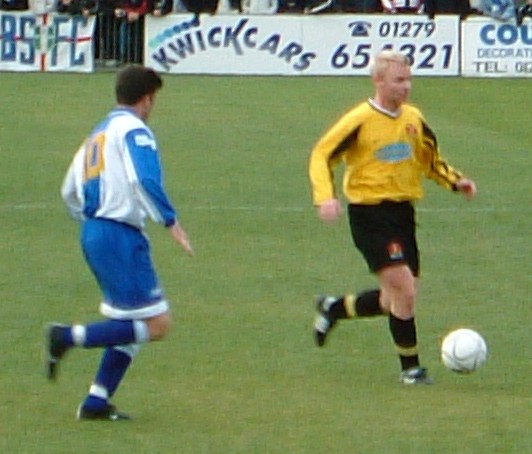 Mustoe takes control of the midfield
City's strongest part of the game came immediately after half-time, but despite dominating the game for more than 15 minutes we were left ruing our failure to capitalise. Even in this spell we failed to really carve open the home defence, even though at times they seemed to be riding their luck. Thompson suddenly threw off his shackles and ghosted behind the defence to get a weak header onto Webb's deep cross.
The two good chances that came our way both went begging. Mustoe pushed the ball through to Hoskins who held the ball up well and slipped through a pass into the path of the charging Lee Smith. The young right-back has been in good form, but this time he didn't keep his head and his shot flew high and wide. Moments later Smith had a fantastic galloping run which carried him past one player and between two other defenders, but he didn't look up and despite having Cox and Hoskins to his left he tried to make amends with another shot, but it lacked power and didn't trouble the keeper.

Despite having enjoyed much of the possession and beginning to play some probing football City were struggling to make any break through. Adie Harris was thrown on, with Thompson perhaps surprisingly being withdrawn. Within minutes City were two down and facing a near impossible task.
Despite having had Stortford on the rack eventually our grip on the game slipped and the Blues attacked down the flanks. It was another defensive lapse that cost City dear when sub Roy Essandoh, a name synonymous with the Cup since his late fairytale Wycombe winner, wriggled free of Jeffries. His shot hammered off the post and with Bath stranded City's defence had once again failed to pick up the Stortford players and Aaron Barnett had ample time to drill his shot back inside the far post.
City looked shell shocked and only the most positive could have believed we would have any come back from that position. The Blues attacked again and only some excellent last ditch reflex saves by Matt Bath stopped us falling further behind. He saved at point blank range from McKeown and then again from Essandoh. The ball came back and Renner was blocked first by Griffiths and then saw his follow-up shot cleared in the goalmouth by Mustoe, and we were fortunate the linesman was not better sighted to judge if the ball had crossed the line.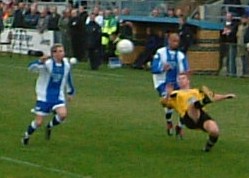 Griff clears the City lines under pressure.
City then held their breath as Gwillim tumbled in the City box, but even though Griffiths made contact with his trailing leg the player had already began his dive and was lucky not to follow his colleague into the book for cheating. City managed to steady their nerve and in the last ten minutes or so it was all City doing the pressing as we sought the much needed breakthrough.
Our desperation led to some heavy tackles and the match got increasingly fractious as the home team, understandably, spent as much time as possible dawdling and time wasting. A spate of free kicks on both sides saw players begin to lose their cool, Mustoe booked for dissent as he lost patience. City were piling on pressure, but despite having most of the possession were finding it increasingly difficult to make any impact on a packed defence. With only five minutes left Cooper was shown a straight red card for a two footed lunge through the back of Andy Hoskins, sparking plenty of face to face confrontations as the match threatened to boil over.
City never stopped running and right at the final whistle were still making most of the attacking play, Mustoe sparking angry scenes as he sought a late penalty. However before the melee had parted the ref had blown the final whistle and City's cup dreams were over for another season. Bishop's Stortford go on to visit Mansfield in the 1st Round, and will hopefully represent non-league football well. City meanwhile must pick themselves up from this disappointment, and get back to the season's main aim of getting in the top seven. This cup run should have provided another bit of evidence that they're good enough to do it.

* Bromsgrove Rovers joined Mangotsfield as DML Western representatives in the FA Cup 1st Round draw but will have to overcome a difficult replay at Whitby after a 2-2 draw at Victoria Park. Mangotsfield meet Ryman Premier leaders Canvey Island on Sunday. Cirencester were beaten 4-2 at home by Crawley, while Forest Green were beaten 3-1 at home by Conference rivals Aldershot.
City are now 17th in the DML Western, having played half as many games as some of our rivals. Seven points would take City to the crucial 7th spot. The division's top scorer Jason Ashby got the goal for Halesowen to beat Solihull 1-0 while Redditch consolidated their grip on top spot with a 2-1 victory at Team Bath.