No club could sympathise more than Gloucester City with the current plight of the Adders, trouble with wages, unpaid debts and the club rumoured to be facing bankruptcy. However the behaviour of their keeper, Dale Belford, threatened to end any friendly feeling and overshadowed an enjoyable game.
City had been lifted by their 4-3 win over Team Bath in midweek while Atherstone had been on the wrong end of a 5-0 hammering at Redditch. Tigers boss Chris Burns left himself out of the side, with Will Steadman taking his place at the heart of the defence.
As might be expected the home side started the more confidently with Smith and Thompson making good surging runs. However the visitors got an early chance to stretch their legs too as Webb gave away possession in midfield. The attack caught Steadman cold and his clumsy challenge sent the attacker sprawling and the ref reaching for an early yellow card.
Super Will did better as the half wore on though, and looked genuinely super when his timely challenge broke up an Adders attack and his long pass sent Smith away down the right. His cross only narrowly eluded Cox as he raced in. A few moments later and Jimmy Cox cut in well down the left, beating two men before crashing his shot just wide of the post.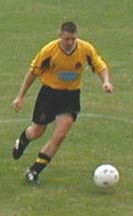 Cox on the attack
While it was far from being one way traffic you had the impression that the Adders defence was creaking whenever City got forward. A clever Smith reverse pass put Hoskins through on goal but Adders keeper Belford did well to come out and push the shot wide. He was called on again a little later when a flying save denied Cox.
At the other end City looked comfortable with Jeffries adding a comforting sense of aerial dominance to the tidy work of Griff and Steadman. However City did not look at all comfortable down the left, where the right footed Keith Knight again looked suspect in terms of both pace and positioning. Atherstone did manage to find some space but one weak effort from outside the box apart did little to make Matt Bath twitch.
City had looked a little short of ideas as they failed to unlock the Adders defence and Neil Mustoe came on at half time in place of Webb. He did settle the midfield and with a couple of assured passes to switch play across the flanks it looked as if City would soon be taking the lead. United had other ideas though and the game was set alight with a superb swerving half volley from 25 yards by Lee Onions. The Adders went understandably wild - their first goal of the season would have graced any game at any level. however City fans, who were minded to be picky, couldn't fail to notice that once again Onions should have been picked up by Knight who was again AWOL on the left flank.
The goal really put a much needed cracker up the backsides of the City players who well realised that a home defeat to Atherstone would put an early end to any pretence of a title challenge. The galvanised Gloucester side poured forward with renewed vigour, and the impressively energetic Smith burst past his man on the right and forced a corner. Knight made some amends for his defensive gaff with a precisely flighted delivery that was met with emphatic force by the head of captain Neil Griffiths. The stretching defender could only graze the ball as it nestled into the net.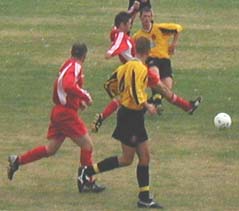 Jeffries pushes City forward from midfield
In the strange way that happens in football taking the lead had been the visitor's biggest mistake and the Tigers now pushed up a gear - leaving the young Adders trailing in their wake. Within a matter of minutes several exciting forward forays threatened to cut decisively through their defences. Smith was once again excellent down the right and a clever exchange with Mustoe saw him find space for a deep cross that just fell between Wilkinson and Cox. Selfless play by Cox saw him create a chance for Hoskins who went just wide, before Hoskins saw another rasping shot tipped over the bar so miraculously by Belford that the ref refused to believe it and gave a goal kick. Moments later though the ball was back in their area and after Thompson got closed down the ball fell to Lee Smith and his cheeky lob from a tight angle had to be cleared from under his own cross bar by defender Leigh Everett.
However the goal was coming and when another corner was only half cleared Lee Jeffries found space to turn and crash the ball into the net from within the six yard box for his first City goal. The scenes that followed however threatened to dominate the rest of the match and may yet have further repercussions. As Wilkinson celebrated the goal in front of the City fans he was punched by Dale Belford as the Adders keeper got up from the floor. Wilko pushed him back, by which time the ref's attention had been alerted by the outraged shouts of the crowd. As Belford went to his water bottle by the City fans he was subjected to abuse and insults, to which he responded by sending a water fuelled volley of spit over the City supporters, following up with a swinging fist before being dragged away by players of both teams.
Belford and his team mates have been through a lot over the last six months or so, and you can understand the disappointment of falling behind after seeing the possibility of an unlikely win dangled tantalisingly in front of you. You can also say that City fans should not have goaded him and do not escape entirely blameless. However Belford must know better to exchange insults with supporters, never mind lose all control and assault them. You can only hope that City will take action - as we have to protect our fans from this sort of behaviour in the same way that we state our expectations of how our fans behave. Matters were made worse as the ref and linesman, who apparently managed to 'miss' all of the incident - talked to the City fans but failing to take any action against Belford at all. Of course Wilko got booked, they saw his push well enough! A poor piece of refereeing that failed to calm a volatile situation. All in all a very stupid reaction from an experienced, respected and talented goalkeeper who now has some thinking to do.
The atmosphere of the match had now been soured, with the T-End seething and various City officials trying to calm fans who were understandably tempted to take action where the ref had failed. The insults were flying from the terrace, but City managed to keep the shots flying in on the pitch as well. By now Hemming had taken to the pitch to replace Knight, and City's attack was now coming fluently down both wings. An early Hemming cross just missed the outstretch boot of Hoskins, while Jeffries had a chance to add to his scoring record but sliced his shot wide of the post. However the third goal came when Cox squared the ball beyond the flailing Belford and into the path of defender Tom Guiney who put it into his own net, much to the delight of the vengeful T-End.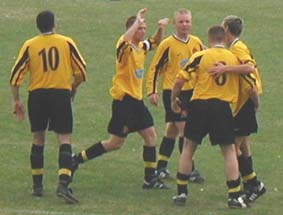 Hemming is congratulated by Cox and Griff
after completing the scoring
With the match effectively won and the City support distracted and talking amongst themselves the game drifted into a quiet lull for a few minutes. Lifted only momentarily by the return to the pitch of Adie Harris after his thigh injury. Harris got one chance to show his class, bursting beyond his man before seeing his cross just too deep for Hemming at the far post. However another similar cross, this time from Thompson, again found Adam Hemming at the far post and this time the youngster managed to nod the ball between keeper and post. Two goals without having started a match yet - not bad for a youngster playing local football last season.
After looking very bleak at one stage this ended with a convincing home win, and one that was well merited against a spirited but ultimately weak Atherstone side. City will be pleased to have passed so well and shown some attacking flair, but they know that better sides will need much better performances to get the same result later in the season.
* The win lifts Gloucester to 7th in the table but the DML Western still has four teams with 100% records after three games. Something had to give at the Valley Stadium and Redditch, yet to concede, continued an impressive start by beating Clevedon 1-0. Rugby United posted a 3-1 win at Yate who have yet to take a point, while Solihull continue to confound their reduced budget with a 2-1 win at Supermarine. Sutton Coldfield's solid start continues with a third win, this one 2-0 at Cirencester. The surprise result was at Halesowen where a second half Ashby hatrick helped the home team crush previously unbeaten Mangotsfield 6-0. Lets hope they won't be too keen to bounce bank when City meet them at Cossham Street on Bank Holiday Monday.