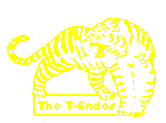 We welcome all contributions to the T-Ender. Please send any material for the site by
email to the address above.

Disclaimer
The views expressed on these pages are not those of Gloucester City A.F.C., its directors or officials, or of any other company mentioned. Neither do they represent the official views of the Gloucester City Supporters' Club or its committee.
While we make every effort to ensure information placed here is accurate we do not accept responsibility for errors that may occour. If you do find a mistake please let us know.

All pictures and material unless otherwise stated are the site's own and is
© www.t-ender.co.uk
All material may be reproduced with permission and appropriately attributed.
Saturday 7th January '06

Gloucester City

at Meadow Park

Southern League Premier Division
(match 26)

vs

Tiverton Town

Gloucester City

4

Scorers: Corbett (42 pen), Mansell (73), Wilkinson (74), Addis (79)

Tiverton Town

5

Scorers: Mudge (10,18), Bale (44,87), Bath (83 og)
City Side:

Bath, M.Thompson, Mansell, Griffiths, Tomkins, C.Thompson, Harris, Webb, Addis, Corbett, Wilkinson.


Subs not used: Randall, Reid, Rimmer, Mustoe.
City Bookings: Tomkins (persistent fouling 76)
T-Ender Man of the Match: Dave Wilkinson; a battling return to form in midfield and always dangerous with runs into the box.
This was City's first match in over four years without Chris Burns at the helm and at times our players looked completely lost as a series of errors and misplaced passes helped Tiverton take control. However the temporary coaching team of Mustoe and Harris will have been delighted that for all the mistakes and the final disappointment of losing this strangest of see-saw matches they at least saw glimpses of spirit that may yet see this rag-bag collection of players manage to keep the club in the Southern League Premier. For the briefest of moments Meadow Park basked in the floodlit glories of an incredible come back as a half-time 3-1 deficit was reversed and City clawed their way back to lead 4-3 thanks to a burst of three goals in six minutes. Gloucester fans know better than to believe in fairytales and our old defensive frailties again came back to haunt us as the Devon visitors out muscled us in the penalty area to score two untidy late goals to leave us without even a point to show for our efforts.

This would not have been an east match for City in any circumstances, but in a week that saw the management team leave and be replaced on a temporary basis by two players whose coaching abilities have been entirely untested it was understandable that fans approached this game with some trepidation. At least there was relief when the team sheet was seen. Mustoe and Harris had passed their first test and persuaded all of the players to stick with us for the game. The fragility of the squad is still obvious though, with Mustoe and Davis out with injuries there are precious few team selection decisions to be made as we have barely enough registered players to fill the bench. Tiverton meanwhile have run into a bit of form after a woeful start to the season that seemed to bring a premature end to the promotion hopes of one of the pre-season title favourites. The return to fitness of key players has helped them climb away from the relegation scrap, and it didn't look like a great time to be playing them, even though City had been unlucky to lose in an uninspiring away match back in August.




Wilko gets involved with Ampadu in the midfield

Despite all the ructions and turmoil of the last few weeks we some how managed to settle into the match quickly and for the opening ten minutes we looked surprisingly composed. For those brief moments it was possible to believe in a remarkable transformation from just one Thursday night coaching session. The defence looked more organised and there was some bright movement as City went forward in a controlled business like way. Addis collected a few high balls and briskly laid the ball off to team mates. We even managed a couple of efforts that threatened the Tivvy goal. Addis lobbed a ball into the back post that almost found Corbett or Webb, and Wilkinson went closer as he chested down a Webb pass and charged into the box, a half block taking enough power from his shot to stop it being too tricky for the keeper. Could it all be alright? Of course not, it was only a dream.

That start could have given us a good platform to build on, but our confidence is understandably fragile at the moment and it all fell apart in a moment. Tiverton had hardly threatened but they scored in virtually their first attack. A break down the City left didn't seem to threaten danger as we had defenders back, but it all went wrong as space was found and a low ball arrowed into our penalty area. Even then it should have been cleared but Griffiths fluffed the clearance and the ball continued through to Jamie Mudge. The Tivvy forward is one of the most deadly in the division and he needed no second invitation to drill the ball low beyond Matt Bath.

City tried to rally but while everyone looked willing we couldn't function at all. Suddenly passes were going astray, and it almost looked like we were trying too hard. Both Tom Webb and Adie Harris created chances for the visitors with sloppy passes to red shirts, and we rode our luck a little when Ampadu picked u another loose City pass and played a clever ball through to Mudge. This time though the striker tried to place his shot inside the post and Matt Bath produced a fine save. That was only a momentary reprieve, we had lost our heads completely. Chris Thompson is normally the best distributor of the ball in the team, but he was under no pressure when he gave the ball to Tivvy's Richard Pears. He played the ball across to Mudge and he knocked the ball into the net. After just 18 minutes we were two down and looked like we were finished.

The match drifted into a flat period. Tivvy weren't actually playing that well themselves, truth was they hadn't had to do too much to get us into this position. City looked lost. Passes were still going astray and as soon as we won the ball we gifted it straight back to Tiverton. We weren't even helping ourselves as most of the players looked like they were actively avoiding the ball. Our heads had dropped and the only flickers of life were in the tackling of Wilko and Webb, and a rare foray forward when Corbett smacked a shot that screwed well wide of the post. Even when the match did look like it was in danger of finding some pattern the ref's whistle broke it up. The whole thing was desperately frustrating, the City fans were starting to mutter about the players and you could see the players were as angry with themselves.

And then, after 20 minutes of total rubbish, we gradually began to find our groove. Tiverton suddenly didn't look too clever themselves and had probably switched off after coasting into an early lead and seeing the opposition struggle to put two passes together. We went close after a good run by Adie Harris found Luke Corbett who shuffled past one defender before spotting Richard Mansell in acres of space on the opposite wing. He found the full-back who was able to head for the by-line before sending over a dangerous cross that Tivvy did well to cut out at the back post. City caused more chaos from the resulting corner and could have had a penalty when Lyndon Tomkins went flying across the six yard box having got across his marker. You have to think no-one would deliberately hurl themselves into the mud of the T-End goalmouth and I'd have given the spot kick. We were suddenly back in the match. Tiverton were looking dodgy at the back and suddenly Adie Harris was charging forward, passes were going to feet and players looked interested again.

City pulled something back from the spot. Tom Webb found good room down the right and then pulled the ball back to Adie Harris. His initial cross was blocked but when he pushed the ball wide to Addis the Tiverton defence were already all over the place. His low cross was arrowed towards the far post and Tivvy again did well to flick it away from Dave Wilkinson as he ran in. However Wilko then tried to scramble to his feet to get to the ball now running loose in the centre of the penalty area. Tiverton's Chris Holloway took desperate action and grappled Wilko back into the mud, and the ref turned just in time to see Holloway swinging another arm across the City player's face. It was all a bizarre mud wrestling bout in the churning mud, and the ref had seen enough. He pointed to the spot, and after Holloway was booked Luke Corbett made no mistake to smoothly lift the penalty above the mud and low past the keeper's right.

City were now back into the match and with only a few minutes until half-time all we needed to do was keep things tight, concentrate and try to hold on to the new found hope until half-time. We didn't do that and in fact could have gone further ahead as another good pass from Webb picked out Adie Harris who won another City corner. When that was cleared Marvin Thompson did well to pick it up, but tried to find Addis in a crowded penalty area when perhaps a strong shot could have caused more problems. Perhaps we should just have sat deep as Tiverton immediately counter-attacked and we were again caught out horribly. We never seemed to find anyone at right-back throughout the game and when a deep cross came over from that wing there was no one defending the far post. With the opportunity of an unchallenged header Tiverton's Chris Bale had time to nod the ball back across Matt Bath and into the net. Suddenly Mustoe's first half-time team talk would suddenly again have to be all about getting back into a game where we trailed by two goals.

City didn't exactly start the second half sparkling, but it did generally look as if this could be an exercise in keeping the score down. Griff needed to be alert to get his head to a Tiverton cross and flick the ball just over his own bar. Tiverton weren't pushing forward but were well organised enough o pack the midfield and deny City any real width. We were huffing and puffing but finding it hard to break forward. Corbett was again the only person who seemed to provide any real attacking threat, and Addis was again looking like someone desperately need of some inspiration to make something of the abilities he has. As it was, the only time we looked to get numbers in the box were when Wilko managed to get forward to join Corbett. The only real entertainment for City fans came when gobby Tiverton keeper Mark Ovendale got booked for time wasting, if you're going to talk back to opposition fans you need to be ready to look dumb when that happens to you. It was again pretty frustrating and it looked as if the game was gently slipping away from us. Suddenly, it all changed.

After another 20 minutes of drift we again suddenly slipped into gear and began to cause Tiverton problems. we started to create chances, but it would take a while to find our range. Corbett made another good break behind their right-back and having left him trailing stood up a good ball to the back post that Griffiths couldn't quite keep down. Mansell also got forward and got some joy down that flank, his strong run taking him past several defenders but his final shot lacked any real power. City also survived another scare in front of our own goal as Richard Pears sent his shot woefully wide having enjoyed a good run of his own. It was looking more of an even contest now, but we really needed to score to get back into the match. That all come in a bizarre six minute burst.

Webb picked up the ball on the right and moved across into the centre, advancing until reaching the edge of the box where he chanced a shot that was well stopped by the Tivvy keeper. Luke Corbett showed great reactions to charge onto the rebound and managed to knock it away from the keeper, and then push it across the goal mouth from a tight angle. The Tiverton defenders suddenly found the ball behind them and whilst they managed to half prod it back off the line it fell to Richard Mansell who was on hand to crash the ball into the net for his first goal for the club. City's intent was clear when Wilko rushed into the net to retrieve the ball for an immediate re-start. That normally looks like so much PR, but there was plenty more to come.

City try and find a way back through the winter gloom

Tiverton's defence had not convinced at all during the match and suddenly they were creaking in the face of a City onslaught. It looked as if one particular City attack had been broken up on the edge of the Tivvy box, but Tom Webb did just enough to prod the ball away from the defender and back to Dave Wilkinson. The City midfielder advanced back towards goal and the Tivvy defence backed off. By the time Wilko got 22 yards out he produced a swerving bullet of a strike that flew past the keeper and into the net. 3-3, queue bedlam. Wilko had already been waving at someone over by the turnstiles and having just seen his super strike complete an unlikely come back he hared off to the corner flag, pursued by ecstatic team mates and fans. It was all too good to be true.

If that was glory, the next chapter in this incredible tale was pure comedy. City were pressing the Tiverton goal and forced a series of corners and with Tivvy struggling to clear their lines there were also plenty of low crosses flying around their box. From one of these Daryl Addis turned a low ball in. It seemed to be nothing as most of the City attackers had run in the opposite direction to avoid being off-side. The only player coming back in was Griff, but he was still a couple of yards away when Tivvy captain Steve Winter intervened. He stuck out his leg to prod the ball past a disbelieving keeper. Only he will know what he was thinking. A rather sheepish City celebrated an incredible turn around. The goal was credited, incredibly, to Addis - who I'm sure will take any luck that comes his way. He'd certainly want it more than Steve Winter who was still staring at his foot as if it had some how betrayed him.



Now all we had to do was hold on to that lead for just over ten minutes. Surely we could drop players back, push the defence up and simply choke the midfield to frustrate any Tiverton come back. The adrenalin and general joy amongst the City fans must have been shared by the players. We lost our heads, and with that we lost the points. The dangers were there to be seen as we immediately began to struggle under a barrage of high balls. There was plenty of desperate defending, but not a lot of thinking going on. On several occasions we saw efforts scraped away, a good Griff header cleared the danger, on another occasions Wilko got back to block at the far post. But this couldn't last.

The equaliser seemed to be a strange mix-up in the area, the goal credited as a Matt Bath own goal but there were too many bodies in the box to see clearly exactly what happened. Again it was Jamie Mudge who unpicked our defence with a strong run and cross. The ball wasn't cleared and Griff seemed to miss his header, the ball ricocheted around and ended up in the net to level what was fast becoming an extraordinary match. City would probably have settled for a point before kick-off, and certainly at half-time. We still needed to hang on, but on some occasions we just seem to lose our defensive discipline entirely. The fog of battle was in our eyes and yet more crosses got behind the back line and were being undone with ease. Just a few minutes later the traveling support were celebrating again. When the ball finally dropped into the goalmouth Tivvy's Chris Bale was the only person there, and he was able to stoop to nod the ball into the empty net. The final chapter of the City story was tragedy, and what could have been.

Neil Mustoe will have been delighted that his team mates showed such guts and belief to get back into a match that looked lost, even when the fans had given up on them. We have no resources to reshuffle the pack, but the return of the temporary player-boss himself is looking more and more important to add some sense and composure to a rather brittle looking defence. You certainly couldn't argue with the entertainment value, less than a £1 a goal. I'd rather be bored rigid by a series of 1-0 City wins for the rest of the season though thanks. The County Cup match midweek is a welcome relief from the grave business of league survival, and may give us a chance to try something new at the back. We certainly have to find a way of digging in and closing down matches, we can't always ride the rollercoaster as we did today, especially when it dumps us off without a point.

* City's match may have been the one with the most goals but there were some other shock results today. Whilst we remain in 16th spot a gap is now developing between us and the rest of the division, and below us our opponents are catching up. The relegation waters are beginning to inch ever higher - but we still have key games where victory can get us out of trouble.

Particularly worrying are signs of recovery at Northwood who moved off the bottom for the first time since September thanks to a thumping 3-0 victory over fellow strugglers Cirencester. It's tempting to just laugh at our Cotswold rivals, but while they are in trouble too we have as much to lose by the recovering north London outfit climbing up the table. Their win leaves Cheshunt bottom, but they too had a good result with a 2-2 draw against promotion chasing Mangotsfield. It looked as if George Gregoriou's goal had won the Ambers all three points on only for Mangotsfield's Drew Shore to nick a stoppage time equaliser. Evesham also recorded a significant win as they dispatched in-form Rugby Town with a comprehensive 3-0 win at Common Road, while Hitchin also continue to defy their financial limitations with Gavin Jaggard scoring the only goal of the game to give Hitchin victory at home to Halesowen. Chesham United continue to look to be in deep trouble after losing 2-0 at Team Bath, while Aylesbury are also sinking like a lead weight, easily brushed aside by leaders Salisbury City who won 3-0. Chippenham remain hot on their heels sneaking a 1-0 win over Grantham, while Bedford lost ground but will not be too displeased with a 1-1 draw with Bath City at Twerton Park.

SLP Table; Southern League website.
| | | | | | |
| --- | --- | --- | --- | --- | --- |
| Referee: | L.Sinclair (Newcastle-under-Lyme) | League Position: | 16th (=) | Attendance: | 392 |
| Conditions: | gloomy with steady drizzle and rain | City Form: | LLLLWL | Match Report: | by t-towel |
Work commitments mean that we are keen to obtain other match reporters willing to provide details on some City matches. All text can be supplied by email, with no need to worry about web design or formatting. If you are interested please contact the T-Ender.