Daryl came to Meadow Park with a reputation as a highly talented young forward ableto create chances from nothing and link up play between midfield and the forwards. He at times showed some fantastic touches playing for City and his ability to turn on the head of a pin and leave defenders trailing in his wake has at times seemed nothing short of miraculous. He's a strong player and for a fairly small bloke can hold the ball up well, but his time at City was largely an unhappy one full of unfulfilled promise. On joining City he was worried the fans would expect a prolific goalscorer and whilst he never really produced sackfuls of goals in his time at Cinderford even that didn't quite disguise what was a very disappointing return for a forward, even one not classed as an out and out goalscorer. His shooting can be sharp and has produced several impressive precision finishes under pressure to make you wonder exactly why he doesn't score more often than he does. After a good start to his City career Daryl began to struggle in the spring of 2005 and never really recovered his confidence. After prolonged spells of uncertainty over his long-term future and various times when he seemed to have packed it in at Meadow Park he finally left in the summer of 2006 to return to Cinderford Town to link back-up with number one fan Chris Burns.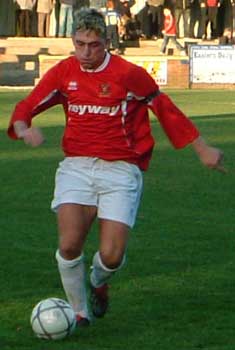 Daryl made his Southern League bow for Cinderford Town at the tender age of 16 where his exciting performances won rave reviews from those in the know and attracted attention from many local clubs. City had several requests to speak to the player rejected before Burns finally got his man in October 2004. However the acrimonious transfer triggered the departure of Andy Hoskins in the opposite direction, leaving Addis with the daunting task to replace a man whose strong target play and steady supply of goals had been central to City's promotion success in 2004.
Addis set some sort of footballing record when he played with his three brothers for the Cinderford first team. At one point it looked as if City intended to collect the whole set, but brother defender Chris signed forms for City in Janaury 2005 without appearing in the side.
Addis initially won over the fans with hard work and willingness to drop into midfield to look for the ball. He has plenty of crowd pleasing tricks and can turn defences with a crafty turn despite not being a particularly quick player. When deciding to have a go Addis also showed he had a fierce shot but he certainly never shot as often as he should have and and lacked any of the anticipation that you'd expect from a predatory striker. Whilst his work rate was often phenomenal it was often without any end product. Frustratingly you could see signs of what Addis could offer but as time went on his confidence just seemed to collapse at City and despite the fans willing him to produce more he just seemed to retreat into his shell, producing less and less in front of goal.
One of his strengths was his hold up play with his back to goal, but he seemed intent to hold the ball up even when through on goal and too ften slowed up City attacks rather than opening up defences. A bizarre period shortly before Burns' departure saw him threaten to leave and then agree to stay on the basis he trained on his own in the Forest, a decision exacerbated by his reliance on his father to drive him in to training. Perhaps typically his final departure was a strange long goodbye, rumoured to have turned up at training after several weeks of summer pre-season 2006 and then being surprised to be told to get fit before playing he finally ended up back at Cinderford Town a few weeks later. Hopefully the drop back down a division will give Addis a chance to rebuild his confidence and begin to enjoy his football again.