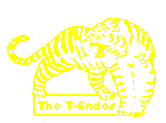 We welcome all contributions to the T-Ender. Please send any material for the site by
email to the address above.

Disclaimer
The views expressed on these pages are not those of Gloucester City A.F.C., its directors or officials, or of any other company mentioned. Neither do they represent the official views of the Gloucester City Supporters' Club or its committee.
While we make every effort to ensure information placed here is accurate we do not accept responsibility for errors that may occour. If you do find a mistake please let us know.

All pictures and material unless otherwise stated are the site's own and is
© www.t-ender.co.uk
All material may be reproduced with permission and appropriately attributed.
Saturday 27th August '05

Tiverton Town

at Ladysmead

Southern League Premier Division
(match 5)

vs

Gloucester City

Tiverton Town

1

Scorers: Winter (44 pen)

Gloucester City

0

Scorers: -
City Side:
Bath, Harris, Mansell, C.Thompson, Lewis (Randall 78), Burns, Mustoe, Webb, Addis, Davis, Knight (Kear 62).
Subs not used: Wilkinson, Cook.
City Bookings: Burns (foul), Webb (foul)
T-Ender Man of the Match: Tom Webb; ceaseless running and today used the ball with more poise, getting better as the match went on.
This was never going to be an easy encounter but you get the impression that City caught Tiverton on an off day but just didn't realise this match could be won until it was too late. There were signs of hope from this match, but the glimmers of gold did little to disguise the unwelcome conclusion that we are currently a side that is also weighed down with a fair share of players whose feet are currently full of lead.

Tivvy are one of the big-spending sides of the division and at the start of the season the trip to Ladysmead didn't look like one we would have been counting on for points. Tivvy were high amongst the sides fancied for the title and they will be hugely disappointed with a start that hasn't seen them win since the opening day of the campaign. The pressure was on the home team and with several players missing, including the formidable goal scoring prowess of Jamie Mudge it's possible that on a better day City could have taken advantage of the home side's problems. Unfortunately we've got problems of our own and these only deepened with the news that captain Neil Griffiths is out with an ankle injury, feared to be possible ligament damage. That meant that with Tompkins and Marvin Thompson already injured we were forced to field a side patched up and sent out without a recognised genuine central defender. With the injured Wilko and recovering Richard Kear on the bench and City still only naming four subs you do wonder about our squad. Perhaps the injury news came too late, but you'd have thought the presence of a youth team player like Rimmer, Avery or Noakes may have given us another option. At least we'd have the extra psychological lift of a full bench, and a few people who could lift flagging spirits later in the game.

The match opened with both sides looking like they'd be a lot happier when this next 90 minutes of probable misery was all over. Tivvy hardly established a stranglehold on the opening exchanges, instead they more extended a limp, clammy palmed touch around our throats. The lack of cut and thrust to those first few minutes made it hard to spot what was happening, but then the penny dropped. With our lack of defenders we'd obviously opted for one up front and to try and sit back and defend. Davis was in a withdrawn role deep in midfield, with Mustoe sitting so deep he was nearly behind Matt Bath, never mind the defence. Striker Lance Lewis was at right-back, leaving poor Darryl 'High Tower' Addis to gainfully ape the role of target man and lone striker. The wisdom of this tactical master stroke has to be doubted, it may have made sense if we had a full strength squad but why bring Tiverton on to us when our defence was so depleted?


Top - Stonehenge: nearly as old as Burnsie, Knighter & Adie combined!
Middle - Davis reaches the half-way line to wild applause from the City fans.
Bottom - City in danger of waking Tivvy's keeper.

The lack of attacking intent made for a first half as depressing as any recent 45 minutes of watching City I can remember. You couldn't accuse the players of lack of effort after Burns' criticism in midweek, but we were just not designed for success this afternoon. After the first 20 minutes Tiverton slowly began to realise that they could press forward, and their early lack of confidence began to ebb away. Fortunately the Devon side were missing their first choice strikers and it showed with some wayward finishing helping us out at the back. Every time the goal opened up Tivvy crashed the ball wide or over the bar and they didn't seem to fancy trying to get close enough to break down our defence.

We did try to get forward ourselves, but once again the opposition just seemed to be a lot taller and stronger than our boys. Adie managed a trademark foray down the left and found space to turn in the box. He found Addis, but our problems were well illustrated when the forward tried to turn only to find himself surrounded and all alone with support still yards away.

Our makeshift defence was weathering Tivvy's attack well, all be it more of a light drizzle rather than a full blown storm. Burns is the one player who holds the rearguard together at the moment, and his height and know-how got us out of a few tricky moments. Rich Mansell must wonder how the hell he's at centre-back having arrived as an attacking left-winger. However, needs must, and he did well with an awkward cross and cleared well under pressure.

If we could be accused of lacking too much ambition or polish Tivvy were hugely disappointing (or at least must have been to the home fans). Mustoe and Webb were chasing and harrying, but they were finding it all too easy to break up attacks without really having enough numbers to mount our own attacks. The match was rapidly descending into a midfield stodge. Once Tivvy threatened to break clear after a rare City move out of our half, but Burns was quick to the danger and was booked for a cynical body check that none the less snuffed out the threat.

The Tiverton pressure was growing as the half went on, Chris Thompson saved a certain goal when he headed back out from under the cross bar. The one real positive moment in the whole of the first half was one wonderful cross field pass by Lance Lewis, finding Adie out wide on the opposite wing. Lewis clearly needs time to settle in the Southern League, but that pass alone shows he has more to his game than his pace. Those moments were few and far between though, and just a minute later Thommo was back repeating his earlier trick. This time he was forced to head clear from the back post as Tivvy swung in a dangerous corner. Webb was then unlucky to find himself also on the end of a yellow card for a routine challenge.


City's opportunities to attack were few and far between, but one promising moment seemed to arrive as we broke out and a long ball found Lance Lewis on the right and he was able to run at the Tiverton defence. Knight picked up the loose ball and we held possession for a while around the Tiverton box, but they were well organised and our movement was flat and we eventually simply ran out of steam. Former Tigers favourtie Paul Milsom looked surprisingly comfortable in his new role as a central defender. However uninspiring our play was, Tivvy had been little better and it did at least look as if we'd reach the break with the match goalless. That isn't how things go for us though, and it wasn't especially surprising when Tivvy were given a penalty. Their winger had cut inside Lance Lewis who caught back up with him as he entered the box, only for the Tiverton player to end up tumbling on the goal. City fans better placed than I thought it was a bad decision, but Lewis certainly ran behind the attacker's legs and gave him every opportunity to go to ground. Whatever the merits of the ref's decision it was naive defending, but the risk you run playing en inexperienced forward in a defensive position. Tiverton's skipper Steve Winter went forward to take the spot kick and put it in off the post with a low drive to Bath's right that left our keeper with no chance.

City came out in the second half and initially little changed tactically. Our tackling was actually very good and you couldn't criticise anyone for letting their heads drop now we were a goal down. We were still very deep. Lee Davis was having a decent game, but his skills seemed wasted. Our problems were typified when he did well to win the ball and with few options around him he pushed it up to Addis who did well to take the ball. He turned and held off the defender at his back, but with no-one on for the pass a second and third defender jumped on him and we lost the ball. A few moments later Mustoe did well to win the ball back, only for him to again pass to Addis and the process was repeated. It was all very frustrating and some of our best play was on the edge of our own penalty area. Webb made a wonderful sliding interception to deny Tiverton a shooting chance, but as soon as he won the ball you knew it wouldn't lead to a break away attack for us because there was no-one getting forward.

No side can hold out under extended pressure, even when a good part of it is self-inflicted. Considering how little we were doing going forward and our lack of defensive players we were actually holding out quite well. Eventually though mistakes are inevitable and Matt Bath did well to hold on to a shot from the edge of the box after Adie Harris had been caught in possession. We then survived near disaster that began as Burns over-hit a back pass, leaving Matt Bath to scamper back to avoid the corner. Having got to the ball Bath then compounded the error by scuffing the clearance straight to a forward. With our keeper out of the goal he curled his shot towards the top corner, but Matt did ever so well to fly back across goal and claw the ball away at full stretch. It was a great save, but we know you're a great shot stopper Matt - you don't need to give yourself the opportunity to impress like that!

Top - Lance Lewis finds himself crowded out as City try to attack.
Bottom - Randall finds himself still a little off the pace as Milse strolls past.

Even when we got forward we lacked ideas. When City won a free kick and sent Burns and Thommo forward it seemed at last like a chance to have a real go at goal. For some reason though we instead tried another fancy free kick routine that ended with Mansell running into no-man's land. With dead ball ability from Burns, Knight and Mustoe it's hard to understand why no-one seems willing to shoot from 25 yards when all of them have put away such classy finishes over the last year or so. Tivvy were soon back on the attack and Mansell was needed to make a fine tackle in the box. Tivvy were soon back at us, and should have scored with a header that flew across goal only for Mustoe to finally volley clear on the goal line.

Something had to change. I'd thought that spending the best part of two hours stuck in a traffic jam on the Salisbury plain whilst getting here was going to be the most tedious part of the day, but I hadn't reckoned for this. The temptation to see if any part of my 50p car-parking fee was refundable was growing by the minute. Fortunately we finally sparked into a bit of life as Burns waved his arms about for a good while, presumably signaling a very welcome switch to plan B (note to the gaffer, plan A stank).

The reshuffle initially seemed to simply involve moving to a much higher line, and almost instantly Mustoe was able to get forward to make the extra man supporting Addis. Mustoe is now at his best breaking up attacks, but with his ability he should also be able to find the extra touch to win us a few more vital points. It looked as if he had for a moment as he got on the end of a Webb and Addis move and broke into the box. Tivvy closed him down well but for a moment it looked as if his scuffed effort may have foiled the keeper, in Ashes parlance the slower ball had done him and he had dived to far too early. Harris almost nipped in, but Tiverton scrambled clear. Tivvy's keeper Mark Ovendale had barely seen any action before that, and had been tested more by City's fans than by our players' shots. As City began to press forward more he was to have to concentrate far more on the match.

Welcome to playing for City: Rich Kear gets that familiar feeling..

With attacking pace now more important Knighter made way for Rich Kear, with Lance Lewis pushed up alongside Addis. At last we looked more of a threat and showed some sparkle. Mansell combined well with Addis and got over a good cross from the left that saw Tivvy relieved to get the ball away. The other very welcome result of the reshuffle was that Lee Davis was now closer to the opposition goal than his own. Davis is one of our few players with some confidence at the moment, and his willingness to shoot almost paid off. A City attack broke down as Addis was muscled off the ball, but this time help was at hand and Davis curled a shot that shaded the wrong side of the bar.

We were now looking like the better side and Tivvy must have wondered what had happened. Their defence was well drilled but was at least being forced to work now. You could almost hear the sound of the trumpets as the red shirts swarmed forward. Addis was tripped and this time the free kick was more threatening, whipped in by Mansell and only half cleared to Kear down the right. He showed some welcome urgency with an immediate cross back in. Some how Lance Lewis managed to pop up in the box and his close range header brushed the bar. We were closing in.

Rich Kear has already had critics in his short time with us, but on this showing he could prove a useful addition if he is given time to settle. He produced a fantastic turn that threw the whole Tivvy defence, but having beaten one man and found Adie Harris on the wing the resulting cross eluded our forwards. The new attacking City side did of course leave us a little vulnerable to the counter attack and Chris Thompson did well to keep the game alive as he rushed across to make a great saving tackle.

Burns himself was also now getting forward and pushing up out of defence. His reassuring presence helped us play some of our best football for some while, but while we were now creating openings the clock was ticking and time running out. It was time to gamble, so the portly but experienced Lee Randall was thrown on for the morel light weight Lance Lewis.




The former Oldham striker is still some way over his fighting weight, but he almost made a vital contribution in this game. His touch is still there and he showed a surprising turn of pace over a few yards to get in front of a surprised defender and meet a low Lee Davis cross at the near post. Randall's flick was clever and Ovendale had to readjust quickly to block it. Tivvy's first half dominance was forgotten now and Webb was the next player to go close as he raced on to a pass from Addis, rejoicing in the pleasure of some company in the Tiverton area. Tom often seems reluctant to shoot, but this effort was well hit but sadly only ruffled the outside of the net. Time was nearly up, but it was Tiverton who were anxious for the final whistle. The match still had one moment of high drama left as Webb and Kear worked their way down the right wing. With City now forward in numbers he had plenty to aim for and his cross was full of pace and menace. It cleared the near post and Davis appeared in the six yard box, twisting himself acrobatically to deliver a diving header. From only a few paces from the goal line the equaliser looked certain, but Ovendale managed an incredible reflex save from point blank range. It was a save fit to win any match, and that's exactly what the Tivvy keeper had done.

By the end of the match we were unlucky not to get a point, and to play like that against one of the strongest side's in the division should do us the world of good. Unfortunately the defeat has to be partly down to our defensive tactics, and who knows what could have happened had we gone for the jugular from the first. To play with Addis as a lone striker isn't the option it could have been with a player of the Andy Hoskins mould, Addis needs a strike partner and Davis needs to be in the attack not wasted further down the pitch. If we can get at teams our defensive problems may be less apparent, but we needed a strong, tall centre-back in the squad even before the injuries to Marvin, Griff and Tomkins. At least we've shown we can get behind teams given the chance, and the match against Mangotsfield could be interesting if the players are given the chance to cut loose and get at them.

* City's defeat leaves us in an uncomfortable 20th place, still above Evesham and Northwood but now needing a win to get back in touch with the mid-table sides. Eleswhere today the division's last 100% record came undone with Bath City surprisingly defeated 2-0 by Salisbury at Twerton Park, with a first strike from former Southampton midfielder Tommy Widdrington. Merthyr have gone top having dealt out a real shock to fellow promotion chasers Chippenham who returned across the Severn Bridge pondering a 4-0 humiliation by the Martyrs, Craig Steins back amongst the goals with a brace. Two other fancied sides, Mangotsfield and Halesowen, scrapped out a 1-1 draw that we must hope has left the Bristol side exhausted for their Bank Holiday trip to Meadow Park in two days time.
| | | | | | |
| --- | --- | --- | --- | --- | --- |
| Referee: | B.Lillington (Dorchester) | League Position: | 20th (=) | Attendance: | 471 |
| Conditions: | overcast with some light rain | City Form: | LDDLL/D | Match Report: | by t-towel |
Work commitments mean that we are keen to obtain other match reporters willing to provide details on some City matches. All text can be supplied by email, with no need to worry about web design or formatting. If you are interested please contact the T-Ender.