A reshuffled City side was ultimately left to rue missed chances and not getting the rub of the green, but perhaps it was the odd tactical decisions that played a part in another poor result against a competent but uninspiring Yate side.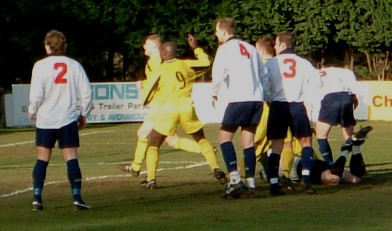 Hosky scores as Mingsy makes his presence felt
& leaves Yates keeper grounded
Gloucester fans had travelled in some numbers to tree lined Lodge Road, many of them intent on welcoming the return of Adie Mings to the City fold. Not many had expected him to fit in to the side announced, with Burns opting for three up front with Mings joining Hoskins and Cox in attack. The City boss sprang another surprise at the back with Marvin Thompson continuing and Jeffries left on the bench, Keith Knight asked to fill in for the suspended Lee Smith at right wing-back. The bright sunshine added to the sense of expectation, with City looking for an early opportunity to avenge the disappointment of a home 2-1 defeat to lowly Yate just a fortnight before. With Mings entering the fray to warm applause it looked as if the travelling supporters would get what they wanted as from the start it was the yellow shirts who attacked in numbers. Mings showed a few strong early touches while Cox had a good opportunity to stretch his legs after a hopeful ball from Mustoe. The game was only eight minutes old when City found the net. A deep cross from Mustoe saw Mings already causing havoc in the Yate area, keeper Tony Court failed to withstand his attentions and spilt the ball loose for Hoskins to crash the ball into the net through a crowd of players.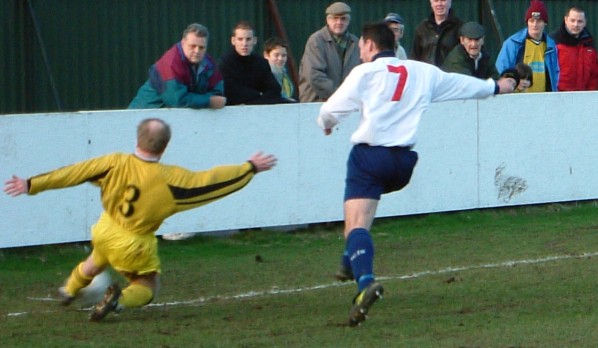 Harris heads for the by-line
City enjoyed most of the early pressure with Adie Harris having plenty of opportunity to make the most of space down the left, twice haring free to cross. Despite the three players up front the attack looked a little less than sharp though and the balls were wasted. Mings showed a good touch as he bulldozed his way past one defender and he swung over a good cross that Cox was unlucky not to be able to convert. Former City defender David Elsey used every ounce of his increasing weight to good effect, pushing, pulling and tripping the City attack at every opportunity. We had every reason to be grateful for the inattention of the referee after a couple of heavy midfield challenges, but will have regretted him not taking a sterner view of Elsey's persistent fouling throughout the game.
Mings back in City
colours
City had most of the play and looked to be operating in a comfort zone where there was little urgency and few actual chances. By far the best opportunity fell to Andy Hoskins after a clever ball from Keith Knight sent Cox galloping free down the right. He sped past one defender and crossed back from the by-line to find Hoskins with the goal open in front of him. With Croft struggling Hosky let Yate off the hook as he ploughed his shot wide when it looked easier to score. Minutes later City spurned a second good opportunity as another good Cox run was halted on the edge of the area. The miscleared ball fell to Wilkinson and he had chance to take the ball in before sending his shot high and wide, although it on the edge of the area and Wilko has proven himself deadly only from much closer range than that this season.
Whilst it was Gloucester who looked the better side in the first half there had been warning signs that things were not going to go all our way. The strange decision to push Knight onto the right wing after he'd been so exposed there in the opening games of the season seemed to be open to question each time the nippy number eleven raced past him. It also gave us a lop sided look as Knight was careful not to push too far forward and leave the defence exposed, meaning we missed any real forward option down that right wing. Marvin Thompson again impressed and on several occasions made good interceptions to keep Rawlins and Campbell at bay. Football pays no respect to your previous competence though, and it was the youngster who was caught out for the equaliser. The move started on the edge of the Yate box as Elsey escaped punishment for another shove on Adie Mings and emerged to carry the ball out of his half. Knight couldn't get close to him and he was able to run most of the length of the pitch. When the ball was crossed over Marvin was left on his own at the back and he showed some naivety planting his header straight into the path of Steve Campbell. He had time to lash a shot that left Bath with no chance to level the scores just on the stroke of half-time.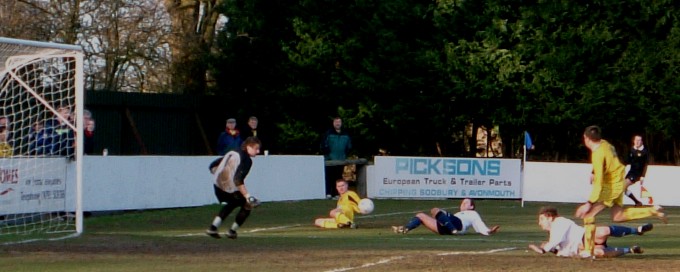 Cox crosses and Hoskins fires wide with the goal at his mercy
That equaliser took the wind out of the City sails and the second half saw the roles reversed as suddenly Yate took the game to a fragile looking City defence. With the towering presence of Lee Jeffries on the bench it was perhaps fitting that when Yate took the lead it was from a header, after we had spurned several chances to head dangerous crosses clear having never got to grips with Campbell's initial corner. The goal of course fell to Matt Rawlins, after the winner in the defeat at Meadow Park had also been scored by Mike Wyatt, another former City favourite.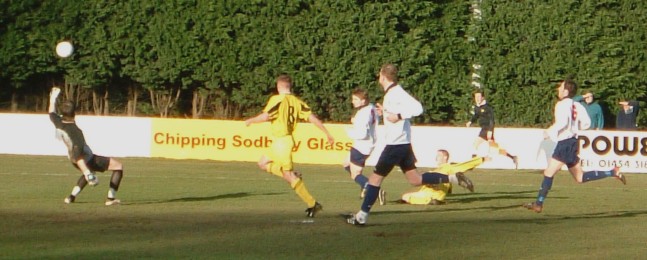 Wilkinson scoops his shot over the keeper but past the post
That seemed to finish any remaining Cinderford resistance and from then on the It took the second Yate goal to stir City but our midfield now looked well and truly over run. Mustoe was everywhere but looked as if he was having to cover all the ground on his own as Wilko only occasionally put in an appearance in a subdued display. With three up front there were plenty of attacking options but no-one to feed the ball, especially with Knighter unable to go forward too often. Cox was doing his best to run down the channels but could not both find the space and get on the end of the crosses. He did manage to shrug off one challenge and get the ball over but Hoskins was well covered and couldn't get his header on target. Another dangerous cross from Knight saw Yate's Phil Ward forced to smash the ball over his own bar. Minger had enjoyed a good first half but was starting to look more laboured now, and it was a surprise he was left on for as long as he was.
| | |
| --- | --- |
| | |
| Elsey promises he'll leave Coxy alone ... | ... so he turns his attentions to Mings instead ! |
Despite lots of pressure the ball just wasn't falling for us and you were starting to get the impression for all our efforts we could not get the ball in the net. We had plenty of possession in and around the Yate penalty area but space was limited and clear opportunities few and far between. A clever ball inside from Adie Harris sent Jimmy Cox in on goal but his cross shot was blocked. With Lee Jeffries thrown on city and more aerial presence from the frequent corners, but they inevitably ended in scrambles where the City bodies were as likely to block the shots as the massed Yate defence. A clever Mustoe ball put Jimmy in again and as he skipped between Elsey and Ward the goal seemed to open up, but he seemed to trip himself up and prodded the ball away from himself. Aaargh !!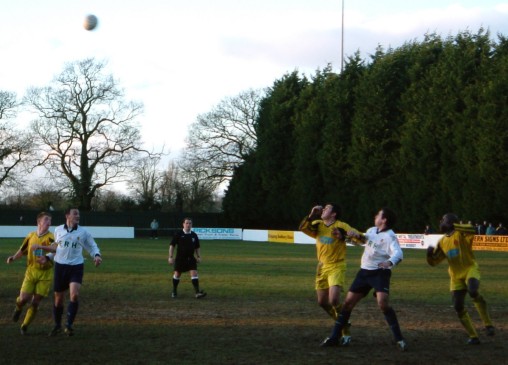 Hosky battles Iain Harvey for the high ball
City came closest when Keith Knight stepped up to take a free kick on the edge of the area. He clipped his shot around the wall and it looked destined to slip inside the post before the flailing arm of Tony Court intervened and pushed the ball out of the goal. With a few minutes left on the clock Baylo stepped up to take another free kick and drilled a clever pass right the way through to Adam Hemming on the far post. He collected the ball but stumbled on it, knocking it out of play just as he looked poised to smack a dangerous ball along the six-yard box. Some how it seemed to sum up our efforts and lack of luck.
Knight's free kick is saved:
video - click to watch
Yate looked a much better side than their lowly 19th spot would suggest, but it is impossible to put a positive gloss on home and away defeats to Yate. These were vital points thrown away and likely to be regretted at the end of the season. Our league position may not have suffered too much this week, but we must remember that the second half of the season holds difficult challenges - not least matches home and away against Redditch, Bromsgrove and Cirencester as well as trips to Team Bath and Halesowen. We must find our form again soon, and perhaps this is best done with a settled formation and not asking too many players to perform out of their usual positions.

* City's result may have seemed a disaster but other results leave us still lying 5th on a day of few goals in the DML Western. Both the top two were held to goalless draws, with Redditch held at home by Taunton while Rugby were fought to a stalemate by Sutton Coldfield at Coles Lane. Evesham's hot run of form under Dave Busst continued with a 2-0 win at Halesowen and Bromsgrove were humbled 2-1 at home to another improving side under new management, Bedworth United. Shepshed lost their second manager of the season with the midweek resignation of Dave Clay and were unable to take advantage of Cinderford's postponement at the bottom of the table as they were beaten 2-1 by Clevedon.