This match had been long awaited by City fans and on turning the corner of Sudmeadow Road it was fantastic to get that big game feeling after so long. Not only was the car park full and the ground bustling but we even had to queue to get in - for a few whole minutes! The final crowd was officially 1,087 - City's first four figure home gate since 1,010 watched us play Nuneaton Borough back in September 1998. And what was better was that any neutral couldn't fail to be impressed by City's grit as they took on Conference opposition and matched them all across the park. In fact anyone not in the know would have struggled to tell you which side was from which division.

Woking don't travel well and were missing several of their first team regulars, but even so they disappointed on the day. City boss Chris Burns pulled a surprise in his team selection, replacing Jenkins with himself at the back and leaving both Lee Smith and Tom Webb to continue their recent glittering form.

The opening stages of the match were as you may expect, City the home team flew at Woking but found little in the way of early openings. However as the minutes passed it was Gloucester putting the passes together better, perhaps being more sued to the improving but still unreliable pitch surface. Chris Thompson ripped down the right wing early on, but his swerving cross found Andy Hoskins' trademark overhead kick not quite connecting. Perhaps it was frustration from that miscue that led to Hosky picking up a bizarre booking a few minutes later. This time the cross came from Adie Harris on the left, falling just behind Hosky who handled it - and despite his protestations he had to accept the yellow card was unavoidable.
That did not really seem to unduly worry City too much though as most of the play was being dominated by City, Wilkinson breaking up any attempts by Woking to put passes together. City were using the width of Harris and Smith to good effect and Woking were clearly unsettled. Their forwards seemed a little flat and provided little for their team mates to look for when they did get possession.
City may have been enjoying the better of the play but had to wait until 19 minutes for a real chance. Woking had obviously heard of Jimmy Cox's pace but he still managed to escape Jon Boardman and slice over a cross which was met powerfully by Dave Wilkinson's head. The Cards keeper Shwan Jalal made a great reaction save to keep the ball out of the net. That escape stirred Woking and our defence seemed to be caught napping, a good looping ball left Chipps on his heels and Townsend to prod goalwards. Seemingly in slow motion Matt Bath pushed a hand out to push the rather tame shot to safety and keep the game level.
At this stage the game was seemingly going flat and the ebb of the match going from City. Even at this point though Woking lacked the edge you may expect from a Conference side, throughout their touch was better and more assured, but they lacked the incisive thrusts provided by City's direct running. It was another such charge from Jimmy Cox that could have seen City snatch a lead just before the break. His cross was only partially cleared and fell to Lee Smith charging in on the edge of the box. His volley was venomous but whistled a foot wide of the post. The other highlight of the first half was referee Lee Probert giving a goal kick to Woking instead of a corner to City in front of the T-End, and then falling flat on his backside as he retreated out of the penalty area.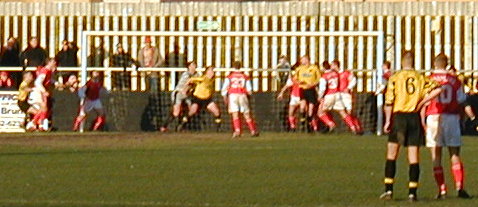 Griff goes up for another Harris corner
City were clearly well motivated after the break and despite their inferior status it was the home side that threatened to take a strangle hold on the game. Cox again shook off his marker and Lee Smith almost reached his low cross at the far post. Minutes later another good cross, this time from Smith on the right, only eluded both Hosky and Wilkinson by inches. It was not all city pressure though as Woking spent a spell outside the City area. Griff did well to marshall Ben Abbey, who had ripped City apart playing for Crawley a few seasons ago. Townsend had one shot, but only half caught it and saw it dribble wide. Sharpling did a little better for the visitors a few minutes later, but this time Matt Bath was well positioned to hold the shot with minimal fuss.
| | |
| --- | --- |
| | |
| Abbey is closely shepherded by Chipps | Burns closes a Woking attack |
The Tigers were now throwing off any respect they may have had for their visitors who looked unnerved every time they were faced by Webb, Cox, Harris or Thompson in full flight. City pressured and almost went ahead when Burns touched on Griff's long throw, leaving Cox to skim the bar with his header. A few minutes later Adie Harris picked up the ball on the left and cut in field, running 30 yards before being unceremoniously hacked down by Neil smith. The ref did well, Waiting for City's attack to run into a dead end before coming back and giving the Woking player his second yellow card and his marching orders.

With Woking reduced to ten men they really looked on the ropes but City had already raised their game to get to this level and looked like a side with no more gears left to use. The T-End raised its voice, urging the side on, helped by the visiting fans from Luton(?!). They really didn't like Woking but while the home fans wanted to beat the Surrey side they didn't yet have enough to hate them as these blokes obviously did. City strained and pressured but somehow couldn't land the final knock-out blow. Smith and Cox linked up well with both having chances, Smith's flying into the side netting and Cox forced to shoot from too tight an angle.

Adie Harris was enjoying another fine game and sent over a deep cross that deserved a finish that it never received. Lee Smith did well with a shot fired in from distance but again found the Woking keeper in good form. City threw on Bayliss in a desperate attempt to find a goal, but it looked like it had come from elsewhere just a few minutes from the end. Burns stood up a fantastic cross that beat the defence and as the figure of Neil Griffiths rose at the far post it looked like City were going to get a deserved and magical victory. However the T-End roof remained firmly in place as the header rolled agonisingly across goal and just wide of the post.
At the final whistle the City fans gave our players a well deserved warm ovation, despite the lack of goals this was a gritty and brave display that showed our young side at their best. It may be that with home advantage gone our best chance of causing a shock has gone, but we've had good results away from home this season and will have seen little to frighten us on this showing. City now travel to Woking's Kingfield Stadium for the replay on Tuesday evening - and whatever the result their this was a fantastic day for our club and one that firmly marks another stage on our journey back to success.