City fans now abed will thinks themselves cursed that they were not here. Those who were witnessed a performance which must surely signal that at long last Gloucester City are not just on the way back - this team is back on the non-league footballing map. City scrapped and fought for every ball and never let their concentration waver as they expertly dispatched Conference side Woking from a competition they have won three times, on their own ground, and on merit.

Chris Burns kept faith with the side that had run the Cards so close at Meadow Park on Saturday, the only change being a tactical one that saw Adie Harris moved into a more attacking left sided role and Wilko dropping back to cover. Woking swapped several players about after their disappointing display in Gloucester, and on a cold night it was the home team who set about with the most vigour.

However City withstood that initial burst of enthusiasm and within minutes you could see doubts begin to flicker across the minds of the Woking players. They didn't like a burst of pace from Jimmy Cox and when he ran clear to cross for Hosky to shoot fiercely into their keepers hands it should have been a warning. They didn't take it though, and City took the lead after quarter of an hour. Wilkinson dinked in a great ball down the left for Cox who sailed past Dean Austin and crossed low into the box. The Woking defence was wrong footed and they left plenty of space for Tom Webb to run in and gloriously pass the ball into the net for his first ever senior City goal.
Woking were reeling and for a spell it was all City. We sensibly defended deep for a few minutes and made sure we withstood any initial pressure, conceding a free kick but seeing it curl harmlessly wide. With that behind us we then dominated for a ten minute spell, keeping possession and probing down both flanks. Thompson was having plenty of space to pass in and the runs of Webb and Smith created room for us to work in. We almost capitalised on the pressure when Cox was tripped and Griff won a far post header from the resulting free kick. The ball sailed across goal and Burns almost scored from a tight angle.
Woking were able to wrest the game back from us for spells but City really won this game as they defended. Even when mistakes were made there were team mates on hand to cover. Wilkinson was too slow to get tight on his winger, but the resulting cross was slammed away by Griff. Griff then slipped but Chipps was close enough to pressure the forward into scuffing his shot. A quickly free kick almost caught us napping, but again Griff and Burns combined to cut out the cross and clear the danger. The ref did well when Wilkinson went shoulder to shoulder with a Woking attacker who sprawled theatrically only to see the ref waving him back to his feet.
The game really came to a boil in the last few minutes of the half. City broke up an attack on the edge of their box and immediately counter attacked with Thompson finding Cox sprinting clear of the Woking defence. Coxy ran in on goal but the keeper, on loan from Spurs, made another good stop. City then had a great escape when Woking attacked and having seen one chance hacked clear got a second bite as the ball ricocheted to Hamilton in front of goal. He shot but found Matt Bath impossible to beat as he made a fine reflex stop.
City opened the attacking in the second half with a strong run by Lee Smith. Only Adie Harris could keep up with him but the cross was cut out. City had a little burst of pressure, prolonged when the ref accepted advice from his female assistant that Adie Harris's corner had been so good the keeper had had to palm it over the bar.
In the second half City did well to fight off some sustained Woking pressure, but the defence was in fantastic form. Neil Griffiths was simply outstanding - his reading of the game enabled him to always be that awkward person in the right spot at the right time to make the timely header or vital interception. He was well supported by Chipps who is looking more and more accomplished in every game he plays. Burns too battled hard and even when his distribution let him down he was quick to win back the ball. For all their possession and nice touches the Woking players were resorting to ever more hopeful long balls and wild shots from distance. The frustration was clear to all when Thompson was on the wrong end of a forearm smash that laid him out in midfield.
This hard work and concentration seemed to be taxing City and even after a couple of substitutions you could see Woking were visibly stronger and sharper. However City were now running on sheer adrenalin and there was no doubt who wanted this more. Although Woking enjoyed more possession it was City who had the better chances. Webb went close with an effort that curled just away from post and bar after he'd been found in space by Adie Harris. Webb was then desperately unlucky to see another shot come back off the post after a jinking run by Cox had caused mayhem in the Woking defence. However City got the goal that created some vital breathing space when Jimmy Cox raced through after another clever pass from Chris Thompson. Cox's shot was again well saved by Jalal in the Woking goal, but he could only push the ball back across goal into the path of Adie Harris who seemed to take an age before dispatching it into the net from close range. He later told The Citizen it felt good when it hit the back of the net, it felt good for the fans too. I think the Woking fans who started the match singing "Who Are Yer?" at City may not need to ask next time.
The City fans were now in delirium and the end of the game seemed to stretch on forever as the disheartened Woking fans trooped out past the celebrating visitors. There was still time for Woking to go close, but Matt Bath was on hand to make a fantastic diving save to push the ball out for a corner which was again squandered by the Cards. When the final whistle went it was greeted with sheer joy by the players and the fans - a fantastic evening and perhaps another pivotal moment in this club's climb back from the abyss.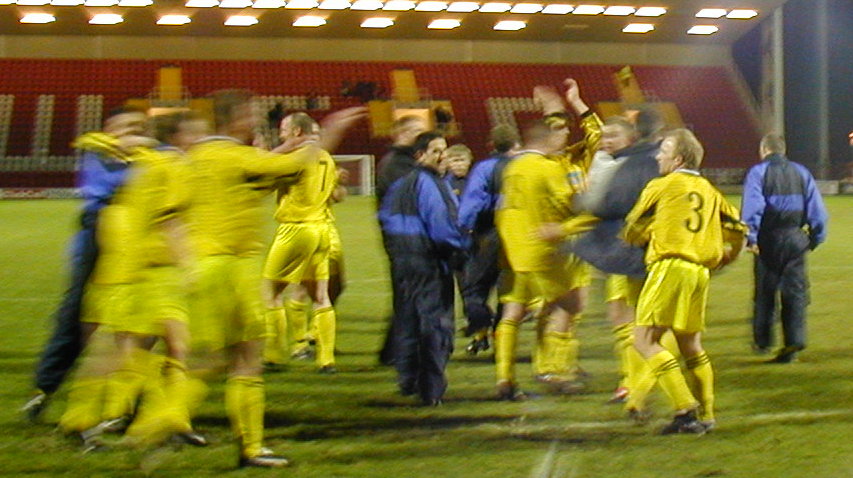 City celebrate victory at Woking's Kingsfield Stadium
This result will stand as a triumph in it's own right - but also have a very real practical benefit in swelling City's depleted coffers. Our brave Trophy minnows now go on to face another Conference side at home on 22nd February, facing Southport after they overcame Dagenham 4-3 on penalties after the replay ended 2-2 despite extra time. City will start off as underdogs again, but on this form anything is possible...