This crucial promotion game was one by Weston two goals to nil, but perhaps more tellingly by around 27 trips and a submission. As you wouldexpect from a Frank Gregan side Weston were strong and well organised, but also pretty cynical in their determination to unsettle a City side that looked like they may have been the better side on another occasion.
The match began promisingly with City doing the majority of the attacking. From the opening few minutes Weston were uncompromising in their challenges and the ref reacted prompty to a couple of cynical trips. A yellow card was wealeded for a trip on Cox as he skipped down the left and then former City centre-back Mike Kilgour was booked for a block on Tom Webb. City were looking by far the most likely team to score and Cox twice went close as he roasted his former team mates.
Having started as if he meant to clamp down on Weston's brutal tactics the ref quickly backed down, possibly realising that he was inevitably going to have to soon red card at least one Weston player. A follow through on Hoskins by Jody Bevan inexplicably bought no card at all, although a far less dangerous trip on the other flank had merited a booking. The same player then again escaped unpunished having gone in two footed on Lee Smith, and the youngster never recovered and saw his 100th match cut short whyen he limped of ten minutes later. The catalogue of horror challenges included a foot left in on player-boss Chris Burns by Jamie Edwards - Burnsie didn't look best pleased and spent the rest of the match trying to get even.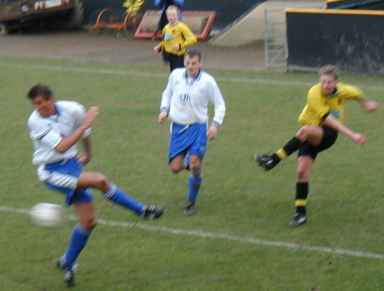 Webb fires in a cross from the left
City looked to have a grip on the game for around 15 minutes in the first half. The spell began with Cox being denied a penalty after he'd latched onto a ball from Adie Harris. He raced past keeper Stuart Jones who took his foot before stretching for the ball. The ref's view was blocked by the keeper's body and he didn't give the spot kick. City has several other chances, Hoskins narrowly missing with a glancing header from Cox's cross. For all their dominance though City created little in the way of clear chances and Weston cleared their lines with little in the way of art or technique. City were to rue their missed opportunities and could have been behind before the break if Edwards had been able to put his diving header either side of Matt Bath.

The second half opened explosively and badly for City. They failed to deal with a run down tthe right and when Jackson eventually crossed both Burns and Griff failed to clear it. The ball ran clear to former City youth player Jody Bevan who slammed the ball low under Matt Bath to give Weston a 47th minute lead. The match had previously seemed to be largely locked in an unattractive stalemate, and with Weston showing even less in the way of attacking ambition the game didn't improve. City were trying to play, but having gone a goal behind tired legs were now beginning to look really leaden. Wilkinson was largely a passenger while Jenks couldn't put too many passes together. Burns was another who looked heavy legged after the midweek exertions at Southport.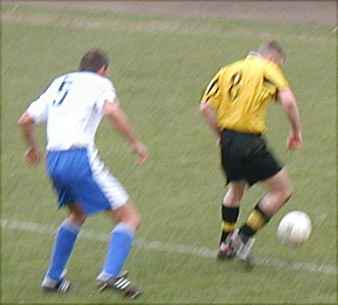 Cox turns Kilgour
Cox was still the most likely source of a City equaliser but he also faded from the game. He had one good chance when he turned sharply on Jenks' pass but he couldn't find the net. City were largely being frustrated by continuing robust Weston defending, and were falling into the trap of playing to their level with high balls never likely to beat a tall, strong Weston back line. Hoskins looked out of sorts and had a quiet game, his only real effort from Cox's run trickled tamely into the keepers hands. At the other end the pace of Edwards threatened to cause problems, only a brilliant Griffiths tackle denied him a clear run on goal.
The match was getting increasingly niggly with the ref missing a whole host of off the ball elbows and kicks. Matters didn't improve when Stuart Jones stayed down after a challenge from Cox, but the keeprer sprang to his feet quickly enough once the City striker had been booked for a fairly meaningless challenge. By now five Weston players had been booked, despite the ref seemingly letting most challenges go. City were getting increasingly fractious and moods hardly improved on 73 minutes when Edwards finally broke free from Griff and accelerated past Chippy to slide in a low cross that whistled past Matt Bath. Former City player Alan Bird was on hand to smack the ball into the empty net and send all eight of Weston's travelling fans wild.

Weston surge forward in the attack that led to their opening goal
City attempted to rally and come back but truely they looked devoid of ideas and dead on their feet. We've often struggled to match some of the more physical sides in the division and today the pace simply wasn't there. The match only had it's final act and a logical conclusion to a bad tempered and ugly game. Jenkins was running harmlessly across the midfield in his own half and had already pushed the ball wide to Webb when Weston's Jackson clipped his ankles. The ball had been gone so long the players had already exchanged several punches before most people knew what was going on. As they wrestled on the floor nineteen players from both teams got involved, with a special mention to the petulant Bevan who behaved like a spoilt child and to their keeper Stuart Jones who unforgivably ran the length of the pitch to throw his handbag into the fray. By now the ref looked entirely lost and the red cards to Jenkins and Jackson looked apologetic as he must have been well aware he'd missed several wild punches from players on both sides. He also booked Bayliss, presumably for having a torn shirt and therefore looking particularly battle scarred.
This was a dreadful match that would stand as an appalling advert for non-league football. Weston do deserve some credit for well taken goals and some resolute well organised defending that nullified the considerable threat of Jimmy Cox. However their display was punctuated by some cynical fouls and shameless gamesmanship. While City fans will be sore at losing this important match surely none would swap our passing game in favour of watching Weston's brand of kick and thump football, however successful.