Rejoice, rejoice. After eight straight defeats and much despondency amongst the faithful City have risen again. If not quite conquering death then at least conquering someone at a time when victory against a cub pack second eleven would have been greeted with the excitement fit to grace a cup final. And not only a win, but a clean sheet too. Our first in the league this season - pure heaven. How easily we are pleased!
The City line-up did not look promising. The increasingly influential Matt Parnell was missing with an illness and the sight of Tucks and Griff as a central defensive partnership didn't look imposing enough to frighten off a bulky looking Weston team. Our fears had no more time to make themselves comfortable than did the sparse crowd, we scored within a minute.
City had done the sensible thing and from the kick-off calmly played the ball back through the team to Ally in goal. Only he will know if it was a fantastic pass or a hopeful welly, but the keeper's kick split the Weston defence and bounced clear. Jimmy Cox was first to react and having bought the ball down smacked an emphatic shot past the stranded Dave Mogg.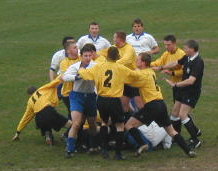 The sides share a difference of view
on Tommy's challenge
The entertainment was far from being confined to scoring goals. The hapless Sean Wharton made a crucial error early in the game by clattering City player-boss Tommy Callinan. Tommy, not being a man to bear a grudge, spent the rest of the game on a mission. The first of their many 'encounters' saw a huge scrum develop as both sides piled in to each other. Tommy emerged with his halo only slightly tarnished as he somehow managed to look surprised and disappointed as the ref booked him for his original flying kick. For the fans things were looking promising, 1-0 up plus a huge brawl and less than ten minutes on the clock.

Disappointingly, sorry I mean thankfully, the match began to settle down and despite Tommy's best efforts to cause trouble the game eased into a midfield scrap. The ball rarely stayed in possession and neither side looked like particularly good, although the pace of Smith and Cox constantly worried Weston. The City goal was rarely threatened, although the T-End was kept amused by the antics of Giles who couldn't even stand-up never mind kick a football. Tucks looked assured at the back and both Baylo and Jenks were working hard to stop Weston having any room.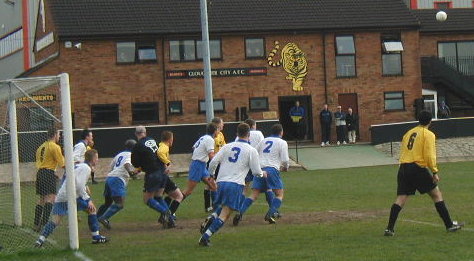 Weston clear a rare first half City attack
The second half was a livelier affair with Weston looking to attack and City almost instantly finding extra space as they pushed further up the pitch. First Kilgour fluffed a header but Cox wasted the chance, and then a Jenks pass sent Cox clean away only to see a flag-happy linesman gave a doubtful offside decision. The match was threatening to become a lively contest as both sides opened up and had good shooting chances. Ally twice made good saves as our defence creaked, whilst Cox sent in a low skimming shot that only just evaded Baylo at full stretch.

However City fully deserved to extend their lead, although the actual goal had an element of fortune about it. Another good forward burst saw Cox advance to the edge of the box before sending a rasping effort goalward. The shot was wonderfully saved by Dave Mogg, who momentarily forgot his age to flick the ball past the post. The corner was clipped in by Marshall to Karl Bayliss at the near post area and his sharp turn caught Parselle napping. The shot glanced off the full back's head and nestled in the bottom corner of the net. Baylo will claim it and be thankful no spoilsport FA video panel will take it back off him.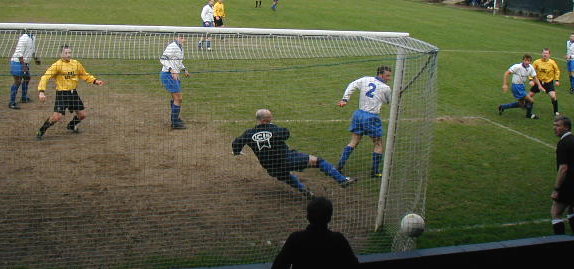 How did that get there? Baylo's shot is headed in by Parselle (No.2)
All being equal City should have been heading into cruise control, but all our fans know that's been taken off this season's model. We actually made a fair fist of trying to control the game and close up the midfield, sadly it all went awry with a moment's thoughtlessness from Neil Griffiths. Having conceded a free kick City retreated to form a wall, and Griff kicked the ball away. Having already been booked he should have known better, and the ref sent him for his second early departure in three games.
In many ways the red card could have been the slap round the chops City needed to stop them being sloppy. Steadman came across to centre-back, and Tommy and Jenks both did a good job of adding some protection to City's defence. Unlike some recent displays we looked organised, and also had some of the luck that we've missed over recent months. Weston did have chances, but this time we had bodies in the box to block and frustrate the opposition.

With the match coming to an end Tommy livened up the last ten minutes by renewing his personal battle with Wharton. The unfortunate midfielder had come back to his attention following a bout of handbags with Tucks. After Godfrey had mauled the passing linesman and reluctantly returned to the dugout Tommy took advantage of his place on the pitch to exact some more immediate retribution. Apart from one slightly misplaced hack Tommy largely failed, but the sideshow as he followed him around the pitch distracted from what could have been a nervy last few minutes.
As it was an almost hysterical T-End was able to celebrate a much needed win and that first clean sheet. Tommy told The Citizen afterwards with masterly understatement, "There is a sense of relief". No kidding.