Burns reshuffled the pack for this crucial match against perennial league strugglers Warwick. The player-boss returned to the side after suspension, and also experimented with Steve Jenkins up front instead of youngster Lee Smith.
For the second game running City stole a march on the opposition with an early goal. Warwick were caught napping as they failed to pick up their men when Dominic Dunton took a free kick near the half way line. The ball was chipped in to the box and Chris Burns had plenty of time to place his looping header over the stranded keeper for his first goal since taking the managerial helm.

City played great football at times and put together some authoritative passing moves. Hardcastle played a neat ball through to Prince who shook himself free of the defence and fired a shot across goal and narrowly beyond the post. Steve Jenkins also worked hard and had some good efforts from distance, but he never looked entirely comfortable leading the line.

Despite Warwick providing the occasional reminder of their presence with forays towards our goal it was City who looked most likely to add to the score sheet. Burns and Marshall were both dominating the midfield, and Prince was sparkling up front. City again took a little while to realise the big defenders would easily beat our smaller forwards to the high ball, but once the ball was on the ground our pace and passing was making Warwick look fragile.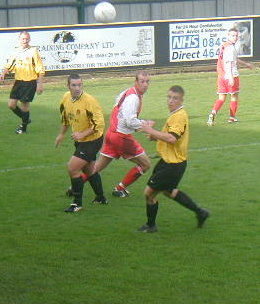 Griff & Dunton see one cross get away
Prince and City deserved a goal for their enterprising play and it looked like it had arrived in the 35th minute. Burns played another accurate sweeping pass across to Temple on the left wing. He made for the by-line and sent in a low cross that Prince converted at the far post. However the goal was disallowed, seemingly for pushing.
Warwick had not really got to grips with the match but they had their own opportunities as the half drew towards a close. City look far more organised at the back since the arrival of Darren McCluskey and were able to keep the visitors out. At times though it still looked a little desperate as City failed to clear their lines. First Taylor had to make a great diving save and then had McCluskey to thank for poking the rebound off for a corner as Warwick shaped to take advantage of the grounded keeper. Taylor had earlier picked up an ankle knock and was struggling to make ground off his line. The keeper did well to get his fists onto the corner, but after an initial hilarious air shot Warwick got their shot on target only for Craig Temple to head off the line.
Dunton cuts out a Warwick attack
However Warwick suffered from a failure to learn from past experience in the final moments of the half. Temple was felled on the left flank and Dunton again took the free kick. His swinging cross again found Chris Burns in space, and the boss stooped to head into the corner of the net to extend the lead.

The lead should have given City some breathing space and allowed us to continue some of the free flowing football that we'd shown in spells in the first half. City have never liked to allow their fans to feel too comfortable though, and Warwick put all their cards on the table with a half-time triple substitution. It paid off almost immediately as Warwick showed that they had learnt from City's goals. They took their own quickly taken free kick and City failed to pick up one of the subs with Wiseman getting the final touch.
Gloucester looked shakey for a ten minute spell as Warwick exerted some pressure in search of an equaliser. However a few breaks in the game for Warwick injuries stopped the impetus and City re-organised with Tom Webb replacing Hardcastle on the right. The City sub made an immediate impact when he raced clear of the full back and cut the ball back to Jenks who forced a good block from the Warwick keeper. The rebound fell to Prince but his shot was skyward.

Having survived their rocky spell City again looked dominant and finally sprang the offside trap on 71 minutes. Burns broke up a Warwick move and released Luke Prince into acres of space. Prince sprinted into the area and knocked the ball round the keeper only to have his trailing leg cynically caught by his outstretched hand. The ref gave the penalty but Warwick's keeper was perhaps fortunate not to see red having clearly been the last man. It made little difference to the penalty though. Dominic Dunton crashed the ball past the keeper with a truely venomous spot kick that would have hurt anyone stupid enough to try and get in its way.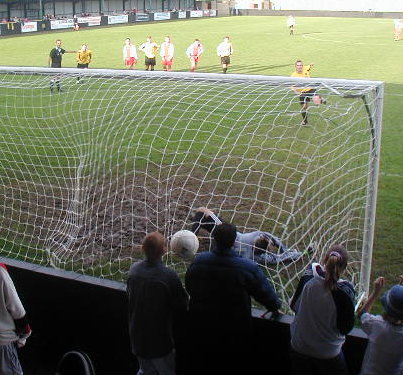 Dunton crashes home a penalty for City's third.
City now had the confidence to play some of their best football with Tom Webb particularly impressing. City put together some superb passing moves as they pressed for future opportunities. Webb's shot whistled past the post after linking up with Jenks and Burns. A minute later Webb was again involved but his cross found the penalty area largely unpopulated and just miss the outstretched leg of Gary Marshall.

The match managed to drag on for an extra five minutes, and sadly that enabled Warwick to grab back a late goal that gave the score line a suggestion that this was a closer call than it actually was. City showed real class in some periods of the game and while it would be wrong to think we can expect to immediately race up the table their is great potential to work with.
Luke Prince may be small but he again showed quick feet and is not easily pushed off the ball. McCluskey showed he can be part of the answer to our defensive difficulties and Dunton is emerging into a great weapon from set piece situations. Burns looked more like his old self and generally City looked like a passing side of some potential. For the first time City have back to back wins, and while they have been against struggling sides we've previously been losing to poor teams. It might be too early to dream of trophies, but at least we can be more confident we've got the right raw materials in place for burns to work with.