This was the FA Cup. City craving both cash and glory and facing Team Bath, the team of last season's FA Cup on their run to the 1st Round, and a match featuring two teams whose league battle a few weeks previous saw seven goals. You'd expect an entertaining full-blooded encounter. You couldn't have been more wrong. The match was an embarrassment to the game, with both teams pitifully poor. City's performance was their most abject and hapless in years. City have played better than this and lost by five.
It's difficult to even remember many incidents of note to mention in a match report. Most of the game was typified by wayward passes, inexplicable mistakes, hasty clearances, bad tackles and shots that threatened the seagulls on the tip more than the goal.
Team Bath were marginally the better side, but that really is to damn with the faintest of praise. A good side would have destroyed City on today's form. The students did have a few chances early on. A long shot almost caught out Matt Bath when the bounce threw him, but he recovered to push it away from danger. Prince returned to Meadow Park, but along with everyone else on the pitch, he disappointed. His corner gave Tilson a chance, but despite being unmarked his header crashed into the advertising hoardings.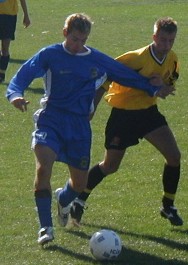 Thompson challenges for the ball
Hemming must have been mightily relieved to have pulled his achilles as he got to make an early escape, being replaced by Adie Harris. However not even the twinkling feet of Adie could find any way through the continuing dross. After ten minutes of more ineffective kicking and hoping the visitors almost took the lead with a well placed drive from the edge of the area, drawing a fine stop from Matt Bath.
City were finding some improvement, but in reality this just mean we could now find our way out of our own half before screwing up. The whole experience was proving frustrating and a heavy challenge saw Alex Ball sandwiched between Mustoe and Smith, sustaining a broken collar bone in the process.
The second half was no real improvement, and by now the disastrous quality of the game had generated near hysteria amongst those watching the pantomime. Team Bath had a couple more chances, but always seemed destined to be scuffed wide.
City had to wait over an hour to make any sort of real attack. Jimmy Cox skipped through a challenge and squared the ball to Tom Webb. The City youngster has been struggling to recapture last season's form but his shot looked goal bound before it was bravely charged down. Despite this opportunity City still lacked any spark or passion about their play. It was an inexplicably passionless performance.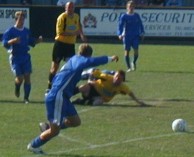 Webb and Burns try to find some
forward momentum
City started to exert a little more pressure as the clock ticked down. Hoskins finally woke up and bull dozed his way through the defence before swinging over a deep cross. It was too high for Cox and when Webb tried to meet it at the far post he couldn't get any direction on his header.
Burns began to try and take things into his own hands and he connected well with a deep Knight free kick, but the bullet header flew inches above the bar. With only a couple of minutes left Chris Burns forced the ball into the net with another header, but the goal was ruled out as the player-boss had trampled all over the defender in his attempt to get to the ball. City's last chance fell to Hoskins as Cox found him in some space, but the City striker smashed his shot wide.

The match was so poor the local paper refused to give a man of the match award, and you can hardly blame them. A game like this is unlikely to have the crowds back at Meadow Park in any hurry. City are left facing a difficult trip to Bath University on Monday evening to stay in the FA Cup, and on this uninspiring form it's impossible to see how we could win. On the other hand it seems impossible that our players could manage to collectively be so poor again.