This wasn't a great game but it was a game won by two great second-half goals which made the admission price worthwhile on their own. City had struggled to assert themselves over a Taunton side who looked dreadful in defence but offered a lively attacking threat which kept City on their toes. Ultimately an extra touch of class told as Neil Mustoe opened his City scoring account with a fine free kick, his first goal in 68 appearances. It would take a fine goal to top that, and Hosky's forty-yard drive was just that, and erased the memory of his earlier penalty miss to clinch the points and take City up to third.

Burns opted to keep to the same side that had fought hard to see off Bromsgrove midweek, leaving new signing Adam Howarth on the bench alongside Dave Wilkinson who returned to the squad after his one match ban. City looked like a nervous side against the team that had so thoroughly and surprisingly demolished them 5-0 in the away match played just a month ago. You felt we needed an early goal to settle our nerves and for once that was exactly what we got. Jimmy Cox got an early chance to scare the Taunton defenders and he got away to cross for Hoskins whose volley rustled the side netting having been deflected off a defender. Keith Knight stepped up to take the corner and he found Burns unmarked on the edge of the box as he made a late amble towards the action. The boss's powerful header beat the defence and captain Neil Griffiths was on hand to get the vital nick needed to carry it into the net.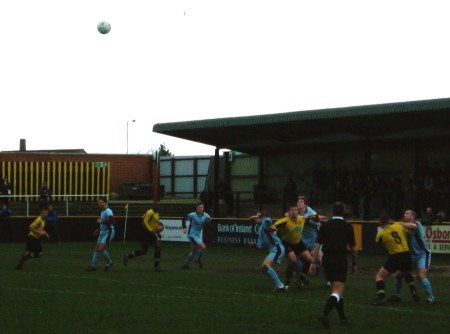 Hosky looks to leap while Grantley tries to throttle Jimmy
The Gloucester side looked in control of the early moments but our early rhythm was soon disrupted. Keith Knight had been a vital presence against Bromsgrove midweek but his achilles injury saw him hobble off to be replaced by Wilko after just 12 minutes. This seemed to upset the balance of the side for a ten minute spell that saw neither side get any real grip on the game. You could quickly tell Taunton were a side with some clever players in the attack but looked desperately poor in defence. The very sight of Adie Mings in full flight seemed enough to make them head back for the dressing room, and they were cynical in bringing him down every time he threatened to turn. However they were quick up front and Jeffries twice did well to get the right side of Lynch to beat him to dangerous looking through balls with smart tackles. The third one eluded him though and a smart turn saw the Taunton striker through on goal. Fortunately for City his effort came back off the post from a narrow angle.
City were beginning to play some good football and it was great to see Adie Harris back running down the left wing, although he did not have much luck with his crossing right the way through the match. He acted as a good catalyst for one of our best moves of the first half though, checking back inside and pushing the ball short to Mustoe who clipped it high to Jimmy Cox. He volleyed the ball back across the penalty area where Hosky flicked it over a defender towards Mings who met it on the volley but screwed the ball wide of the post. Minger causes chaos in the opposition defence but he hasn't yet found his scoring boots on his return to City colours. Despite the odd move like this I remain unconvinced by the three up front strategy, our midfield looks over run at times and with so few options closer to them our defence often look to play the high ball which is not what our strikers are used to. The lack of numbers looked to have cost us dear on the half hour mark when Taunton robbed Wilkinson and easily pushed beyond Mustoe to attack a vulnerable looking defence. The ball across goal cut out Griff and Burns and with Lynch running in on goal Webb clumsily clipped his heels from behind to leave the ref pointing at the spot. Adrian Foster drilled his kick low and although Bath got close the power of the shot beat him and left the score level.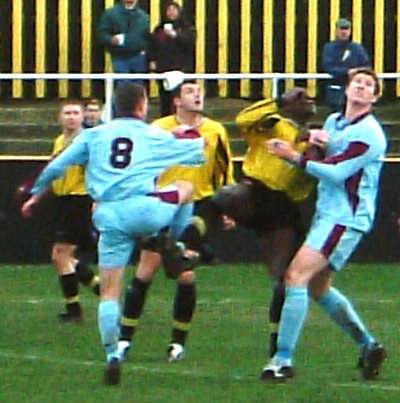 Minger limbers up for action
Given our slightly fragile mentality at the moment the City players may have been forgiven for crumbling at this setback but they showed some bottle in stepping up a gear and trying to get back into the match. Mings showed great determination and picked himself up after several clumsy challenges left him grounded. The pace of Webb took him clear down the right and his cross almost found Hoskins in the box while Cox worked hard to wriggle clear of a challenge before being crowded out at the near post. Moments later another high Webb cross skimmed off Hosky's head and saw Cox try an acrobatic overhead kick that just miscued and sent his effort wide of goal
The second half saw City come back out as if they'd been given a bit more direction and they were joined by debutant defender Adam Howarth who replaced Burns in the back three. The City attack carried on taking the game to the Taunton defence and were now being joined more by Harris and Webb on the wings, both seemingly playing a little further up the pitch than in the first half. The effect was almost immediate as the already harried looking Taunton defence were forced into a clumsy challenge on Wilkinson and then another on Mings. Cox was not so easy to trip though and he swivelled away from his marker and arrowed in a low cross that was met by the hand of the hapless Craig Russell. The ref had no hesitation in giving a penalty and it was hard to see what Taunton had to complain about. Hosky stepped up but showed little sign of his goalscoring form as he dragged his low shot wide of the post.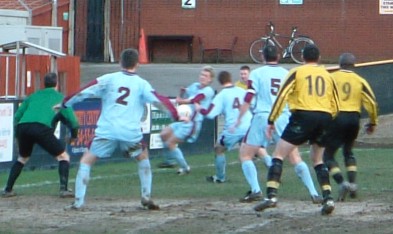 Cox crosses ... handball !
City could have been downcast but did not give up and came straight back at the Peacocks defence. Adie Harris beat a defender only to slice his cross out, but the next move saw Webb and Mustoe again find Cox space to cut in towards the box. With Mings and Hoskins jostling for space he drove in another low cross and again it looked as if it had been pushed away by an arm, but the ref obviously felt he'd given us enough help and couldn't be bothered with another penalty. The consolation corner saw the Taunton keeper watching for Mings rather than the ball, but we just couldn't poke home the loose ball which was scrambled clear. However Taunton's rather panicky defending was going to cost them at some point and they paid the price for another clumsy challenge that cut down Adie Harris as he scampered his way across them. The new two man midfield leaves Mustoe with lots to do in the centre of the park but he managed to gather his breath to take the free kick. His fierce swerving strike flew past the wall and into the net for his first goal in a competitive match, along time coming but worth waiting for. It was such a sweetly hit ball that it seemed to leave the Taunton keeper struck statue like in admiration.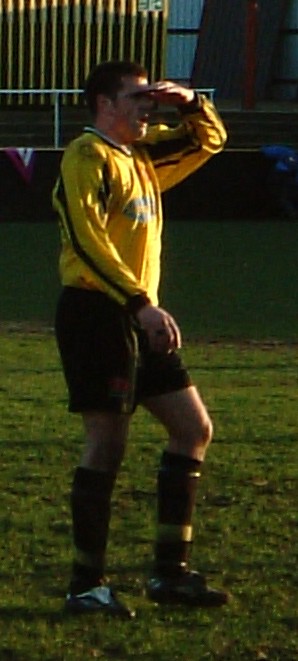 That's not gone in the
goal has it?
Taunton didn't much look like a side that believed they would be able to come back from this. For much of the game City did not look a whole lot better than the visitors, but at the crucial moments we did have a much sharper cutting edge and did at least have some shape and determination to our defensive play. The new youngster Adam Howarth made some good tackles, although he did show an alarming tendency to go to ground in his challenges. The Somerset side only really managed one further chance when Douglas managed to cut past Harris and hammer a shot goalward only to find Matt Bath still alert and able to get down well at his near post and beat the ball away. A promising deep cross looked dangerous until Mustoe got back and did enough to prevent a clear header, although he was lucky the ref missed the following scuffle which ended with the City midfielder cuffing his opponent and having to be restrained by Lee Jeffries.
Happily the ref missed all of that and before long City were back at the other end and looking likely to score in each attack as the Taunton defence began to flail in the manner of a hooked fish. They had a definite let off when some clever exchanged passes between Harris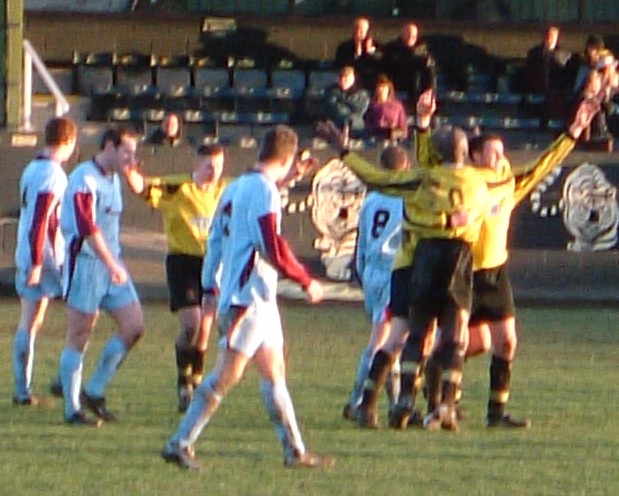 and Mustoe saw Neil swing over a good ball that Hoskins managed to get underneath and send a free header over the bar. You were starting to get the impression it wasn't to be the big strikers day but he does always have the ability to deliver something a bit special and 27 goals does give you the confidence to shrug off a couple of misses. Mings picked up a long ball from the back and shielded it well to pass on to Cox. It looked as if there was no danger, but when Hoskins picked up the ball he had spotted Paul Edwards had ventured some way out of his goal. Unhesitatingly Hoskins drove the ball over the keeper with just enough weight to ensure it began to dip just in time to edge under the bar and crash into the net. Hoskins acknowledged the plaudits from the crowd and his team mates before heading off for a bit of a rest, that goal leaves him the division's top scorer but will be his last contribution for a couple of games as he begins a two game ban.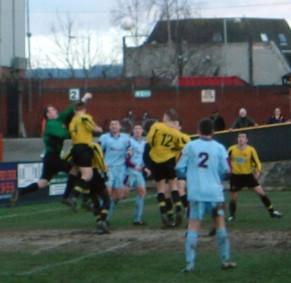 Taunton's keeper threatens to get
near the ball
That wonder strike from Hoskins must have finished Taunton keeper Paul Edwards who having failed to catch or kick now found he couldn't even stand minding his own business without someone taking the piss out of him. Taunton looked fed up and City sensed the opportunity to get some revenge for the humiliation of that 5-0 defeat. Craig Russell eventually became the only player to earn a booking after what must have been his 100th foul of the match saw Cox felled as he picked up speed. Lee Davis, on as a sub for Hosky, could have opened his account for City when he almost edged a Mustoe through ball past the keeper. Cox will need to rediscover his goal scoring touch with Hosky missing for two games and he should have done better in the dying moments. He moved over to the left wing and skipped in between two defenders to enter the penalty area, but having steadied himself for a shot he lifted his effort over the bar.
City will still feel they have yet to find their best form but at times they looked close to beginning to click into gear in this match, often bogged down in mediocrity but managing to find a few moments of real class to earn the points. These points were all the more vital as the next two matches see us on the road to Halesowen and Cirencester, difficult matches where a point would be a good prize.

* Both the top two held their positions with wins, Redditch winning a tight contest against Cirencester 2-1 while Rugby also won 2-1 at home against Supermarine. Halesowen needed an own goal two minutes from time to beat Solihull but Sutton Coldfield slipped up at home when a Matt Rawlins penalty drew Yate level for a 1-1 draw. Bromsgrove's efforts to get back into the top seven were thwarted as a late David Seal strike earned Mangotsfield a 1-1 draw at Victoria Road. City's win lifts us up to third, but still with only a six point cushion from the promotion cut off in seventh spot.