If Gloucester are to make any inroads on the non-league re-shuffle promotion spots they need to make their many games in hand count, and that they did in decisive fashion with this fantastic hard won victory in the Midlands. Sutton Coldfield entered this match 3rd in the table, and unbeaten since the first week of October. They were a pretty good yardstick on which to measure how high up the table we could hope to find ourselves once all those games in hand have had chance to materialise into points.
Burns returned himself to the line-up with Mustoe suspended, while top scorer Andy Hoskins came back in after a one match ban. City took the initiative from the first and really should have made the most of their early dominance. Lee Smith gave Nick Carter a quick welcome into the game, leaving him trailing in his wake as he made a familiar charge down the right and arrowed in a low cross that whistled beyond Cox and almost found Hemming who just failed to stop it going out of play. A few minutes later we had perhaps the best chance of the game, Webb playing in Smith and the youngster again surging beyond two defenders with some ease. His cross this time went high and found Andy Hoskins unmarked at the far post. His header was powerful but skimmed just over the bar when really he should have hit the target.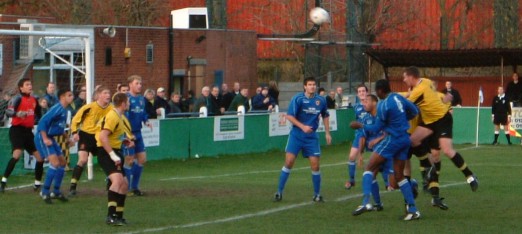 Jeffries' header flies high as he pushes through the Sutton defence
Having been rocked back in the opening part of the game Sutton Coldfield rallied and showed a few bursts of the play which has presumably earned them their lofty league position. Having made their presence known in midfield with a few solid challenges the ball broke free down City's left and a low cross was met with a half volley by the Royals top scorer Dean Perrow. it was a smart shot that needed an equally smart save low to his right by Matt Bath. The match looked more balanced now and began to open up with both sides trying to get the ball down on the ground. Cox almost found a way through when Watkins had a misunderstanding with his keeper and almost allowed the City striker to sneak in between them.
If any side looked likely to take the lead it was City who were able to get both their wingers forward at regular intervals. A fantastic move down the left saw Hemming and Cox exchange passes and work Cox in to attack the penalty box where he slid the ball square to Tom Webb, who in turn slipped a disguised pass on to Smith. He shot with some venom and was unfortunate to see his effort beaten out by Justin Bray in the Sutton goal. Smith got a second go with the rebound but didn't catch it right and sliced his second attempt wide. A further good chance came when Wilkinson was on hand to pick up a mis-hit defensive clearance. He carried the ball wide but his cross was weak, leaving Cox off balance and his shot unconvincing.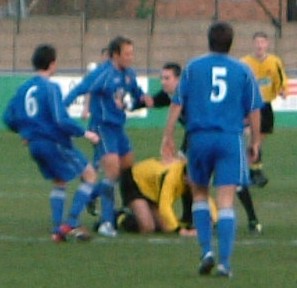 Hoskins recovers from
Carter's punch
The pressure was not all one sided though and City were grateful for the ever more impressive defensive skills of Chris Thompson who had to make an excellent sliding tackle to halt a dangerous attack in it's infancy. However City were enjoying the better of the game and it was all too much for their left-back Nick Carter who'd been made to look daft by Smith on several occasions. The same player had also seen red last season after clashing with Hoskins, and perhaps that was still bothering him given his reaction to a Hoskins tackle. Hosk had slid in with typical force but seemed to have won the ball cleanly, still provoking Carter to punch him in the face and then shove him again as the players became entangled. The young ref must have not seen what happened as not only did Carter not see red, Hoskins got booked for his trouble under the 'if there's a fight book 'em both and hope for the best' law in every DML ref's rulebook. Sometimes Hoskins surely suffers for his reputation as much as the reality.
City were finding the Sutton defence tricky to breakdown as they were strong in the centre, but more vulnerable down the flanks. City were able to force a couple of corners as well as win a number of free kicks as the Royals players were not slow to put the boot in to break up play. At one corner Lee Jeffries looked to have a good chance with a powerful header, but his effort wasn't helped by a mid-air collision with Hoskins who went for the same ball. Sutton Coldfield were largely disappointing and seemed to keen to hurry their build-up play with some fairly aimless high balls that were easily mopped up by Jeffries and Griffiths. However they looked to have found an opening when Blake escaped from Jeffries and put over a dangerous low cross towards strike partner Dean Perrow, but Griffiths did superbly well to track his run and do enough to prevent him getting a clean contact on the ball.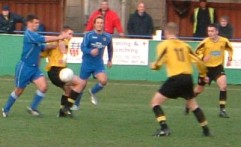 Cox tries to turn the Sutton defence
The second half saw Sutton come out very pumped up and in the first few minutes it was clear midfield was going to be the centre of a bruising battle. Wilkinson was the first to be on the receiving end as Mark Wolsey first floored him with a late challenge and then stamped on him as he got up. However this new attitude appeared to bring it's own problems as the impressive Perrow limped off after coming off the worst in an over physical challenge with Griff. The same lack of concentration saw Sutton several times win the ball but waste it, and the red mists played a part in the crucial moment of the match. A hopeful Webb through ball saw Hoskins and Watkins collide, but the loose ball seemed to be heading harmlessly through to the Royals keeper until Bray made a terrible hash of the clearance. He smacked the ball straight into Jimmy Cox who chased after the ricochet and was left with simple but joyous task of rolling the ball into the now deserted net. Cox will chase down a hundred of those this season, but one moment like that in a crucial game like this does remind you why every forward should chase every lost cause. Not goal of the season, but certainly goal of the day.
City now had to weather a real backlash as Sutton tried to put right a fairly disastrous mistake. They certainly came at the Tigers defence but they found chances difficult to come by as Wilkinson and Webb in particular seemed to cover every blade of grass to close down gaps as soon as they appeared. One good chance was spurned by Todd Perry who sliced his shot harmlessly wide. Sutton forced a few corners but didn't make Bath work too hard to deal with them, one fell loose but was calmly carried clear by Chris Thompson before he was felled by a wild challenge from Martin. Perhaps Thompson was still reeling from this a few minutes later where a rare error saw his sliced clearance loop dangerously towards our goal. The City support may have been worried but Matt Bath was nonchalant as he headed the ball from under his own bar and into the path of Griffiths to clear.
While Gloucester were certainly being made to work hard defensively the Royals were now forced to push forward a little more and gaps were appearing at the back. however every opportunity to break was cynically stopped with a trip or kick and the referee was reluctant to get the book out although the repeated fouling was preventing the game from flowing and stopping City attacking at speed in our usual fashion. It didn't always work for Sutton though, and one charge saw Hemming gallop clear and he was unlucky to see his effort crowded into the netting at the near post.

Griff volleys goalwards at a first half corner
The last ten minutes were pretty frantic, with sub Steve Jenkins playing his part as an exhausted Burns made way for some fresh legs. The defence were holding their own but were now up against a real storm as Sutton desperately sought a leveller. Jeffries made a frantic clearance under pressure but the Brum side were looking less and less comfortable as the minutes ticked down. They must have thought they'd broken through when a good run broke through our right but Matt Bath made a great low save despite the shot coming through a crowd of players. City were not just defending though, and could have added a second with more controlled play. However the scampering Adie Harris made a huge contribution in the closing minutes as his runs frustrated the home team and spent vital seconds.
The match still had one final twist as a cross was not completely cleared and as the ball pinged around the City box it finally found a blue shirt clear in front of goal. His shot was good but the points were saved by a magnificent save from Matt Bath, who pulled off as fine a reflex stop as I've ever seen from a City keeper. A good goalkeeper can be a match winner as much as a forward, but you also need luck and City also had that when moments later a further fierce shot from Wolsey whistled inches over the bar. The last few minutes were tense for the travelling City fans but the players dug in with grim determination and thoroughly deserved their points. You just have to hope that having pulled off such a fantastic result here they can really make it count and use it as foundation to push up the table with further results in the forthcoming home games against Yate and Bedworth.

* Redditch continued their early season dominance with a 2-0 win at Taunton but the most impressive result of the day saw Bromsgrove destroy 2nd placed Rugby 5-1 at Butlin Road. Other results fell well for City with the middle of the table now very tight; Halesowen, Clevedon and Solihull were all held at home by Shepshed, Cinderford and Ilkeston respectively. City's next opponents Yate showed they will be no push over, coming back from 3-0 down to Evesham with three goals between 70 and 79 minutes.