With the gap between league leaders Redditch now cut to five points City know their suddenly resurgent title ambitions are in their own hands, making every match a must-win encounter. Sutton Coldfield were a side in hot form themselves and this was always going to be a tight and nervous contest, but ultimately City showed a slick quality in attack and a grim determination in defence that proved to much for their Brummie opponents.
Burns made changes after resting some players against Cinderford and shuffled the pack to cover for the loss of the suspended Neil Mustoe. The player-boss placed himself back in the heart of the Tigers defence, returned Adie Harris to the left wing and Webb and Thompson continued in midfield. Neil Griffiths was restored to the starting line up having missed the trip to Supermarine, but found himself in midfield and minus the captain's armband after his transgression.
The match opened with some strong challenges from both sides, not a surprise as both teams have had fairly settled squads and recent matches with the Royals have been fairly testy occasions with scores left unsettled for some in either team. The Birmingham team needed these points as much as us, with only two games remaining they are hanging on to the seventh DML Premier spot by their fingertips. Sutton Coldfield started with a high defensive line that squashed the game in midfield. This may have left little room for City to create things in midfield but is a dangerous tactic against a team with the pace of Cox and Smith to get in behind the defence. City struggled to find any rhythm as attacks by Adie Harris and Chris Thompson were crowded out and efforts on goal were limited to a rushed shot from Harris that went well wide. Sutton Coldfield looked the little more fluent but produced equally little in terms of threat in a tense opening.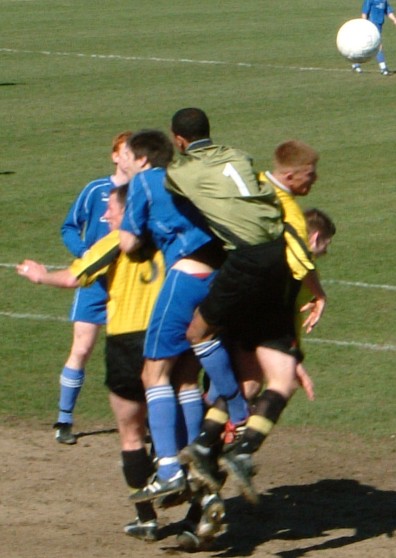 Royal's keeper Justin Bray piles in
The ref did little to help the game with a string of petty free kick decisions and some bizarre officiating that really did make it seem as if the game was out of control. Jeffries and Smith were pulled up for several innocuous looking challenges and the suspicion that the ref wasn't quite on the ball was added to by his penalising of less likely offenders in Tom Webb and Adie Harris. It was as well that Mustoe was suspended for this one as his reaction to the ref's incompetence would not have made a pretty sight. Neil Griffiths was then penalised for a hard challenge that seemed to have taken the ball but none the less led to a dangerous free kick on the edge of the area. Fortunately the chance was hoisted into the car park and wasted, with Sutton Coldfield failing to capitalise on their advantage.
The strange refereeing decisions were not all at the City end. The feeling that the ref was leaning towards the team in blue was underlined when a smart Matt Bath throw out released Lee Smith down the right. He sprinted into the clear space ahead of him and reached the edge of the Sutton area before a defender closed down his options. With no other players near play Smith chanced a shot which cannoned of the defender for a corner. Unless you were the ref who gave a goal kick, much to the surprise of players from both sides who were both getting ready for the corner. The ref may have been left behind play but his assistant had no excuse, especially as there were so few players in that area of the pitch. The ref did stop some of the heavy challenges going in on Gloucester players, but it was noticeable that an agricultural challenge on Adie Harris didn't merit even a talk with the player involved where as all the City players had by now been lectured at length by the fussy ref.
As the match wore on City upped the temp and as they began to hit the sort of form we know they are capable of Sutton Coldfield started to look stretched. They tried very hard to marshal Cox but were finding his runs a distraction. Hoskins was holding up the ball well and they couldn't get it off him before he had laid it off to Thompson or Webb who were working hard across midfield. City forced a number of corners which the Royals largely defended well, but the defensive experience of Griffiths had now moved further up the pitch and his blocking made it hard for them to clear their lines. The persistence of Jimmy Cox down the right almost brought a goal as he won the ball back from a dawdling defender and whipped in a low cross. As the ball flashed across goal it seemed as if Chris Thompson must score but he couldn't reach it as his studs seemed to get stuck in the mud.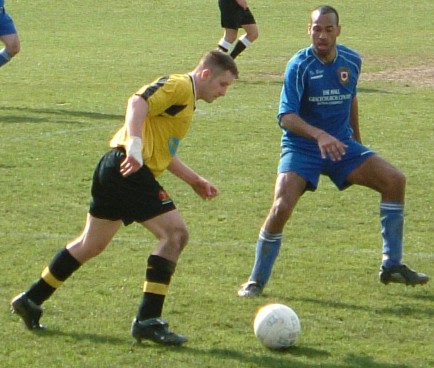 Cox steadies himself for another assault
As the temperature increased the ref lost even more of a grip on the game. Scuffles broke out in the City box as Sutton took umbrage at some close marking for a corner. As the match moved down to the other end City won a corner of their own, but with everyone distracted Sutton top scorer Dean Perrow lashed out at Lee Jeffries. The City skipper for the day didn't take kindly to it and shoved him back, initiating a general pushing session. With no-one sure what had gone on the ref opted for the tried and tested routine of booking both players, although it was obvious the matter was far from finished for either player. Perrow doesn't help himself by looking like a sulky Westlife cast off and several of the Royals players were endearing themselves to the T-End with their incessant whining and whinging.
This made it all the sweeter when minutes later City took the lead as they managed to wrest control of the game from the Royals. Smith's pace had already alarmed the Sutton defence and again the wing-back forced a corner which was well cut out at the near post and put out for a throw in. Griffiths was handed the ball and he wound up for a long throw which manager Chris Burns carefully nodded backwards, lifting it over the Brummie keeper. The flick caught out the defence and Hoskins was first to react, glancing a delicate header inside the far post from close range. The T-End erupted and Hoskins wheeled off to celebrate his 36th goal of an incredible season, and in doing so breaking Dale Watkins' post-war City goal scoring record for a season.
City began to stamp their authority on the game in the rest of the half as some sparkling football kept Sutton pegged back in their own half. Under pressure they looked a less accomplished side but whilst their defending now often resorted to the hasty clearance they were still well organised and difficult to break down. It was not all one way traffic though as City still had to work hard and Adam Howarth did little to damage his growing reputation with an excellent tackle to dispossess Perrow as Sutton's top scorer turned towards goal. However City should have been further ahead as Burns took yet another corner. As Smith jumped towards it Sutton's Baker punched it away from him in one of the most blatant deliberate handballs you could hope to see. However, the ref didn't see it, and the match went on. The loud abuse hurled at him from the T-End must have given him the impression he may just have missed something though.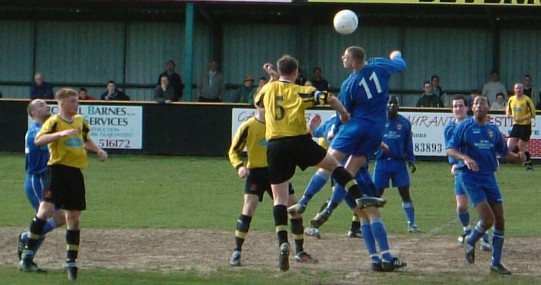 Jeffries gets underneath a second half corner
Having spent a few minutes defending City were suddenly back on the offensive as defence switched instantly into attack. Burns prompted Lee Smith to attack down the right and his sheer pace carried him beyond two Sutton defenders who were left trailing in his wake. Smith was still 25 yards from the by-line when he whipped over his cross, and it seemed to be too early. However Jimmy Cox had been able to keep up with the pacey counter attack and Smith's cross was inch perfect for the City forward. The cross meant no extra pace was needed, but the glancing header was finely judged and it flew past the keeper and nestled neatly into the net. Again the City fans were jubilant, not just because of the importance of the goal on the stroke of half-time, but also because of its sheer quality. It really was a sweeping move that would have graced any match at any level.
The second half was 45 minutes that neither the City players or fans really wanted to happen as it could only make things less satisfactory than they already were. City dug deep and defended in depth to keep the Royals at bay but also had chances to extend their lead from set pieces and from counter attacks. Early on after the break Lee Jeffries got under a Burns corner that could have ended up in the net. Most of the play came from Sutton Coldfield but they seemed unable to really penetrate the City defence and any hopeful high balls were comfortably picked out by Matt Bath. The midfield was increasingly congested but City showed some impressive skills in keeping possession and trying to prevent Sutton from mounting too much concerted pressure.
With the game starting to lock up the visitors made a double substitution and this did breath new life into their attack. City were stretched by some clever wing play down the left and a good block was required by Griffiths to keep them at bay. Another attack saw some desperate defending and it was miraculous that the visitors didn't find their way through. Matt Bath made another fine stop and a swarm of defenders pitched in to block a flurry of shots before Burns was able to hack the ball away for a corner. For all the desperation City knew the minutes were ticking away and as Sutton pushed up there were bigger gaps for us to exploit when we broke clear. Cox was once again often the outlet and one of his runs set him clear on goal but his shot flew into the wall. A few minutes later another run saw him forced wide down towards the right but he was able to cross for Hoskins who volleyed a fierce shot agonisingly wide.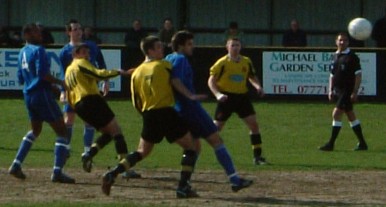 Hosky fires goalward
Just as it was starting to look as if City had weathered the storm a few defensive gaps started to appear. The warning signs were there when an attacker was allowed a free header but that was wastefully sent looping over the bar into the T-End. However a few minutes later the dangerous former Solihull forward Naveed Arshad was left unattended to head home from a right wing cross and give the Brummies a chance of getting back into the game and set up a nervous last 19 minutes. However the City players are made of sterner stuff than they were a year ago and this time the gates were securely closed against any hopeful Sutton attackers. The defence could not be faulted for their concentration or commitment, and nor could the City fans be faulted for the vocal support that still came from the small band still left on the T-End behind Matt Bath.
With the game running to its end there was still time for some silky skills from Webb and Smith who jinked their way to find an opening before Smith was the victim of a horrific two footed challenge from the Royals' Neil Watkins. Mike Cook waved on Keith Knight to try and add a little calm to proceedings and soon after Wilko came on to add some fresh legs to the midfield in place of Webb. Soon after Thompson was fortunate to get up after a high Royals foot studded him in the chest. We kept the ball moving well and Howarth came very close to sealing the match at a corner with a towering header that flew just over the bar. By the end of the match City looked back in the ascendancy with Cox sending in a few more speculative efforts but the seemingly endless injury time were still starting to fray the nerves and the final whistle was an enormous relief.
City now travel on to Evesham on Tuesday night knowing that a win there will set up a mouth watering showdown with Redditch on Saturday, with the gap at the top potentially reduced to two points. The efforts of the team over the last quarter of the season have been incredible, grabbing a Herculean 28 points from the available 30 and matching Burns' previous best ten game unbeaten league run set earlier this season. They have also now equaled the club record of eight consecutive wins set in the 1988-89 DML Midland championship winning season. Long may the run continue !
* City's points tally now stands at 76, a point more than we managed in last season's fifth place finish - all with two less games in the league campaign due to the demise of Atherstone. However the title race remains unchanged with leaders Redditch rediscovering some form with a 2-1 win at Swindon Supermarine sealed by Martin Myers 72nd minute winner. The gap between City remains 5 points, but with City having a game in hand. Cirencester retained their interest in the top places winning 2-1 at home to Ilkeston.
City can now finish no lower than third, and the top seven spots are all but finalised. Bromsgrove's 2-2 draw with Cinderford means they cannot now finish in the top seven and only Solihull can dislodge Sutton Coldfield. Rugby and Halesowen have both now secured DML Premier spots. The relegation battle is still interesting with Shepshed beating our next opponents Evesham 2-1, but Cinderford also picked up a vital point and still have games in hands over their Leicestershire rivals.