City simply outclassed a fairly woeful Supermarine side in a full blooded encounter this afternoon at Meadow Park. Gloucester played some sparkling football and with a little more composure could have ran up a cricket score against a Swindon side that created few real opportunities. City's dominance was more at threat from another bizarre performance from a match official who seemed to make his decisions on the roll of a dice as much as play in front of him.

Supermarine had started the season in fantastic form but have fallen away of late and looked a side lacking in confidence. Burns took the chance to rotate his squad a little more, with both Jenkins and Harris out on loan again to build up their match fitness Keith Knight came back in to midfield while Wilkinson got a chance to rest his feet on the bench. Burns dropped himself entirely and Baylo got a spot amongst the subs.

Hosky makes no mistake this time, blasting his spot kick in for an early lead
City started in typically lively fashion and it was the City had made all the early running but the game was barely minutes old when a clever ball from Smith sent Jimmy Cox darting in towards goal. It looked as if his touch had carried him too wide but matters were settled by Tom King, the former City keeper rushing out and taking his legs away just as it seemed the danger had passed. The ref pointed at the spot and Hoskins settled any nerves from his miss in the last home game, lashing the ball into the net for his 24th of the campaign.
Supermarine tried to force their way back into the match but were further hampered by a hamstring injury to one of their forwards and with the visitors temporarily a man down as they prepared a sub City tried to take advantage. Another strong run by Smith led to a low cross which Hoskins only just failed to reach. City looked to have edged further ahead when King made another error and allowed Knight's long distance speculative effort to drift in at the far post, but he was rescued by the linesman's flag for offside against Cox. Hemming found his way into the ref's book after an over enthusiastic late challenge caught his opposite number.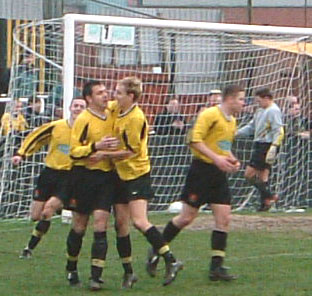 Hoskins celebrates as King
reaches for the back of his net
It was the yellow shirts who were doing all the attacking with Swindon locked into their half and unable to get past Webb and Mustoe who were everywhere. Webb appears to be running into a bit of form at about the same time as he did last season and he deservedly got some reward. City extended their lead after 28 minutes with another dangerous attack down the right wing. A clever touch by Smith took him clear of a defender and he had time to look up before pulling the ball back. His pass fell into the path of Tom Webb who had time to pick his spot before firing in his first of the season.
At this point the referee decided that City's attacking play was making the game a bit one sided and did his best to make things a little more closely contested. Poor Neil Griffiths seemed to bear the brunt of his worst decisions, conceding a free kick on the edge of the area for a well timed tackle that cleanly won the ball. Supermarine spurned that opportunity, slamming the ball into the wall, but Griffiths was again penalised for an equally good challenge deep in the Swindon half. He wasn't the only one trying to even things up. Jeffries was finding the Supermarine forwards to easily beaten and tackled Lee Smith, flattening him in a sliding tackle which he repeated ten minutes later further up in midfield. All of this was interspersed with a variety of City attacks, all prompted by Knight or Mustoe and aided by fantastic movement by Cox, Hemmings, Smith and Webb who was everywhere.
Hemming is looking more and more at home at this level and his pace was worrying Supermarine every bit as much as Smith down the right. He is also persistent, twice losing the ball but sticking to his task and harrying until it was won back. He was unlucky not to score when a deep cross was flicked on by Hoskins, allowing Hemming to shoot from an angle and it needed a smart block from the legs of King to beat the ball out. Webb went into the book after being caught offside and continuing his run and shooting long after the whistle had gone. Mustoe then had a strong shout for a penalty turned down after Cox had held up the ball well and flicked it inside to the midfielder. His run was halted when his heels were clipped but as he only stumbled and didn't actually hit the floor it was all too subtle for either the ref or the unsighted linesman. A further threat was only extinguished by a firm block tackle after Smith beat one man and turned inside towards goal.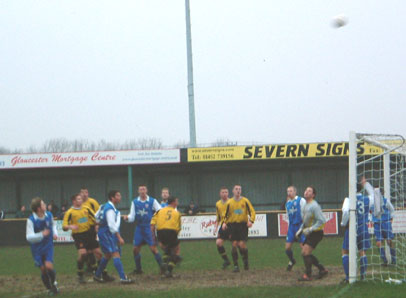 Jeffries sends a header skyward after Knight's
corner.
City similarly dominated the second half and could and should have extended their lead. Whilst keeping the ball well the openings were far less clear cut and when they did come they were spurned. An excellent run by Webb carved open the defence and when he fed the ball to Cox his shot was charged down, only for both Smith and Hemming to also see their efforts first blocked and then scrambled clear. However it looked as if the match could have been turned into a far more tense affair as the linesman gave a decidedly dodgy penalty for an innocuous Lee Jeffries challenge as the forward was running away from goal. Whatever the rights or wrongs of the decision Supermarine captain Giles Harris made no mistake from the spot.
City looked rattled but Supermarine didn't have enough up front to create any further problems for the defence. City took time to steady themselves but a good run by Adam Hemming lifted the spirits and was only halted by a crude challenge by the Swindon left-back. City spurned the free kick but minutes later had another good chance as Cox battled down the by-line to turn his defender and pull the ball back to Smith whose effort went just wide. There were further chances as Lee Smith was set clear by Mustoe and having raced clear of his team mates he saw his snap shot pushed out from the near post by the keeper. The resulting corner saw Lee Jeffries tower above the rest of the players and crash his thumping header just past the post.
It looked as if City were sure to extend their lead but when it came we restored our two goal lead in controversial fashion. A clipped ball from Webb found Cox in what appeared to be an offside position, and as Supermarine appealed they got a harsh lesson in playing to the whistle. As they froze Cox ran on and curled the ball past King and as the ball nestled in the net the penny dropped with the Swindon defenders that the ref did not think their was an offside. After their protests the official spoke to his assistant but the goal stood. Those level seem to think Cox was on side, but you got the impression the ref was simply trying to even things up or didn't know. All that counted was the 3-1 score line.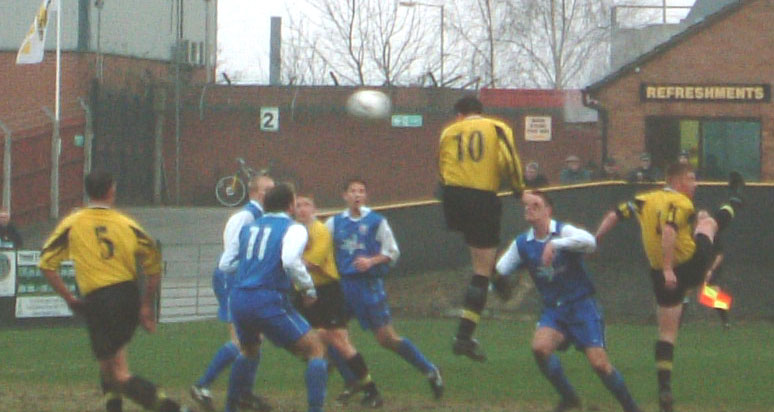 Hoskins leaps highest again as Supermarine struggle
Soon after City should have had another penalty as Cox was bear-hugged by a defender as he tried to turn into the box. To no-one's particular surprise the ref just waved any claims away. With the visitors resistance amounting to little other than spiteful challenges Burns took off first Hoskins and then Cox. City's new strike force of veteran Bayliss and loan youngster Lee Davis weren't quite able to find a way through as easily as the main strike force, but the threat continued down the flanks with Hemming and Smith. Both were victims of further nasty challenges with Giles Harris and Dave gee the main culprits and lucky to stay on the pitch. Marine manager Ray Baverstock must have been very proud of his charges shaped in his own mould.
This was not perhaps the most challenging match City will have to play this season, but the Swindon side were combative opponents and these were well earned points that lifted City to third - a new season's high for the Tigers. There are signs City are heading towards some of their best form with some excellent passing and off the ball running, and in this form you get the impression a side could soon get a real pasting at our hands. however the trick is to keep the form going and City will need to collect points against Taunton and Yate before very challenging games against Solihull and Bromsgrove.

* DML Western leaders Redditch continue there march towards the title, but manager Rod Brown must have been regretting his comments that the title was as good as theirs when his charges came in at half-time 2-1 down to struggling Cinderford. However 4 second half goals rescued the Robins' from total embarrassment and extended their lead to 12 points over Rugby who didn't play today. City's win took us to 3rd, ahead of Halesowen by one goal's goal difference after they won 1-0 at home to Sutton Coldfield. Cirencester can still overtake City with their one game in hand after an early Gareth Hopkins goal was enough to end Team Bath's run. Bromsgrove won another battle of the top sides with a narrow 1-0 win at Solihull Borough. City's next opponents Taunton were the latest victims of the Mangotsfield revival as a David Seal hatrick took the Bristol side to victory at Wordsworth Drive.