City entered this match hoping to halt their recent dismal run, but without too much optimism in the camp, even against struggling Supermarine who were propping up the division. Spirits were hardly raised by the absence of the suspended Burns and Steadman and the hamstrung Andy Hoskins.
Any lingering dread about the match was quickly dispelled though. The weather was unseasonably warm and Supermarine's tidy ground and lush pitch seemed very welcoming in the autumn sunshine. The hospitality improved beyond all expectation when it was extended onto the field as City took an early lead. We had won a corner which seemed harmless enough when Jenks swung over a loosener that bounced at the near post. The Supermarine defence let the ball bobble unhindered across the six yard box for Darren McCluskey to hammer home from close range, much to his delight a mere week after leaving them to join City.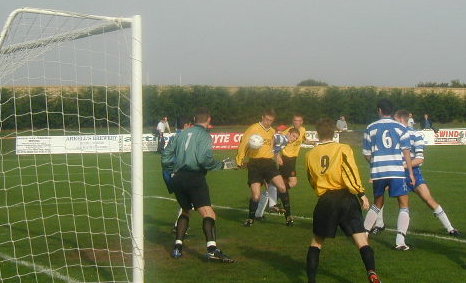 McCluskey prepares to poke home Jenks' corner for City's first.
City looked to have control of the game for much of the opening period of the first half. The Supermarine defence was packed full of big, tall defenders who towered above our pocket sized strike force of Prince and Lee Smith. However their defence looked decidedly rocky facing the ball on the ground and it seemed as if every attack could bring a mistake and a goal.
At the other end though things did not look any more comfortable. Marshall and Jenkins were winning the midfield battle, but Swindon's Tom Jones looked dangerous whenever he found any space. From his pass Toomey hit the City crossbar, and a few minutes later Taylor was glad to see another shot go just over as City's defence was again caught short.
It really did look like our best chance of defence was attack, and the home team gave us plenty of room to try and exploit. Jenks had a great chance when Smith played him in, but he was almost too close to goal from a tight angle. His shot was on target but blocked at close range by the keeper. City almost broke through again when a brilliant Craig Temple pass split the defence and sent Smith through. The youngster wasn't strong enough to muscle past his marker and was bundled over. The resulting corner was only partially cleared and Marshall's shot needed to be well held by Jackson in the Supermarine goal.
City were playing some good stuff and Hardcastle showed a bit of class as he beat two men on the right before sending over a pacey cross that missed Lee Smith's head by a whisker. With our defence still not looking overly confident we knew we needed something to show from our pressure. It almost came just before the break when City were rewarded a free kick just outside the area. Dunton lined up and hit a fierce low bullet of a shot that would have whistled just inside the post had Jackson not been alert enough to beat it out.

For once City did not look like losing their grip on the game after the break and in the first part of the second half they continued to dominate. Lee Smith was working as hard as ever and managed to put over a deep cross met by the onrushing Mark Hardcastle who was unlucky to see his header tipped onto the bar.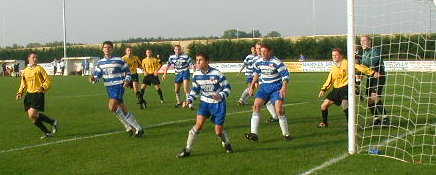 Prince and Smith cause problems at a corner.
Luke Prince had been largely anonymous in the first half but really came to life in the second part of the game. He flicked on a Jenkins ball and Smith's low shot was again kept out by the keeper. Further City pressure came with another Marshall strike as he connected to a ball pulled back from the by-line by Wilkinson.
City were still getting warnings that the score was only 1-0 and the sizeable away support certainly couldn't relax. Supermarine took heart from a header that came off the base of the post and began to exert real pressure. It wasn't long before our fragile defence were dizzied by the crosses coming from both wings. There was something inevitable about it all when Toomey, on loan from Tivvy, stabbed in the equalizer at the far post.

City were then under the cosh for a few minutes and things didn't look good. In fairness to the City back-line we showed some grit in weathering the spell. Taylor made a fine stop and gathered most of the crosses, McCluskey and Griff snapped away and Craig Temple headed off the line.
By the final quarter of an hour City had regrouped and were themselves looking for a winner. Luke Prince was sparkling and showed great ability to trick his way past the hapless Matt Jack. Sadly for all our fine play we lacked a cutting edge and it was difficult to see who was going to finally convert one of our many chances. Not for the first time City were grateful for Marshall's determination. Lee Smith cut through down the right and clipped over a cross which Gary Marshall met on the half volley to smash into the net.
You sensed Supermarine didn't believe they could come back again, and although they tried to press forward they just left huge gaps that should have been capitalised on. Prince, Webb and Smith were now mocking the home defence, but the best chance of the game fell to Lee Allen when City broke up a Swindon attack. Allen ran in on goal with the defence floundering, but his body language never suggested he had the confidence to score. He tried to round the keeper, but the execution was too slow and made it easy for Jackson to snatch the ball.

The relief at the final whistle and 3 well deserved points was shared by the players and fans alike. Whatever problems we still have to overcome the enthusiasm of our players cannot be questioned.

In the same way that it was wrong to hit the panic button after a few heavy defeats it would be wrong to get too excited after a win against what looked to be a poor Supermarine side. Burns will have been excited by some of the real quality shown in our forward play, but will have had his concerns over our lack of finesse in front of goal reinforced. We also took a little too long to realise the only way to beat them was to keep the ball on the ground, but at least we did realise. When we've struggled so badly against some other unimpressive sides why keep this win in proportion?!