Someone once said that football was a funny old game - they'd have been hard pressed to find much to amuse them at this cold, dire, grim display of the game. However, while City's performance was embarrassingly absent of any verve or imagination the season is starting to get to a tense, nervous conclusion where all that matters is points - and they all went to us to help us clamber back to fourth in a congested league table.
Burns welcomed back Mustoe and Hoskins from suspension, but rested Keith Knight again, preferring to keep himself in the starting line-up and experiment with skipper Neil Griffiths in a now unfamiliar midfield role. Hemming got the nod over Adie Harris on the left wing. Stourport looked a side low on confidence and self-belief but set out to make life difficult for City from the start. Despite not being able to pass to each other the Swifts still did enough to prevent us taking any sort of control of the match. City's early opportunities were limited to one good move when Hoskins held up the ball and put it into the path of Cox who was unlucky to see his shot crowded out by a defender and deflected for a corner which we promptly fluffed straight into the side netting.
The Swifts had not won on the road for nine league games, but with the surprise return of their top scorer Richard Ball from Halesowen they looked a little but more lively than we could have expected. The visitors lacked much in the way of poise but we were equally unable to get any sort of movement going forward. We had warnings when a long distance shot screamed across the face of our goal and then Matt Bath was forced to back pedal to palm away a strong header that had resulted from Hemming's rather lightweight defending.
The match was in danger of degenerating into a turgid midfield battle. Mustoe, Wilkinson and Griff were all snapping into tackles and winning the ball - but all were at a loss to do with it once they had it. Griff was getting in the way of the usual shape in midfield while Mustoe seemed to have spent his week suspended forgetting everything he'd ever learnt about the game. Fans were beating their skulls against the stands as pass after pass found its way to the opposition or the touchline. Things were not looking to promising, despite a vast amount of pointing, shouting and mutual cajoling from our yellow shirted heroes.
Then, somewhat improbably, we slowly began to play a little. A long raking pass from Howarth out to Adam Hemming seemed to inspire us - even though the youngster couldn't keep it in play. After that we rediscovered our wingers, and Thommo enjoyed the opportunity to run at former Villa fullback Bryan Small. Cox was still suffering from some bad luck, getting one pass caught under his feet, but the amount of space he was finding was encouraging. One sharp turn took him away from a defender who felt compelled to trip him. He was even more unlucky a few minutes later when another good Thompson run saw him cut inside to Wilko and on to Cox as he fought his way into the area. He was steadying himself to shoot when Swifts' Jay Powell took away his standing leg. Yet again City were left bemused as the ref waved away the appeals.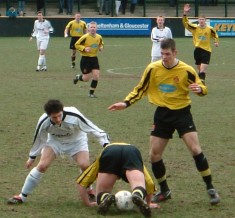 Burns tries his best to disappear
into the pitch
The sense of injustice spurred us on and after a flat first 20 minutes we began to find a higher gear and put together some good moves. Hemming was a thorn in their side down the left despite often failing to control the ball. Thompson and Cox were combining to good effect and Hoskins almost set Cox free with a neatly weighted lob. Moments later a Wilko back heel flick almost fell to Cox on the edge of the box and then the forward forced the keeper into a smart stop as he latched on to Hemming's cross. Thompson then claimed another penalty as he tumbled to the floor - he had raced onto a clever reverse pass by Hoskins but poked the ball towards the by-line and fallen over Small's outstretched leg. Despite the heartfelt appeals you had to have some sympathy with the Swifts' fullback who felt Thommo had gone to ground rather easily.
City were strongly in the ascendancy now and the visitor's defence was not looking confident or comfortable. The way through turned out to be rather route one - a long ball from the back was turned on by Cox and sent Adam Hemming racing past the defender with a clear sight of goal. He pushed the ball past the keeper and looked to have rather over hit it, but any problems were solved as the keeper turned into the youngster. Hemmo is never the strongest player and the block sent him tumbling. The ref gave this one and pointed straight to the spot and with him having clearly been the last man it was a straight red card for the keeper. Given the lack of discretion the ref has in that situation it was hard to understand the length of the keeper's complaints - even running back on to the pitch to hurl his gloves at the prostrate Adam Hemming. Much like the sending off of Matt Bath at Bedworth, once the penalty was given it was always going to be a red card. While the entire Swifts contingent whinged themselves into a frenzy everyone else waited for the match to re-start. Eventually, hours later, Hoskins stepped up to put the spot kick beyond the sub keeper for his 29th of the season and a deserved 1-0 lead.
With Swifts now a man down City had a great opportunity to attack and test the new goalkeeper, but the penalty and the long delay seemed to disrupt us every bit as much as the opposition. We had lost momentum and could not manage any more thrusting attacks - our only further chance fell to Neil Griffiths whose effort was tame and did little to bother the new keeper.
The second half should have seen us come roaring out and go for the jugular. Instead a rather fitful performance fell away to become one of our least convincing of the season. City struggled to take any advantage of the extra man, mainly as our passing was too poor to move the ball around in such a way as to exploit the extra gaps. Swifts proved themselves to be brave and determined opponents and never stopped making the vital blocks to thwart any emerging threat.
We did indeed have our chances but too many of the efforts were rather lame and unconvincing from distance. Hoskins tried his luck but sent his effort well wide and a Cox attempt from about the same distance hardly fizzled, instead it trickled rather sadly wide. The keeper may well have been vulnerable to crosses, but sadly we never really got to find out as we never put him under pressure. Thompson retreated back into defence and Hemming's touch entirely deserted him. with City misfiring badly and getting visibly frustrated with themselves Swifts sensed the match was turning and began to push forward. Mustoe was having an absolute mare and his passes found opponents as often as team mates, while our defenders were having to move up the pitch more and more. The game had an undercurrent from the penalty appeals in the first half and Jeffries was fortunate to escape with a yellow card after what looked like a two footed lunge.
The Swifts were mounting more and more dangerous counter attacks and the City fans grew uneasily aware of the slender one goal lead, especially as we looked so incapable of extending it. One good run was halted at the second attempt by Adam Howarth, again impressive and reliable in defence with Burns also working hard alongside him. The manager also remained one of the few people on the pitch who could still pass the ball. Something was going wrong though and City were forced to shuffle their pack when Jeffries went down clutching his leg as he stretched to cut out a cross. Knight came on to replace him and youngster Liam Halliday replaced Wilko as Griff dropped back into a more familiar defensive role.
We still seemed aimless, but at least the regular threats from Stourport did now prompt some attacking reposts. We could have been more fortunate when a Mustoe cross seemed to be handled in the penalty area, but we were also spurning good chances. Hemming cut in side his man and fed the ball to Cox who placed it for Hosky who from 12 yards must have been fancying his chances, but his finish was sloppy and he lifted it wastefully high over the bar. At the other end Swifts were getting closer, sending in their own shot from distance and giving debutant Halliday a bruising welcome to the match as he bravely blocked a fierce drive on the edge of the box.
The match was drifting to a conclusion that couldn't come quickly enough for the cold, bored and nervous City fans who just wanted the points and a chance to warm themselves in the bar. Knight's accurate passing seemed to be what had been missing but he seemed equally dull, even uncharacteristically wasting a corner. Cox should have made the last few minutes a little more worthwhile, sending in another rather hopeful effort from outside the box and then accelerating past one player to send him into the area. His shot was woeful and you had to feel for Hosky who had been standing square of him with the goal gaping in front of him, only his form of the day hardly made you more confident he'd have found the net. The Swifts kept plugging away gamely and even made a great show of sending their keeper up as they forced a late corner. Sadly it said everything that when we broke that corner down we could not even find our way out of our own half as the keeper chased back to his unguarded goal.
The final whistle came as a relief to all, but at the end of the day this part of the season is all about points and we had grabbed a vital win despite lacking any spark or midfield invention. The hysterical anger of some fans to the disappointing form seemed a little of an over reaction, this was uninspiring fare but no-one could be accused of lack of effort. The players will know as well as anyone watching they did not do themselves justice, and they will have to do much better to match league leaders Redditch when they visit Meadow Park next Saturday.
* City's win helped propel us back up to 4th in the table, but just two points now separate Halesowen in 3rd on 51 points and Solihull Borough way back in 9th but themselves on 49 points. The biggest surprise of the day was perhaps Solihull's 2-1 win at Cirencester thanks to a Mark Shepherd brace, but Sutton Coldfield will be disappointed after a 2-2 draw at home against lowly Shepshed who add that point to one gained midweek against Halesowen. The Yeltz stumbled again today, edged out by a Justin Marsden goal against Rugby United at Butlin Road. Redditch continued their progress with a 2-0 win over Gresley, while Bromsgrove got back to winning ways with a convincing 3-0 defeat of Supermarine.