This was the match where any final flickering hopes of promotion were extinguished as City failed to get to grips with awkward opposition and ultimately paid the place for letting the Swifts unsettle us.
The match didn't start as if City would end up on the losing side with a bright opening that twinkled without ever quite providing much in the way of openings. Tom Webb sparkled with some good skills as he drifted out onto the right wing and Adie Harris got an early chance to stretch his legs with an early charge down the left. Our best early chance came through a Cox header, but his touch from the corner lacked enough power to trouble the keeper.
Our early rhythm was disrupted when Wilkinson was hurt in a challenge and forced to roll off over City's by-line for treatment. despite the physio's best efforts he was clearly in some discomfort and was replaced by Gary Marshall. although Masher distributed the ball well he doesn't cover as much of the pitch as Wilkinson and suddenly our defence looked a lot busier. The Swifts were a big and awkward side with a couple of pacey players down either flank. A couple of times City were grateful for blocks by Chipps while Adie Harris was called upon to make a great tackle as their winger closed in on the box.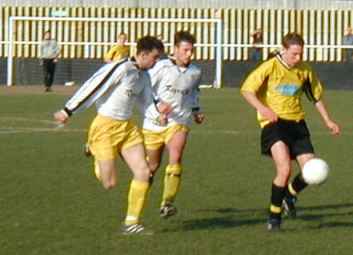 Webb leads City forward
We were rapidly losing our shape and things were not helped by the antics of Stourport's number 9, Richard Ball, who was proving a niggly irritation to both Chipps and Griff. He was lucky to escape a booking for a clumsy hack across Neil Griffith's midriff that left the City skipper winded, and was also lucky the ref missed a further exchange of elbows and words between him and Chipps. Things blew up after half an hour when Griff beat him to a loose ball and the Swifts' 9 brought him down. Griff and he became entangled and when both got to their feet it was only for the 9 to crumple to the floor in one of the most shameless bits of play acting Meadow Park has ever witnessed. He succeeded in getting Griff and himself booked, but if the match had been videoed he'd be on the end of a long FA ban and an oscar acceptance speech.

Back at the football the Swifts were causing City a few problems but had little to show for it, apart from one good move that sliced us open down our right but ended with a wasteful cross shot that never troubled Matt Bath. Our worries were not helped by poor distribution from the defence that was giving us little chance to relax or build ourselves. As always it seemed our best chance was in unleashing Jimmy Cox, but although Marshall and Thompson both came close we could not quite unlock a well drilled Swifts defence. Adie Harris enjoyed one good run where he tricked his way through a couple of challenges, but we looked flat up front and there was little for him to look for. A Will Steadman free kick from 30 yards caused a little excitement but wasn't pacey enough to really trouble the keeper. In the dying moments of the half Lee Smith had a glimmer of goal after Cox forced the ball across a crowded penalty area to him, but the winger's shot crashed into the hoardings.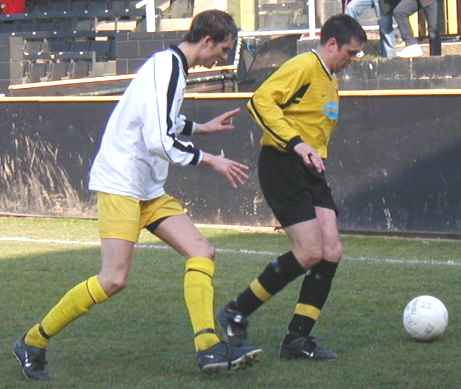 Hosky on the charge down the left
We looked a lot brighter as the second half started. cox looked determined to shake off his markers and began making runs which created space for others. Thompson saw one good run halted at the edge of the box, while Adie Harris combined well with Tom Webb to put over a good cross that only narrowly eluded the bodies running into the area. city could clearly scent a goal in the offing, but even during this spell the warnings were there with the Swifts smashing a good chance wide as City pushed forward. Cox then did well to force a corner and Griff was unlucky to see his header go just over the bar. however City were then rocked back when a slip by Adie Harris left Chipps exposed, Wright skated past him and then eluded Adie as he chased back into the area. He continued his run and was held up by Griff, only to then see Richard Ball bundle the ball into the goal on 59 minutes - both Wright and Griff were substituted minutes later after sustaining head wounds in their clash.
Taking the lead looked to have met the Swifts' wildest dreams and they were content to defend. We looked clueless and lacked any real spark as the deft touches and sharp runs of a month ago were sadly lacking. As we grew restless and frustrated the continuing gamesmanship of their number 9 was beginning to get to some players, with Marshall descending into the all too familiar whirling dervish of elbows and stray boots. Our attacks were fitful and the match was descending into a procession of free kicks and long hopeful clearances from both teams. Hamstrung boss Chris Burns decided to emerge from the bench, doubtless in the hope of lifting his side and bringing some control to a shapeless midfield. He must have wished he'd stayed put as within a few minutes he was trooping off the pitch in disgrace having been red carded. The ref's decision was unhesitating but left most fans bewildered, although from some corners of the ground apparently he could be seen to have clearly aimed a punch into the side of his opponent. Quite what this does for team morale is unclear, but the boss having the worst discipline record of anyone in the squad doesn't say much for leadership by example.

Hosky's penalty makes the net bulge
City were reeling now and for a further five minutes seemed to be drifting to a fairly gutless defeat, the only remaining entertainment being that of watching Masher descend even more into the red mists and the number 9 Ball now desperately auditioning for a role as Robbie Savage's stunt double. However Lee Smith and Jimmy Cox both deserve credit for deciding to keep going and both lifted the team with charging runs. In the 86th minute the two were involved in City's penalty. Cox saw a good right wing run blocked out, but the half cleared ball was only cleared to Lee Smith who beat one man and was beyond a second when he was tripped as he readied to cut the ball across goal. Hoskins readied himself to take the kick, a far sterner test of character than the one on Tuesday night when we were already 4-0 up. However Hosky didn't let the pathetic attempts of that same number 9 put him off as he rocketed his kick into exactly the same spot he'd chosen against Evesham.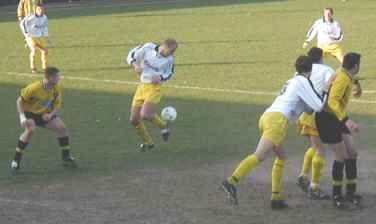 Despite being down to ten men you could really only see one side winning it from here, and that was clearly what our players thought as they swarmed forward through Jimmy Cox. However the attack broke down and with Webb and Marshall floundering in midfield the ball was soon down at the other end. When the high cross eventually came in it seemed inevitable that the hated Richard Ball would leap highest of all and plant his header inside the far post. Meadow Park was silenced and you can imagine across Gloucester tonight the only sound being heard will be that of cats being firmly kicked by angry City fans. On the field the Swifts players leapt about like winning cup finalists, joined at the final whistle by their slightly screwy manager. They continued singing in the dressing room - and you really have to wonder why? They may want to have a think about the gestures of some of their players towards the City fans though, and that number nine is really going to get himself some rough justice off someone if he carries on like that for long.
Despite the play acting though this was a thoroughly deserved defeat. We looked lacking in zest and ideas all through the side, one of the mysteries of football is how that could have been the same side that so comprehensively took apart Evesham on Tuesday. One thing is clear though, and that is that we are getting a reputation as a side that can be easily wound up, and we need to sort out our frayed nerves before they cost us anymore points. Burnsie may like to start with himself.