Solihull have an impressive away record in the league and City were forced into a determined rearguard action to take a point off the Birmingham promotion chasers.

Although Gloucester had to defend and ended the game clinging on to a hard fought draw this was an exciting clash that either side could have won. City were lifted from the start with the appearance of Luke Prince, playing having rejected overtures from DML rivals Weston-super-Mare. Jenks returned from suspension but Hoskins was missing as he served the last of his three match ban.
The weather conditions didn't lend themselves to flowing football, with the match starting amidst a squally shower and wind and rain continued to affect both sides throughout. The Meadow Park pitch was heavy and starting to cut up, although the match being on at all was a credit to the groundsman and his volunteer assistants. City were the side who looked most hampered by the weather, getting caught twice in the opening exchanges. Matt Bath saw one cross shot whistle across the face of his goal and will have been grateful to see Solihull shoot wide minutes later with only him stood between the striker and the goal.



Having survived the early scare City were able to show some attacking flair of their own. Both Prince and Jenkins showed some nice touches, but City's best chance was created simply. Bath found Jenks in midfield and his long pass carved Solihull open and put Lee Smith in. However the youngster drove his shot too close to the keeper. A few minutes later and Smith really should have scored. Steadman fed Luke Prince who jinked beyond the defender and fired a low cross beyond the keeper only for a stretching Smith to slice his shot over when it seemed simpler to score.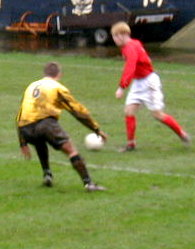 Plenty of Borough pressure had resulted in a string of shots on goal, but they lacked a real killer finish and their forwards threatened the hoardings more than the net. City thought they'd taken the lead when Baylo nodded home, only for it to be ruled out for a foul on the keeper. Solihull were the stronger side but City were fighting them for every challenge, unfortunately the ref wasn't one for physical contact and our players were soon clocking up bookings for innocuous looking challenges. As the half came to an end Wilkinson and Griff were both booked, and City's feeling of injustice weren't helped when Steadman was felled only to see the Solihull aggressor fail to get a card.
City came out with all guns firing at half-time and were soon putting some pressure on the visitors. A Wilkinson pass sent Bayliss into space and he turned to place a shot that the keeper did well to turn out from the bottom corner. In minutes though Baylo had better luck after Prince had won a corner that was swung over by Marshall. Griffiths made a late run and headed downward onto the post, the rebound fell kindly and Bayliss was able to tuck the ball into the net.

City taking the lead seemed to provoke the Solihull side and we spent most of the remainder of the match holding the line. Within minutes Solihull had a goal disallowed, although the flag had been up for some while and their was little argument. However City were now playing very deep with only Bayliss and Prince now offering any attacking option. McCluskey was having a solid game at the back and twice had to make last ditch tackles to stem the tide. Despite some good defending City were lucky that substitute Andy Lovelock could not shoot straight. He missed first from an open goal, and later in the match wasted another good opportunity by firing well wide.
However having been lucky City were pegged level with a bit of bad luck on 73 minutes. Solihull pressed down our left and cut inside. the danger seemed distant but Hollis shot across goal and his wayward strike cannoned off Griffs' legs to put the ball beyond a wrong-footed Matt Bath. City's dismay deepened two minutes later when they were reduced to ten men. Will Steadman had been unfortunate to be booked in the first half, and was truely jinxed to have been handed a second for a tackle that lacked any malice or intent at all.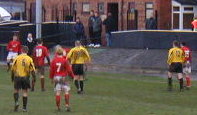 Tempers were now becoming frayed with City feeling hard done by to be down a man. Lee Smith got booked for tangling with Hollis, but the ref missed the punch the Solihull player aimed at the City player. Both Howard and Cook were bolstering the back-line and had to play their part in keeping out determined and repeated attacks by Solihull. Everyone was playing their part and as usual Chris Burns was inspirational in keeping his players on their toes. Despite all the other match saving work being done City were still indebted to Matt Bath for two late saves, one a spectacular full length one-handed dive, the second a last gasp smothering stop at the feet of an in-rushing forward.
Although City may be disappointed at a run of results that don't look good on paper this was another fantastic gutsy display against a challenging team. You could see Solihull had a game plan and how they have won so many matches away from home. as it was City needed a little fortune, but were good value for a point and with some sharper finishing could have even grabbed something more. Burns won't have learnt much he didn't already know, but he must be hopeful of what this team could achieve with a few more key additions.