City approached this game with some confidence as their recent results against the top DML sides have been promising, however after an even first half the promotion chasers found a new gear while the Tigers crunched into neutral.
New arrival Craig Hampson made the decision to play for City instead of Whitminster and was rewarded with a starting spot on the right of defence. Will Steadman stayed out on the left with Chris Burns free to take up his preferred midfield berth, keeping the recovering Steve Jenkins confined to the bench.

The new Damson Park is a strange place, half of it impressive, the other half looking like it is waiting for promotion to trigger it's completion. The toilets were in portakabins, while the clubhouse was one of the best in the division. The only thing that seemed to really effect the game though was the vast size of the pitch. In the early exchanges City looked stretched at the back, much as they had at Bedworth on a similarly large playing surface. However on this occasion Solihull could not capitalise on any of their early chances, with divisional leading scorer Derek Hall threatening the spectators more than Matt Bath's net.
It was far from one way traffic though as City settled and began to move the ball about with some confidence. Hoskins held up the ball for Wilkinson to shoot and his shot arrowed wide. City played some attractive football with both Hampson and Steadman playing fantastic passes out of defence. City put together a great move as Steadman and Burns found Prince who ran across the defence before flicking the ball through to Tom Webb. He perhaps took one touch too many and found the keeper at his feet as he tried to get his shot away.
City were not finding life so much fun in defence, with Solihull's sharp movement putting players in places where our defenders weren't expecting them. Twice Bath had to be quick as both McCluskey and Steadman sold him short, but in both cases the City keeper was alert and stopped the danger. From one clearance Lee Smith was then able to race clear and send over a good cross met by Andy Hoskins, but he could only watch as his header went wide off the defender. At this stage it was not only City who were finding defending an awkward art, Solihull's Matt Smith was all over Hosky on several occasions but went largely unpunished by the ref.
The rest of the half saw plenty of sharp football but little more in the way of goal mouth action. City's best opportunity seemed to come after Burns and Steadman set Lee Smith clear in towards the keeper. However the teenage striker again seemed to slow when at full pace he seemed to have a chance to nick the ball past the onrushing keeper. Neither side could work their way close to goal and both teams were reduced to hopeful shots from distance. Hoskins saw one decent shot crash into the hoardings, but just before the break Will Steadman skipped past two challenges before sending his fierce shot too close to the keeper. City were still in the game at half-time, sadly we weren't given the option to stick and the second half twist wasn't to our liking.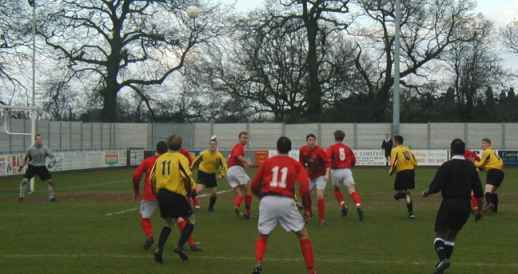 City attack from a corner but don't get past the red shirts.
Little was to go right for City in a best forgotten second half. Luke Prince did not enjoy one of his more inspired days and was at fault when he ran into trouble and was dispossessed to leave Borough a clear shot on goal that should have troubled Bath more than it did. However the reprieve did not last long and minutes later City found themselves woefully behind the play as Hampson threw away possession and Solihull tore past Burns and Wilky to leave us totally exposed. In the end the final pass suggested offside, but you can hardly blame the linesman for thinking we must have had a player closer to the ball than we actually did.
One of the major improvements during the season has been the spirit and character we've shown, especially away from home. However on this occasion that seemed lacking and after a fairly aimless period of play City fell further behind on 71 minutes through a bullet strike from Derek Hall. Even at this point though the atmosphere remained strangely subdued and the Solihull fans looked little like fans urging on promotion contenders.
At 2-0 City seemingly had forgotten the opposition half even existed while the home team scented blood and ripped into us with great enthusiasm. In fairness we fought well for a spell, although the defending owed more to desperation and fortune than to planning and positioning. In a goalmouth scramble that seemed to last minutes Matt Bath made two fine stops, Solihull smacked one shot against the post and Neil Griffiths had to stretch to clear the ball from the goal line.
City did have the occasional foray towards the Solihull goal but produced nothing in the way of a real threat. Subs Steve Jenkins and Nick Stockley tried to push us forward but neither really succeeded in getting any real possession. The forward line didn't take any real responsibility with Smith looking lightweight and Hoskins all enthusiasm but little to show for his work as he cut a more and more isolated figure.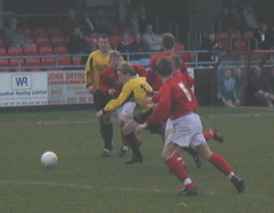 Prince goes on a rare foray forward.
For all that City had suddenly become the weaker outfit the final two goals were to add an unflattering gloss to what had been such a close encounter. On 80 minutes City were guilty of failing to clear their lines and Amos was given far too much time and room to turn and pick his spot beyond McCluskey and the seemingly unsighted Matt Bath. The fourth was even more forgettable with the normally reliable Bath having a rush of blood and being robbed of possession as he embarked on a Barthez dribble. Smith chipped the ball back across goal for sub Hollis to pop it into the unguarded net. Bath will be glad to make his mistake at a point where it didn't cost City any points.
City won't want to remember this one too much and will be glad to have the Atherstone game so soon afterwards to erase the bad memories. Solihull were a good strong side and were able to raise their game in a way we couldn't yet match. However the game also raised some serious questions for Chris Burns, including whether his contributions in midfield are as telling as those he has made from defence. Our lack of punch and menace up front was worrying in the absence of Baylo, while both Tom Webb and Will Steadman impressed in the first half but faded completely in the second.