This was exactly the post-Trophy hangover City fans had feared, but this time the Tigers managed to still have just enough in the tank to beat struggling Supermarine. In past seasons this would have been an occasion when City would have regretted those missed chances, but today the defence was able to hold firm and make sure two goals were enough.
City were missing both Smith and Wilkinson with one match suspensions, so Tom Radcliffe got a first start and Jenkins reclaimed a spot in midfield. On this showing Radcliffe has some ability but will need to improve to earn a regular first team place.
City started brightly as you may expect from a side in such a rich vein of form visiting a team with relegation hanging over them with the inevitability of bank holiday rain. Supermarine looked statuesque in defence, and this was apparent in the opening minutes as Harris, Thompson and Cox had strong early runs. Tom Webb had a brutal early welcome from the Supermarine number six who punched him in the head as they both jumped for a high ball. The ref was unsighted but how the linesman missed it is anyone's guess, although he was so frail he may not have had enough strength to lift his flag.
City had a string of good chances as the match settled into a pattern. The home team were terrified of allowing City any space in midfield, and played a high defence and worked hard to close down our players. This worked to some extent as City were dragged down into a battle of kick and chase, with the difference being that our players were good enough to kick into space and quick enough to run onto the probing passes. Hosky was the first to benefit, a few delicate touches creating space for a shot that fell into the keeper's arms.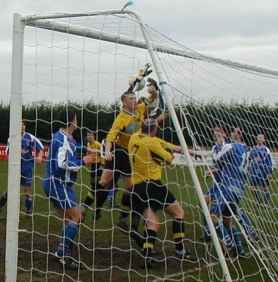 Griff and Burns challenge for a corner
Thompson then combined well again with the glittering Webb and found himself with sight on goal, but his shot was scuffed and dribbled towards the keeper. Jimmy Cox was the next to be thwarted, cutting in from the by-line but finding his shot blocked at the near post having tried to score from a seemingly impossible angle when the pull back could have led to a goal. Harris then recovered well from an earlier crunching foul that saw him taken out across the knee. within moments he was twinkling down the wing, cutting in and trying his luck from the corner of the box. The Swindon outfit had their pressure too, but you never got the sense their hit and hope tactics were particularly troubling our solid back line.
| | | |
| --- | --- | --- |
| | | |
| Cox closes in on goal | and again | as his pace floors Supermarine |
Having seen all those earlier chances go begging City fans were ready to bury their heads as another City effort was saved. This time clever work by Jenkins and Cox led to Adie Harris jinking past his man and accelerating clear of the defence and into the box. His shot was on target but well saved by Jackson, this time though City had Chris Thompson following in and he tucked the ball just inside the post to give us a richly deserved lead. He then ran off towards Webby and fainted in front of him - nice to see the players are enjoying their press coverage.
City looked like they had spent the half-time having a nap, and the snoozing was still going on when Supermarine attacked in the second half. The warning had been there when Harris was beaten and the deep cross only narrowly missed the forward line. On 57 minutes more slack marking allowed another good cross from a free kick to whistle across the City goal, and this time it was converted by Richard Bourne to peg City level. This did seem to slap City to their senses, but the match now had a sense of desperation about it and all those missed opportunities seemed particularly poignant.
City did manage to settle but this half the match was far more even, although we again had good chances to put the game far beyond a spirited Supermarine. Both Webb and Thompson had good runs and were getting some pretty brutal treatment from the home side's defenders. Jenkins was doing his best to keep us moving forward, but we were now getting sucked over too much to the right, leaving huge acres of wasted space on the left flank. Tom Webb then exacted some revenge on the number six who had punched him earlier in the game, earning a booking for a wild challenge that saw the defender limp off minutes later.
City were creating chances but somehow the ball wasn't finding the net. Cox raced clear of the defence and closed down on goal, but his shot was weak and Hosky roared his disapproval as again the cut back would have been the better option. Minutes later Cox again whipped past bewildered defenders but found the keeper able to stop his effort. Andy Hoskins was not getting any better luck, his shot from just inside the box was clawed wide by the keeper. City forced several corners, some were wasted and those that found their way through just never quite fell for us.
Hosky fights through the home defence
The appearance of Karl Bayliss from the subs bench seemed to galvanise City and he made a vital contribution with his first touch. City got a free kick after another Thompson run had been halted with a trip. Burns dinked the ball over the top and Bayliss used all his experience to roll his marker off his shoulder and volley a cushioned cross back along the six yard line where it was nodded in by Jimmy Cox for his 12th of the season.
City then rode their luck a little as Supermarine did their best to salvage a point, roared on by the ever angelic and placid Ray Baverstock. City were not really convincing in this spell, and several times Supermarine managed to get behind the defence only to see their crosses hacked clear with some degree of desperation. City fans then held their breath as Matt Bath went down after a heavy challenge, but after spending several minutes immobile he gingerly got back to his feet. City then battered down the hatches and managed to play out the last few minutes, all be it with the uninspiring sight of Jenks and Webb trying to keep the ball in the corner for as long as possible as the clock ticked down.
This was not a classic City performance and we looked a frail shadow of the side that beat Woking. However this was a professional display that achieved those vital three points to hold City in fifth and amongst the promotion chasing pack. While better finishing would have perhaps led to a more comfortable win none of the players lacked in effort and kept their composure to make sure the necessary job was done.