City got heavily hit by bad luck and a surprise whirlwind in the shape of a Shepshed side boasting four new signings. City would have been in a positive frame of mind for the match having unexpectedly netted four points from their previous two home games. However things had started going awry before the match even kicked off, unexpected paper work delayed the transfer of Luke Prince while the chairman had forgotten to pick up City's kit from the laundry.
If the omens weren't good they didn't really show on the pitch. City were playing well enough with Hoskins and Lee Smith looking lively and Craig Temple again impressing with a few forays down the left. Jenkins in particular was causing problems with incisive passes creating glimpses of goal for Hoskins and Burns.

However the game turned after a quarter of an hour as player-manager Chris Burns fell to the ground whilst trotting innocently down the left touchline. After treatment he tried to resume but was clearly in pain and unable to continue. With his vital influence missing City were left looking disjointed and rudderless.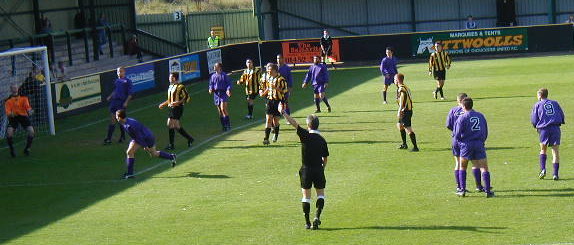 City enjoy a rare attack but the free kick goes begging
Shepshed had already threatened to open the scoring and now scented blood. Morris was forced to make a diving stop to his left, while Griff needed to time his challenge well to halt a driving run cutting in on our right flank. However the visitors had moved further up the park and got hit by a classic counter attack from a Steadman clearance. Jenkins sent sub Luke Tovey clear down the wing and Lee Smith touched his cross back across an open goal for Andy Hoskins to slam in his first of the season.
Although the goal was against the run of play it looked as if city may be able to scrap their way to a result. Good interceptions from Rae and Steadman stemmed the first Shepshed efforts but disaster came on the 38th minute. City keeper Simon Morris had a Barthez moment and dwelt on a back pass for far longer than was necessary, the industry of Masters in chasing a lost cause paid off as he robbed the stumbling keeper and rolled the ball into the empty net as the T-End looked on in horror. That was really the sucker blow as City's young defence lost confidence in the man behind them and began falling apart. Dynamo were able to capitalise further when poor marking at a free kick left Wilson totally unmarked at the far post to place his header into a gaping net.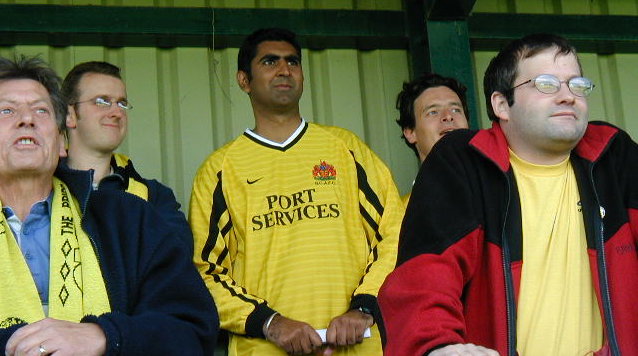 City MP Parmjit Dhanda joins the T-End
City's MP Parmjit Dhanda came to join the long suffering loyal few on the T-End for the second half, and it seemed City may get back into the game for a few minutes. Fired up and reassured by the management team our young lads looked to have regained their shape and tried to pass the ball around. Another lay off from Smith almost put in Jenkins who for ten minutes looked like he had regained control of the midfield.

However the match quickly escaped from City after a low cross sliced off Will Steadman and flew past Morris for an unfortunate own goal. City's heads really dropped now and despite all the enthusiastic clapping and cajoling from Griff and Hoskins we never looked like recovering. Shepshed were now finding huge gaps everywhere and had found the courage to attempt to knock the ball about.
Shepshed clear as Allen goes to ground
Stuart Wilson, a former Leicester forward making his debut, collected his second and Shepshed's fourth as he tore past Steadman to collect a through ball and comfortably slid the ball under the advancing Morris. While Steve Jenkins was covering as much of the pitch as he could and Lee Smith was working hard the rest of the side were now whirling. Gavin Rae appeared uncharacteristically flat footed as Shepshed flew past him, and the entirely anonymous and ineffective Lee Allen was finally replaced. A fifth from Shepshed sub Holton put a fine gloss on the result for the Leicestershire side but by now City were entirely focused on their own problems.
If City fans were disheartened by the result the sight of Chris Burns hobbling on crutches afterwards will have done little to lift spirits. City will need him back as soon as possible, but the players will also need to get used to playing well without him. This was perhaps the sort of performance and the sort of result City fans feared at the start of the season, but at least both players and fans alike know we are cpable of far more at our best. It says much for the current spirit at the club that even after such a shattering home defeat there were few words of criticism to be heard. We all know we need to add a few more players to the spine of the team, but the fans also seem committed to getting behind the younger players as they learn and find their feet.