Rugby achieved a crucial league double over Gloucester in this hard fought 1-0 victory and in doing so ended both City's ten match unbeaten league run and our unbeaten home league record. City were unlucky not to take something from the game, which was marred by poor refereeing which aided some determined defending from the visitors.

The first team sheet pinned up in the bar caused confusion as City announced only nine players starting the game, had recent results made Burns so confident he felt we could win with two men missing? It turned out that the manager and Mustoe had been resolving who would wear which number shirt as the boss but himself back into the defence to replace the suspended Lee Jeffries. Both Thompson and Wilkinson played after being taken off with injuries in midweek.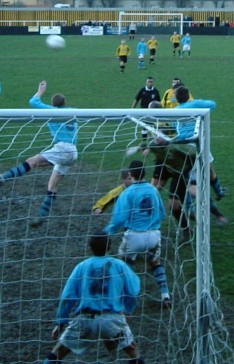 Burns challenges for a corner in a muddy
T-End goalmouth
City took the game straight to second placed Rugby as they sought revenge for their 1-0 away defeat on the opening day of the season. Even in the first few minutes the Tigers created better opportunities to score than they managed in the whole of the previous match. City started with great zest and set about tearing into Rugby down both flanks. Jimmy Cox wriggled past two defenders as he chested down a throw from Webb, but having done the tricky bit he took his shot early and it flew well wide of the goal. Later City would regret these early misses, but at this stage it did look as if City could create opportunities at will.

A few minutes later Smith galloped clear down the right having been slipped in by Mustoe. He checked back and found Hosky who held off a defender to find Cox. His shot was beaten out by the keeper but was pushed back out to Smith. His cross was only half cleared and Wilkinson collected the ball on the edge of the area. He set up Mustoe whose raking shot was flicked on by Hoskins, but he could not find enough to deflect the ball past keeper Jason Piercey. The waves of yellow peril continued to cause problems, another Lee Smith run saw him surge past the full back and cut in along the by-line before seeing his cross desperately bundled out for a corner.
Rugby tried their best to stem the tide and were working very hard to try and win the midfield battle. Wilkinson was having a fantastic game in the centre of the park and the visitors found many of their attacks closed off in their infancy by an interfering foot. City were already becoming frustrated by the inconsistency of the referee, who too often failed to spot what seemed to be United pushes and trips in the hotly contested midfield areas. This upset the flow of the game which didn't help City at all. Rugby came back into the game and Griffiths had to make an exceptional tackle in the area when the dangerous Justin Marsden threatened to go past him. City had a real escape on 20 minutes after Smith had conceded a debatable free kick on the right wing. When the cross came over it seemed to catch our defence out and found Dutton totally unmarked eight yards out. Fortunately for City he wasted his free header and planted a soft header straight into the arms of a very grateful Matt Bath.
That escape seemed to again galvanise our players and some fantastic passing by Mustoe and Knight prompted total confusion in the Rugby defence. A clever step over by Hoskins helped the ball through to his strike partner Jimmy Cox and his sharp turn seemed to have carried him over the outstretched leg of a bemused Rugby defender. The ref waved away penalty appeals, but as Big Ron would doubtless say, I've seen them given. The players were already playing the game in the vain hope that the ref may just let them get on with it by themselves, as he'd started a string of poor decisions by deciding to turn up. It's difficult to have much faith in someone who by this first quarter of the game had already twice had to be told by his linesman that the goal kick he'd just awarded was actually a corner. Cox then spurned perhaps our best chance of the half when a low ball down the right saw Cox close in on goal from a narrow angle, his shot flying into the side netting when he had a good chance to cause the keeper real problems. City also had a string of corners, but by and large they were safely collected by their impressive goalkeeper.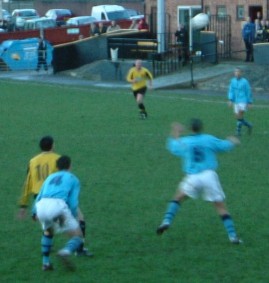 Hoskins looks on as another
high ball is cleared
As the half went on the two sides were increasingly canceling each other out and City's early dominance was replaced by a tense scrap in midfield. We were holding our own very well, but were now struggling to carve a way through the massed sky blue shirts. Twice Rugby threatened to get through or lines, once they were halted by another well timed robust challenge from Griffiths, on a second occasion Thompson took the ball from the toe of the striker and imperiously carried it back into midfield. Webb had caused so much of the damage early on, his failure to stay in his leftback slot leaves a hole in the defence but creates an extra and unpredictable player in attack. He went into the book for a wild challenge out on the wing, but soon after made a great charging run picked out by Burns. His cross with his weaker left foot was as good as that expected from his right, and Hoskins sent in a looping header that forced Piercey to tip the ball over his bar.
The second half again saw the Tigers try to carry the game to the opposition, hungry for the goal they had deserved in the first half. Rugby had managed a brief foray into our half but again Thompson emerged with the ball which he carried forward unchallenged to the edge of their area. He played in Smith who found Cox whose sharp turn won him half a yard to get away a goalbound shot which sadly fell straight to the keeper. Again this sparked a good spell for City. Mustoe's pass found Hoskins in space but his shot lacked any real venom. Another attack was partially broken up on the edge of the area, but Webb then had a chance to cut in down the left and his low skidding shot only narrowly went past the far post with Piercey scrambling across the mud. City won a free kick on the edge of the box after the ref actually spotted a trip on Cox but although Knight's effort was well hit it didn't beat the Rugby wall.
Again the game was far from one way traffic and Rugby seemed to have a little more success at getting past our defence in this half, with Burns beginning to visibly tire as the half went on. The dangerous Justin Marsden tricked his way past Neil Griffiths but as Webb came across to close down the danger his shot was well held by Matt Bath. However City had failed to heed the warning and Rugby were allowed to have some time to settle as our midfield tried to maintain possession without really pressing forward. On 63 minutes Wilkinson was mugged of possession in the centre circle, but as our players waited vainly for the ref's whistle the ball was pushed forward to the tricky Marsden who breezed past Chris Burns and cut in before smashing the ball past Bath for a crucial goal.
For a short spell it looked as if this goal may actually inspire City to recapture their spark as we came straight back at the visitors in search of an equaliser. Keith Knight carried the ball forward on a fine run which saw him go past three defenders before putting in a shot that was comfortably picked up by the keeper. Unfortunately we didn't really fully take the lesson from that as their defence looked vulnerable when faced with a player running at them in that way, but too often under pressure we revert to lumping the ball forward in the air where tall defenders can better cope with our strikers.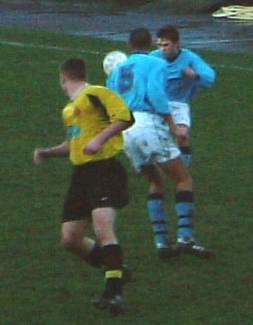 Cox sees another route to
goal blocked off
Adam Hemming was thrown on to add a little more zip to our play and instantly got chances to run past defenders and sent over a string of difficult crosses. He may still have a tendency to hold on the ball a little too long, but his direct determination to make the by-line does cause problems. City were still creating chances and Hoskins went very close after Cox had got down the right and crossed for the prolific Hoskins to head goalward, again thwarted by Piercey. Mustoe had a strong run through the heart of midfield, but with the defence opening up in front of him as he approached the box he opted to push the ball wide to Hemming when a shot may have been a worthwhile gamble.
Gloucester's best chance came with a sustained spell of pressure that led to a string of corners. One Mustoe corner was touched on by Wilkinson, but Lee Smith wanted an extra touch at the far post and the ball was scrambled clear. Another corner almost fell to Griffiths but again the ball was hacked away by some determined if not always composed Rugby defending. Another goalmouth scramble almost led to City pulling level. A clever turn and cross by Hemming had insured Rugby stayed under the cosh and their clearance only fell into the path of Tom Webb. He took a touch before hammering in a fierce low drive which whistled through a crowd of players and looked destined to find the net had it not been for a fantastic diving stop by Piercey.
City put on teenager Karl Palmer for his debut as they tried to find a little more attacking spark, but the extra players thrown into attack inevitably led to City looking more vulnerable at the back. Matt Bath kept the game alive when Rugby's Craig Dutton pushed past Chris Thompson and but saw his shot pushed past the post from close range. Rugby were doing all they could to frustrate City and waste time, with players going to ground under every challenge and heading for the corner flag as often as they could. City were still creating pressure and several crosses flew across the Rugby goalmouth but that vital touch eluded us. The game still had time for a final moment of controversy as the ever willing Adam Hemming fetched another desperate Rugby clearance and once again cut in down the left by-line. His cross was cut out by the outstretched hand of a Rugby defender for what should have been the most obvious of penalties, but inexplicably the well placed referee failed to see it and even awarded a goal kick after the handball had put the ball out of play.
City's anger and frustration was close to boiling over and at the final whistle Andy Hoskins had to be prevented from confronting the referee by Karl Bayliss and the official was roundly booed off the pitch by City fans after his ineptitude cost us at least a point from this game. The bad feeling may be a little harsh on Rugby who played well and defended with spirit, but it would be a very one-eyed view that would deny we did not really deserve to lose this one. Burns must now rally his players to make sure we embark on another good league run, starting with Tuesday's trip to Stourport.

* DML Western leaders Redditch made a rare slip as they were held at home by Ilkeston after the Robins had taken a first minute lead at the Valley. Team Bath overcame Solihull with a 1-0 win whilst Halesowen's 3-0 home win over Clevedon carries them up to 5th and leaves City down one place and now in 6th spot.