The new season, full of hope and expectation. How quickly City can bring you crashing to the floor as quick as a donkey chucked out of an aeroplane.
Burns and Cook are a promising management team who have done wonders for City already, but this season they have to face fans who have expectations of success, and players who are confident they can deliver it. Expectations will have to be kept realistic and the players kept honest and hard working. This was a match that showed the hard work has to be done in the head as well as in hard running on the pitch.
City opened brightly with Jimmy Cox getting a few early chances to stretch his legs as Lee Smith enjoyed a few good charges down the right. Keith Knight filled the left wing spot, while Lee Jeffries made his debut at the back. While City were enjoying the better of the exchanges it was soon apparent that Rugby were no mugs themselves, with quick and skillful attacking players.
City came close to snatching a lead when a deep throw saw Jeffries win a header and Cox almost managed to flick the loose ball over the advancing keeper. Lee Smith was enjoying some good runs on the right flank and his low cross almost found Cox but his control let him down and the defender could clear.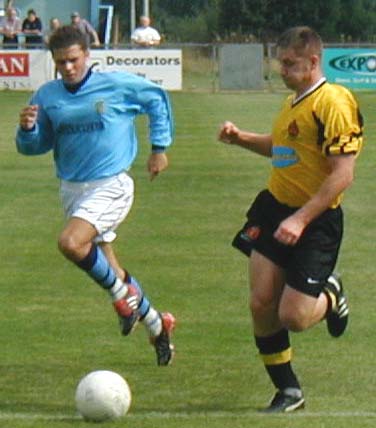 Cox dashes into the area
Rugby were able to push up the pitch and on a few occasions really stretched the City defence. Knight looked unsure in the left wing-back role and as a right footed player struggled when their pacey winger pushed past him. Jeffries also struggled to find his position and was booked for a clumsy arm thrown across a Rugby forward. The free kick was wasted, but only minutes later we got another warning as Matt Bath was forced to make a smart stop.
Despite the pressure City looked the better side at this point and were causing the home side problems of their own. They were clearly worried by the pace of Cox and defended deep to limit the space for him to chase into. However another Smith through ball released him and Cox cut into the penalty area before squaring the ball towards Andy Hoskins. However the Rugby captain, Craig Herbert, was marking Hosky and made a fantastic defensive clearance as facing his own goal he smashed the ball high over the bar to deny City a clear chance.
By mid-way through the half City were dominating the game, Thompson put Cox through again and his shot was only just crowded out. Neil Griffiths went close with a near post header as Knight's delivery from the corner eluded the Rugby defence. City were beginning to get into a rhythm and each broken attack merely led to another, and on occasions the Rugby defenders were struggling to clear their lines. However, just as it looked like City could open the scoring they were hit by a classic counter attack. The Rugby side broke swiftly through Justin Marsden and in the 37th minute our defence looked sparse as the low cross found Robbie Beard with plenty of space and he tucked the ball low past Matt Bath.
City suddenly looked far less sure of themselves and before the half was out Chris Burns had twice been required to put in smart tackles to stem the tide. Smith made a telling challenge and Griffiths made two strong tackles to clear the City lines as Rugby made the most of the final moments of the half.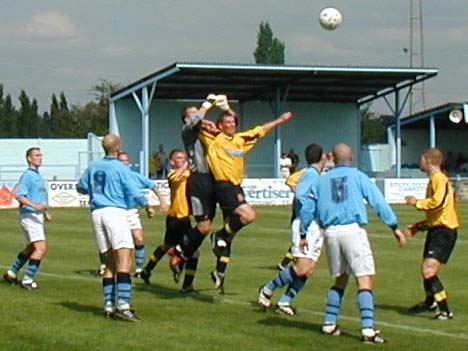 Jeffries and Griff challenge for a corner
City did not quite manage to find their equilibrium in the first part of the second half. Rugby were looking more confident and were now even getting the better of the midfield as City wilted a little. More and more the players were looking to either hit Jimmy Cox with long balls or sought the leadership of their manager by slipping the ball to Burns. The long balls were not effective, as with the Rugby defence so deep Cox was forced to challenge in the area and rarely won the contest. Hoskins was better in the aerial duals but was not enjoying one of his better afternoons. Although the chances were not clear cut we did manage some pressure on the Rugby goal, one good cut back saw Smith close in on goal but over run the ball.
Rugby meanwhile were now able to find some rhythm of their own, with the impressive teenager Justin Marsden causing our defence plenty of problems. Any mistake in the City passing and he was quick to exploit the space and Griff was kept busy keeping him under control. At one point he slipped free and have cut the ball back must have been astonished his team mate managed to drill his shot against City's post. Matt Bath was also called into action, making a great diving stop as the defenders tried to clear our lines.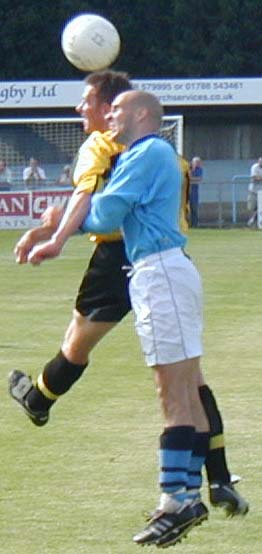 Jeffries challenges for a header
City did manage to force their way back into the game, mainly through the persistence and energy of Tom Webb who put himself around all over the pitch. His short passes were not always finding their targets, but at least we found some forward impetus. However the Rugby defence were frustrating Cox and Hoskins, giving them little chance to get a sight of goal.
Seeking a deserved equaliser Burns threw on Adam Hemming, and his extra pace on the left wing certainly lifted the City spirits. He certainly did enough in his short time on the pitch to show he can have an impact at this level. His direct runs saw him beat a couple of players on several occasions, but although the crosses came in a mixture of bad luck and poor movement saw City frustrated. One panicky defensive clearance cannoned off a Rugby players back, but instead of looping into the net fell just wide of the post. The resulting corner was half cleared, but Burns snatched at the shot and it too whistled wide.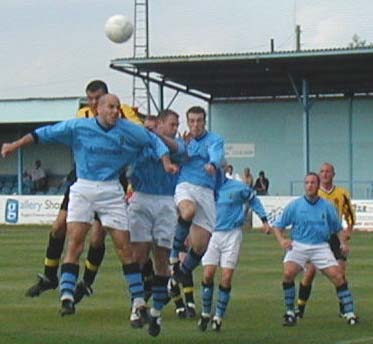 Hosky finds the Rugby defence too strong once again
City's hopes were not helped when Smith was forced to hobble off with Steadman coming on. For the final few minutes Lee Jeffries was thrown up front, but while his presence provided a better target for the high hopeful balls from the back he could not help unlock the Rugby defence. Tellingly we had plenty of pressure, but no clear shots on goal. Our final opportunity came when Webb was hauled down, but Burns' free kick smashed into the wall. For all the effort City just did not quite click as a team and looked half a yard short of our potentially devastating pace.
This was no disaster as Rugby are stern opposition, last season they boasted the division's best home record and on this performance it's hard to imagine too many people leaving Butlin Road with all three points in this campaign either. This is not a performance to have anyone hitting the panic button, but City will have to hope they can cut down on those errant passes and hopeful long punts in order to start picking up points. The next match is against Team Bath, one of the favourites for the title and a side that City will have to be at their best to overcome on Tuesday.
* Elsewhere in the DML Western the opening day saw shocks for the two sides relegated into the division. Ilkeston were smashed 6-0 at home by big-spending Redditch, while Halesowen traveled back from Clevedon with nothing after conceding two last minute goals to lose 2-0. Highly fancied newcomers Team Bath lost at home 1-0 to Gresley while Mangotsfield and Bromsgrove both posted home 2-1 wins over Bedworth and Taunton respectively.