What more can be said about City this season that hasn't already been said on many other occasions. Another dire afternoon of suffering for the City faithful ended with another defensive lapse. The bottom line on our display: unacceptable.
City's line-up showed only the one change from Tuesday's defeat with Baylo recovering from his knee strain and replacing Callinan in a reshuffled line-up. Kacey Johnstone featured again, suggesting his return from Bishops Cleeve may be permanent.
City started quite brightly with Johnstone fitting in behind Bayliss and Cox and causing Rocester a few early problems. As the match settled City even put together a few slick moves, with one seeing Jenkins and Abbott cut in down the right flank only for Bayliss to put his sharp shot into the side netting. Baylo had other chances as reward for his hard work up front, but he couldn't make any of them count. He almost connected to a Cox cross, and then saw another effort charged down. Marshall also saw a good cross go begging as it eluded Cox and Johnstone.

By the second half though City were running through syrup and the game had degenerated into a totally forgettable occasion. Griff seemed to have watched Gerrard earlier in the afternoon, but his shooting from distance threatened passing satellites more than the net. The referee missed quite a few things through the afternoon, but had reason to be grateful for his poor observation when Baylo had an off the ball kick at one of the Rocester defenders.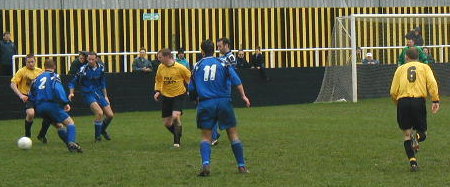 City's form seemed to deteriorate through the second half and Rocester had several opportunities to pull level. Sharp goalkeeping saved City twice as Hines was forced to dash off his line and smother at the feet of strikers allowed clean through on goal. Another low save spared the blushes of Matt Parnell who seemed out of sorts at the back although Tucks seemed more assured in his defensive role than he has in some games recently. Both Abbo and tucks made timely interceptions as City found themsleves coming under more and more pressure.
Things did improve slightly when Medcroft came on. Just about our only flash of football came when Cox's persistence won a corner which was only half cleared. Medcroft pinged over a quality cross that was met at the near post by Cox, but the shot went high and wide.
Although both sides had created chances this was a poor match between two deeply unimpressive sides. Fans taking the long view were comforting themselves with a 0-0 draw, a point and the prospect of a first league clean sheet. Even with only minutes left we should have known better.

From no where a horrendous mix-up between Ally and Parnell let Rocester through, and the ball looped up off the bar to leave Ejiofor to nod in the winner from inches. The young forward can't have believed his luck, only a week before we'd presented him with a hatrick.

This was a performance that will have left City fans fuming. Whatever the difficulties off the pitch there can be little excuse for such a gutless display. The more people there are putting in time and effort off the pitch the more there are who will expect greater things from those carrying the fight on the pitch. We lacked leadership, shape and most disappointingly passion. Any lack of ability can be forgiven, but lack of effort is less understandable.
Someone needs to get a grip of the players and inject some inspiration and desire. Things need to be shaken up, lets hope the Adders feel the effect of that on Tuesday.