This was not the Christmas present City will have wanted, but coming off the wrong end of a tense five goal shoot out against the second placed side in the division was no disgrace.

It all looked as if it could be very different for City when they stunned the home crowd with a first minute goal. People were still arriving when City attacked, the ball was worked out to Dave Wilkinson and his whipped cross needed only a nod from Hoskins to nestle in the net.
After the two FA Trophy matches between the two sides took one goal to separate them most people would have been expecting a tight defensive game. That theory was blown apart immediately as Merthyr went straight on the offensive, Carter's deep cross bouncing off the top of City's crossbar. From the goal kick Mustoe again took control in midfield and his raking pass found Wilkinson and he was desperately unlucky not to extend City's lead as he shot against the bar and then put his follow-up effort against the post before Merthyr could scrape the ball clear.
The match was only 8 minutes old when Merthyr equalised with a stunning 25 yard strike from Ian Edwards who curled the ball into the top corner from the right flank. City were looking vulnerable now as the home team clearly had the bit between their teeth. Their winger jinked past Harris and put in top scorer Cortez Belle, Matt Bath performing heroics to block his effort from close range. Lee Smith covered the goal line well and was on hand to head clear when the follow up shot came in from the edge of the box.
City then conceded a 12th minute free kick in their half and failed to pick up the Merthyr players tightly enough. The kick came in and was headed own back across goal, leaving Kevin Evans was on hand to smash the ball in from close range. Following the goal Merthyr were rampant for most of the rest of the half with only the pace of Jimmy Cox providing any sort of attacking outlet.
City defended stoutly under sustained pressure and new Aussie centre back Stephen Chipps didn't look out of place under what must have been his most rigorous test to date. Alongside Griff and Steadman he provided resolute defiance against wave after wave of Welsh attack. With Mustoe, Wilko and Jenkins all pushed back to provide a second layer of defence we had little opportunity to relieve the pressure, but despite this Merthyr only really came close once. Smith was out maneuvered on the right and Matt Bath was forced into a full length dive to thwart Keddle. The ball then ran across the City goalmouth but blocks from Chipps and then Griff prevented it being forced in.
The second half saw City at least manage to stem the weight of pressure but this was still by and large a defensive City performance. City were now holding the line a lot higher up the pitch and were able to control play for sections of the game, although without really creating much in the way of chances. Merthyr went closest to adding to the scoring with a good bit of play to pass the ball beyond both Harris and Steadman but the shot sailed just over the bar. Minutes later City equalised with a rare attack.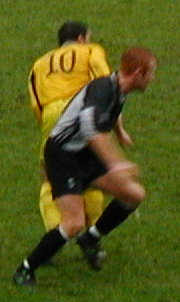 Hosky shrugs off a
Martyrs challenge
One thing Merthyr had obviously learnt from their Trophy exit was to keep Jimmy Cox quiet and he had up to three men on him when City gained possession. He escaped on 51 minutes and charged down the left cutting in towards goal. as he approached the box he pushed the ball right to Andy Hoskins who smashed a bullet of a shot past the keeper. The Merthyr fans and players seemed stunned to be pegged level and for ten minutes life was easier as the home team looked to get their heads back together.
Wilko was forced off after a bruising 50-50 encounter in midfield and City still seemed disorganised when the Martyrs scored the winner on 62 minutes. Despite all their pressure Merthyr forced their first corner of the game and Belle won the header, all be it seemingly by climbing all over Griff at the far post. City failed to clear and Pritchard was on hand to poke the ball over the line.

Merthyr had further chances but never carved City open again, they were now reduced to efforts from distance which didn't trouble the Gloucester goal too much. City were now getting more possession of their own but were finding little room to create chances with Cox still well shackled. City threw on Tom Webb who was able to put over a few good crosses but there were too few bodies in the Martyrs box to make it likely we would score. As the game drew to a close Baylo was also sent on as City desperately went in search of a point but to no avail.
This was a disappointing defeat as a victory would have turned City into genuine promotion contenders, but given our more realistic ambitions of a top six finish this was not a bad display. City fought well under heavy pressure and with better luck could have snatched an away point against the second placed side in the division. It has taken Merthyr 4 efforts this season to beat us and if this is what City must measure themselves against for promotion next season we need not feel we are to far off the pace.