This was always going to be a tough test for City's promotion pretensions, Mangotsfield are always tricky opponents and have a forward line capable of decimating any DML defence given the chance. To make matters worse Saturday's 6-0 drubbing at the hands of Halesowen would doubtless have left them keen to make amends.
Burns made a couple of brave team selections, continuing to leave himself out and dropping Thompson into defence to make room for Neil Mustoe to start. On the left flank Adam Hemming got a first start at the expense of the so far disappointing Keith Knight. The new line up seemed to have worked in the first few minutes in a combative opening that saw the visiting Tigers snap into their challenges.
Field were clearly unsettled by the physical start with Mustoe and Wilkinson wresting control of the midfield. City came close to taking an early lead when Hoskins flicked on a deep Mustoe cross and Lee Smith's attempted diving header only just failed to connect. Smith has been one of the most consistent performers as the season has opened and his pace led to a panicky trip on him as he cut in towards the box. The resulting free kick was easily cleared.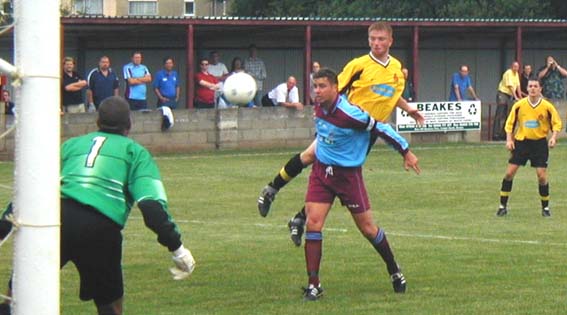 Griff sends an early header goalward
Although Mangotsfield had their chances to break they didn't have much opportunity to get around Griffiths who was confidently breaking up attacks. He was feeding Mustoe who was quietly dictating play and prompting moves down both flanks with Webb's running opening up all sorts of opportunities. A clever Mustoe pass was played inside by Hoskins to Cox but he couldn't get enough pace on his shot to trouble the keeper. Although Wilkinson was booked after several fouls the home side were giving away plenty of free kicks too, with a foul on Cox leading to another dead ball on the left wing. The deep ball led to chaos in the Field defence and City could have been awarded something for pushing at the far post.
While City fans were delighted to see young Hemming given his chance on the left wing he was restricted to a more defensive role than in previous games when coming on as a sub. Several times the pacey field winger got behind him and City had a narrow escape when a shot from outside the box trundled just past the post. A few minutes later a cross from the City left wing was missed but not properly cleared and the home team took the lead.
This may have been against the run of play but City had not yet looked to have hit top gear. however the goal sparked some more life into the attack and City were given the chance to level when Cox fed the ball through a crowded area to Hoskins. He pushed into the box and took the ball past the keeper before being bundled over in a clumsy challenge. The keeper got the benefit of the doubt and escaped further punishment but stood little chance with the penalty, taken confidently by Andy Hoskins despite a lengthy delay. Field coach and former City player Shaun Penny incredibly escaped any punishment despite encroaching on the pitch to remonstrate with the ref about ignoring the linesman who had began to flag for offside just before the foul on Hoskins.
Having fought their way back into the game City came out after the break and really took the game to the home side. For a 20 minute spell Gloucester looked like a side that could go on and win this match and possibly achieve a great deal in the season ahead. The Field defence struggled with the pace of Cox through the middle, especially when complimented by Hemming and Smith down the wings. Both players put over good deep crosses that were almost converted. Cox shook himself clear after a good ball by Webb and had a penalty appeal rejected as he collapsed under a challenge.
City did not have long to wait though as they benefited from an attack as it floundered on the edge of the Mango's area. Cox tried to pick his way through but an attempted clearance saw the ball ricochet off his legs. It fell into the path of Andy Hoskins who reacted quickly to slot an instant shot inside the post to edge us into a well deserved lead.
From here it seemed we were set to canter to a more decisive victory as the home team some how weathered the ongoing storm. Hoskins was denied a blatant penalty as his run was abruptly and crudely halted, the ref too far behind play to see what should have been a straight forward decision. Jimmy Cox then had an excellent chance to extend the lead as a defensive mix-up presented him with the ball on the edge of the area. He closed in on goal only to spoon his effort over the bar when both Hoskins and Webb were well placed if the ball had been squared. Webb had his own problems minutes later when a fantastic reverse pass from Smith sent him clear, only for his shot to also balloon over the crossbar.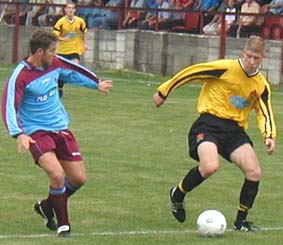 Wilkinson breaks towards the Field penalty area
City's travelling fans know their side well and there was a general feeling we would yet rue those missed opportunities and failure to capitalise on our chances. As the match wore on we seemed to tire and generally lose the ability to hold the game together. Mustoe tired in his first start since injury, and Wilkinson also seemed to lose his way near the end. By that point City had plenty of warnings that the home team still posed a very real threat, Matt Bath twice called on to make awe inspiring saves. One a stop from point blank range after Seal wriggled free of Thompson and another tip over the bar from a rasping shot destined for the top corner. These were both indications our defence was too slack, but we failed to halt the tide.
The match seemed to be taking on a bit of an edge as Drysdale and Smith were booked for an off the ball scuffle that led to the former Forest Green player being withdrawn soon afterwards. The ever gobby Shaun Penny was also sent from the dug-out for one helpful comment too many to the long suffering linesman. None of these setbacks seemed to deter Mangotsfield and on the pitch it was now increasingly the Bristol side doing the attacking. Having not picked up the attackers on several occasions they took full advantage with two smart finishes to turn the tables on the wilting Tigers.
Burns saw his team failing to play their way out of this problem and when Hoskins was forced to limp off put himself on up front. Unfortunately Burns' strength and presence only increased our tendency to panic and hit the ball long rather than try to release the pace of Cox. The home side did not look strong at the back and once again when under pressure we seemed to all to quickly forget the swift passing play that has earnt us success in the past.
This was a disappointing defeat that suggests we still have much to do if we are to challenge at the very top of the table. At times our players seem to lack the confidence in themselves to play their way out of trouble. To win titles or promotion you need to take your chances when they arrive, but also defend with determination. On this occasion we again looked too light weight and too slow to the second ball. Not a case of back to the drawing board, but definitely a case of improving concentration if we are not to be found simply too sloppy to earn any prizes come the Spring.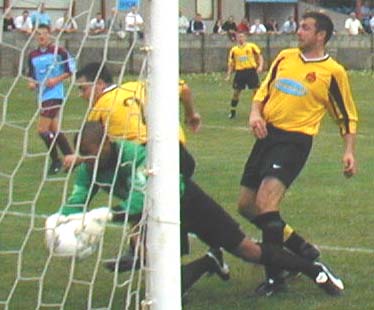 Hosky and Smith try to find a way past Danny Greaves.
* Other DML Western results saw Redditch continue their impressive opening run with what could be a crucial 1-0 win at Bromsgrove. Solihull continue to find form with an impressive 2-1 win at fortress Butlin Road to end Rugby's 100% record, while unfancied Sutton Coldfield kept their record intact with a 2-0 win over Gresley. Team Bath got their first DML victory with a 3-0 win over fellow newcomers Yate Town.