Anyone who went to Meadow Park to watch this match owed a huge debt of gratitude to the referee for allowing it to go ahead as despite the difficult conditions both teams conspired to produce an exciting attacking game.
Heavy rain had reduced the goalmouths and centre circle to swamps, but excellent work on the pitch had made it just about playable despite the continuing showers. With Mangotsfield in strong form and scoring goals in abundance this was always going to be a difficult test for City hoping to bounce back from defeat at Merthyr on Boxing Day. Burns put himself back into the midfield while Chris Thompson recovered from tonsilitis to take his place on the right flank.
The early exchanges looked even with both teams feeling their way on the muddy surface. However it was City who seemed to get to grips with the conditions quickest and after only 5 minutes the home team took the lead. Mangotsfield seemed content to let a ball run out on the left wing but Steadman ran in and stretched to hook the ball down the line towards Cox. His pace took him clear from the defence and he made for the by-line before cutting a low ball across goal. The cross was too quick for Hoskins but was crashed in at the far post by a delighted Chris Thompson.

Mangotsfield tried to build some pressure down the flanks but Griffiths was able to win his first few crucial tussles with danger man David Seal. City could have gone further ahead when only bad luck saw Jimmy Cox lose the ball under his feet as he closed in on goal. However the mud was to have a more disastrous impact on City minutes later. Chris Burns was making his way across pitch when he suddenly slipped in the centre circle, sending him sprawling full length on his face. The ball was picked up by the visitors and Jack Pitcher found himself clean through on goal to equalise on 15 minutes.
City were not disheartened though and they were now canny enough to stick to the slightly less sodden areas of the pitch out on the flanks. Both Harris and Thompson were able to push up the wings and Hoskins tried to find his range with a long distance drive. City took a deserved lead on 26 minutes when good work by Hosky and Thompson led to the right back going on a run that was halted on the edge of the box. The ball ran lose to Dave Wilkinson and he powered his shot through a crowd of bodies and into the net.

Thompson is crowded out after another strong run into the box
City were now relishing the game and Mangotsfield looked shell shocked. City had another good break down the right but just as Thompson was free and shaping to cross the ref was conned by David Elsey, characteristically holding his head to get the game stopped. It didn't help his side much though as a few minutes later City counter attacked to devastating effect. Hosky found himself surrounded and pushed the ball back to Matt Bath and City's keeper hit a quick long ball toward the left flank. Adie Harris outstripped the hapless Mike Davis and raced clear on goal, steadying himself before lashing in an inch perfect finish off the post.
City could have added to that lead with Jimmy Cox slamming a shot narrowly wide and Adie Harris again scampering past Davis, but this time losing the ball in the pitch to take the sting out of his shot. City were mastering the game and the dangerous Mangotsfield attack had little space to move with Wilko and Mustoe snapping at their heels.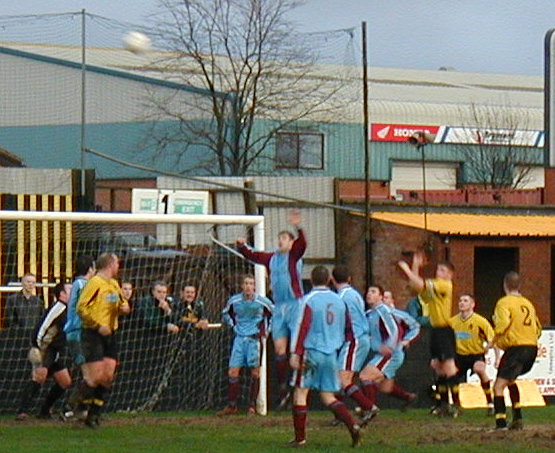 Griff goes up to meet a Mustoe corner
The second half was a different prospect as a re-galvanised Bristol outfit took the game to City for 20 minutes. We coped pretty well under some sustained pressure as our defence was probed and prodded by some slick passing. The movement came to little though, partly due to the boggy ground but mainly due to sterling work across the back. Only one did Seal get a shot on goal, and then Matt Bath blocked. However on 61 minutes Adie Harris scuffed a clearance and once again Pitcher was on hand to benefit and put the visitors back in touch.
City responded well though with Wilkinson especially working hard to take control of the midfield again. On 69 minutes City extended their lead again, Cox's pace proved a vital release valve and Thompson clipped a clever ball into his path for him to race goalwards. Cox's cross shot found Hoskins put he showed good awareness to let the ball roll on to Chris Thompson who smashed it high into the net.
With that Mangotsfield deflated and spent the rest of the game falling over as much as trying to attack. City could have added to their tally with sub Tom Webb twinkling down the right before lashing a cross across goal that just missed Hosky and Lee Smith. However this match hadn't yet finished as Hoskins was lucky not to see red after stamping on a Mangotsfield defender amidst a goalmouth melee. Then with a minute left on the clock the visitors were handed a dubious penalty with Jenks considered to have knocked over an attacker. The ever shy David Elsey took the kick, just beating Matt Bath who got a touch but couldn't keep it out.
City held on to clinch 3 excellent points against one of the best sides in the DML Western and in the process provide one of the best 90 minutes entertainment seen at Meadow Park in several years. If City can play like this for the rest of 2003 the future will indeed be a brighter one for the Tigers.