Watching City is often an exercise in managing dread hope and there was a sinking inevitability about watching Burns' tired players slip to defeat in what seemed to be a match too far. The loss ended City's hopes of a fairytale end to the season and left Redditch to grab the championship which had looked theirs until our late charge closed the gap to take the title race to a tense final day. Despite the disappointment of failing to nick the league there was still a celebratory atmosphere at Meadow Park - after all this young side have won promotion and a highly credible second spot.
Burns was forced to put out a makeshift side as his rather slim squad is quickly stretched by absences. Cox missed the gutsy win at Redditch, but despite lee Smith's work rate Cox was missed more in this match as City were forced to try to unpick a packed Ilkeston defence. Hemming got a chance to start a game down the left with Adie Harris having pulled his hamstring, while Griffiths got another chance to play in the centre of midfield.
Both sides made their intentions quite clear from the first few minutes. Whilst the yellow shirts tried to push forward on a heavy and boggy Meadow Park pitch they found little attempt to stop them until they met fierce resistance midway in the Ilkeston half. With just one player left up front the Derbyshire outfit threw two swathes of players across the park and effectively suffocated any early City attacks. You could see Smith scratching his head after beating one man only to see another two immediately jump on him. This was not going to be easy - and it was not going to do much for the nerves of the City fans who had one ear plugged to a radio for news of Redditch's game at Cirencester. For City to claim the title we needed victory here while third placed Ciren beat Redditch.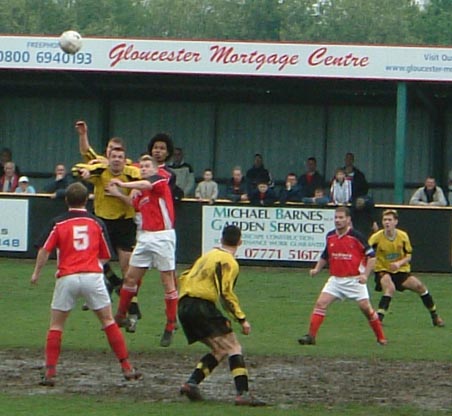 Hosk and Thompson try to get over the Ilkeston
defence
City were pushing at the door but clear cut chances were few and far between. Hemming looked to have escaped from his marker down the left only to have the ball taken off his toe just as he shaped to shoot. A few minutes later a trademark Griff long throw looked to have done the job when Hosky flicked it on and over the near post defender. Smith threw himself at the ball but so had the defender and the danger was hacked away. These moments of excitement were few and far between though, most of the game was bogged down 40 yards out as City tried to find a gap which didn't exist with most passes blocked and most runs carefully shepherded into blind alleys.
The match was not quite one way traffic but there was little first half goal action for the travelling Ilkeston fans to enjoy. Their red hair and Hawaiian shirts suggested they'd decided to make their own fun on the last game of the season - given the lack of ambition shown by their team it was just as well. They did manage one shot at Matt Bath's goal when former Ch@#tenham striker Chris Freestone tried a curling effort from distance but it slipped past the post and City were able to refocus on the frustrating business of trying to find a goal of their own. Moves were breaking upon the massed red shirts like waves on a high cliff, and it looked as if it could take as long to erode the firm resistance. City's midfield were doing their own defensive duties well and Ilkeston certainly never got any chance to enjoy possession of their own, but you could see Mustoe's frustration as he searched fruitlessly for the ball that would set a team mate through. Burns tried to step out of defence to make an extra man in midfield but without Webb or Thompson in the centre of the park we lacked an extra flash of something and were finding our wide players difficult to get into space.
Tension mounted as the half wore on with little sign of a breakthrough. Suddenly out of nowhere Burns produced a raking long pass that saw Wilkinson wriggle clear of a defender and for a fraction of a moment it looked as if his outstretched leg could lob the ball over the onrushing keeper. He did manage to flick the ball past the keeper but had been unable to get any real purchase on the ball and another defender was able to catch up with it to blast it clear. City dug deep and Hoskins was working hard as always, his bustling attentions proving too much for Robinson in the Ilkeston goal as he spilt the ball. Hosky could not reach the ball as it rolled wide and by the time Smith had latched onto it and shot the keeper was back in position and able to beat the ball away.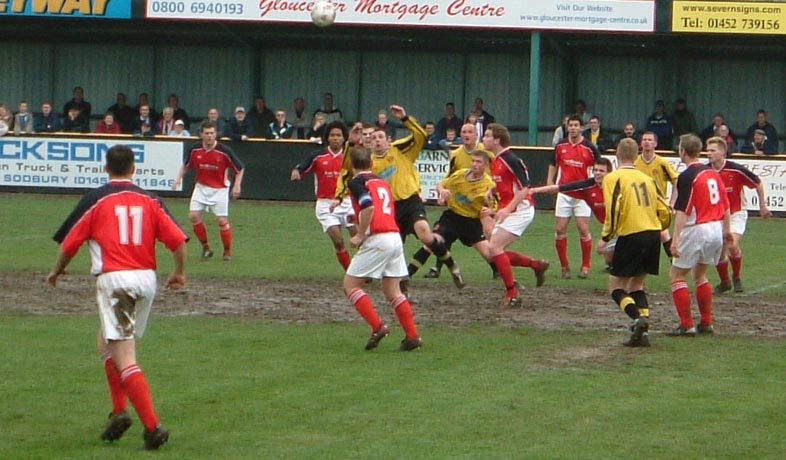 Another battle for Griff and Hosk in the packed Ilkeston penalty area
Half-time and both the crucial games were still 0-0, so the last 45 minutes still found City with everything to play for and with the yellow shirts coming towards them the T-End was in good voice trying to encourage one final effort from the side. The players responded once again and for a fifteen minute spell Ilkeston survived by the skin of their teeth. Chris Thompson was playing well out wide on the right and he beat his man and whipped in an early cross which was met by Wilko making a clever late diagonal run across the box. His firm header looked goal bound before a fine save by the keeper who did even better to get back up to his left hand post to crowd out Smith as he tried to turn the loose ball back across goal.
Ilkeston were under pressure now as the City fans and players sensed their unease. Hemming was upended as the previously crisp Ilkeston tackles became more desperate and clumsy. Burns swung over a free kick which caught the keeper out and his defender was fortunate to see his header flash past his own post as he was forced to clear under pressure from Howarth. Another low cross was hacked away out of the Ilkeston six yard box as Burns and Smith tried to get the vital connection. Hemming clipped in a high cross and Hosky responded at the far post with an acrobatic effort which slammed into the side netting.
Just at that point news began to filter across the T-End of two quick Redditch goals at Cirencester and suddenly the title was out of reach and what happened in front of us didn't matter quite so much. Despite your best intentions it was disappointing and the atmosphere went flat as City fans reflected on what might have been. The sudden deflation in vocal support must have been sensed by the City players out on the pitch and they seemed to lose something of their forward momentum.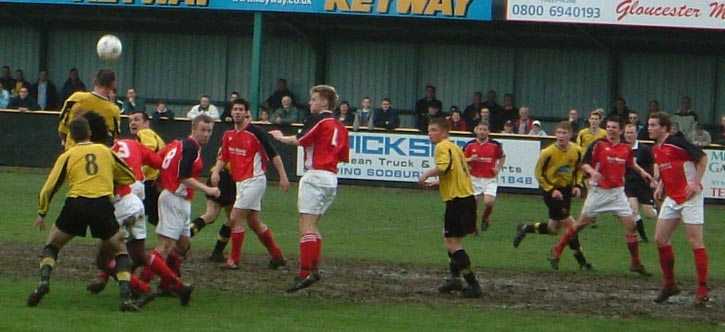 Still no way through for City
It seemed it was not just the fans thoughts which were momentarily not on the game as Ilkeston now got some purchase on the match and for the first time seriously threatened the City goal. Jeffries missed his clearance and a shot rattled into the advertising boards just wide of the post. Not for the first time this season an inspirational save from Matt Bath rekindled some belief in the City cause. A well worked Ilkeston move took full advantage of the sudden gaps in the Tigers' defence and newly arrived sub Andy Evans flicked a well hit shot towards the top corner. Bath leapt towards it and flicked it over the bar to awaken the City fans and remind the players there was still a job to be done despite the news drifting in from the Corinium Stadium where Redditch had now added a third to make sure of the title.
The City fans managed to find the volume button again and a few rabble rousing old favorites about our dear neighbours across the Golden Valley rescued the atmosphere. The players were equally determined not to give up on their season and we tried to get forward again. However our impetus was gone and the Ilkeston defence was back together and able to snuff out attacks as they began. Burns tried a shot from distance but it sailed well wide. A few strange City substitutions did little to help, with Hemming's pace replaced by the careful reliability of Keith Knight when the team desperately needed to inject some invention into a midfield built for defence rather than attack. Although Webb eventually came on we seemed to have effectively ran up the white flag when Baylo came on, not as an extra attacker but to replace Lee Smith.
City did manage a few more efforts, Mustoe going closest as he connected well from 20 yards after Ilkeston failed to fully clear a Burns cross. The shot went wide though, and then City got hit by a sucker punch. A long ball wasn't cleared by Jeffries whose misplaced header dropped to Mark Laws who crashed the ball into the net to send the travelling fans wild and his manager catapulted skyward. For all that the goal may have been undeserved this was a well executed robbery of exactly the same type City had carried out a week earlier at Redditch. A snatched goal crowning an otherwise exemplary defensive performance.
The City fans were determined not to let the season end on a flat note and having fired off a satisfying volley of abuse at Ilkeston manager Phil Stant the T-End settled into a defiant promotion celebration. The City players tried to respond but we had taken off a lot of our faster attacking options and Hosky and Baylo found themselves both holding up the ball for support which didn't come. We looked like a tired team and had we won through to play-offs it was difficult to see just how much more this side could find to give. In truth this was a rather flat performance and lacked the zest which we know the team is capable of, but that should not detract from the efforts of the whole campaign. In the last moments Burns could have grabbed an equaliser as he bundled his way through the penalty area but as he closed in on goal he was thwarted by a last ditch block tackle.
The final whistle brought to an end an eventful season for City and if the players were demoralised by seeing the title finally slide out of reach they didn't get any chance to dwell on it. The City fans have been starved of any success for so long and have worked so hard to stop the club sliding backwards and into extinction there was no way they were going to waste an opportunity to enjoy what had been achieved. Players who left the pitch at the final whistle were forced back to the T-End to take the appreciative and emotional applause of the fans. This was not the gut wrenching pain of those previous last day title dramas against Bromsgrove and Salisbury, as although the 15 year wait for a title goes on we did have the satisfaction of promotion back to the DML Premier to cling on to. The runners-up trophy presented by City MP Parmjit Dhanda might not mean as much a championship, but at least it some reward for an incredible season's achievement for a small group of local players fashioned into a talented and exciting side. After quarter of an hour of prolonged clapping and singing the players were eventually allowed to head for the changing rooms.
* Elsewhere in the DML Western the drama centered on the last crucial seventh promotion spot into the newly reshaped DML Premier. Sutton Coldfield did little to help themselves as they crumbled to a 4-1 defeat at Yate where ex-City forward Matt Rawlins grabbed another brace. Solihull made 7th place secure with a comfortable 3-0 win over struggling Cinderford who could have been condemned to relegation by that defeat. However Shepshed Dynamo finished bottom as they collapsed to an incredible 9-0 home defeat to Mangotsfield with both David Seal and Darren Pitcher grabbing hatricks for the Bristol side. The goals were not enough to take the DML Western golden boot for top scorer from City's own Andy Hoskins with 28 league goals for the season. Shepshed must now await for the FA re-organisation to decide their fate and see if there is any reprieve from the drop.
Redditch United went on to a Bank Holiday play-off at King's Lynn where they narrowly defeated the DML Eastern champions 1-0 in a tense encounter at The Walks. Redditch now go on to play the side 14th in the DML Premier, Merthyr Tydfil, for a possible place in the new Conference 2 northern section. The DML Eastern got some parity in the play-ff match between the 8th placed teams to decide the last place in the DML Premier. Banbury United turned round a one goal deficit to beat Sutton Coldfield.