The match itself was everything it promised to be, and unusually for the season to date it featured two sides at least trying to play football. The Yeltz showed plenty of attacking sparkle and early on the lumbering Mike Cook was quite literally placed on his backside as Spencer raced clear, only to drag his shot wide. However although the visitors pushed down each flank City held firm with McCluskey holding the line well.

City weathered the early storm and managed to get the ball down and play some good passes through midfield. Both full backs pushed up to good effect in an early attack, Marshall setting Lee Smith free to head for the by-line and send over a cross that Steadman met well at full tilt but saw his header go past the far post. Halesowen failed to clear their lines after a weak goal kick and then put a throw-in at the feet of Steadman. Will showed great poise and immediately sent in a fierce drive from outside the area and was unlucky to see it swerve just over the bar.

While City were doing well Halesowen looked ominous every time they went forward. When the goal came it was a simple strike, before Marshall could get close a looping cross came over from our left and was met by Skidmore with a full bloodied volley that Matt Bath can hardly have seen as it flew past him.
City weren't fazed by going behind and showed a self-belief that simply wasn't there a few months ago. We came straight back at Halesowen and could have gone level with a little better fortune. Marshall mis-cued and fired over with one chance and then City were denied by some last ditch defending as they struggled to clear a Jenkins free kick. The ball was flapped away by the keeper with both Griff and Smith trying to swivel on the loose ball only to see it scuffed away.

Luke Prince had taken a while to warm up and looked a little taken aback at finding his full back was as quick as he was. At first he resorted to a few tumbles looking for the free kick, but then produced an exquisite flick to run clear and deliver a cross that appeared to be handled in the area. Despite appeals the penalty wasn't forthcoming and the ref never looked likely to give anything to City unless Halesowen agreed first in writing.

Jenks then caused more havoc with another free kick that Yeltz struggled to clear under marauding pressure from Chris Burns. His intervention bundled the ball towards Marshall who poked the ball goalward only to see it deflected into the grateful arms of the keeper. For all our pressure we could easily have gone in behind as Matt Bath was suddenly required to make two good stops as Halesowen hit us twice on the break with pace and quick passes. Bath was up to the task though and showed he hadn't dropped his guard, blocking one drive and turning another around the post.

The second half briefly saw the T-End back to full voice and City responded by stepping up their game with Prince and Marshall central in some good passing moves. However the whole mood got a little ugly as Mike Cook hacked down a Halesowen player near the centre circle. The poor man had been so far behind play throughout that you suspected he may have been putting in a challenge on a player who had been stood in the area some time in the first half. A predictable bout of handbag throwing followed, but once the fuss had died down Cook was rescued from further embarrassment when Tom Webb replaced him.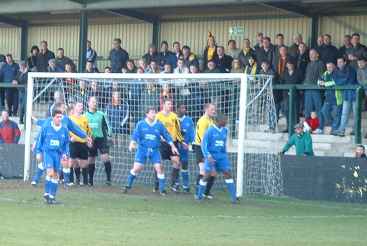 pic: Mike Dunstan
City kept going forward and Halesowen looked far from secure at the back as Prince and Jenkins sought out gaps. It was unfortunate city were missing Hosky as this was the sort of match he would have relished and without him Bayliss looked a little too easy to mark out of the game. Lee Smith showed plenty of running but has yet to find the scoring touch at this level.
City were beginning to frustrate Yeltz and the noise was getting on the nerves of some of the more fragile Brummies. Things on the pitch weren't getting any more friendly with one forward getting booked for exacting a bit of retribution on Steadman who was having a good game. City were now beginning to push forward looking for the equaliser and Halesowen showed plenty of ability to break at speed. Only a top class recovery tackle by Griffiths hooked the ball clear on one occasion when former Bloxwich midfielder Lee Ross threatened to race clear. On another two occasions only wild shooting by Ross and Leroy May kept the score down.

Burns pushed up into midfield as City threw what they had left at Halesowen, but perhaps predictably it was the Yeltz that benefited. Taylor charged forward and found City's depleted defence unable to pick up both strikers and Ross was left unmarked to knock the ball in from close range. The goal was too much for Leroy May who hadn't enjoyed the reaction to his earlier attempt to kick the ball in to the canal from the edge of the area. May's graphic celebration in front of the City fans was ill-advised, especially from an ex-pro. Perhaps he keeps his brains in his front teeth. Fortunately all he got was a few crisps for his trouble, although a few more short fuses amongst either City and Brummie fans could have seen a scuffle become a lot worse.
As it was the match settled down for the remaining 15 minutes, with the result now really beyond doubt. Marshall was again the man with the best chance, putting his shot over the bar. City were unlucky not to get at least a goal back and can see this as a good performance that measures how far our team has come in the last few months. Halesowen were easily the best side we'd faced this season, and we gave them a good test. Their fans were impressed by our performance, and it bodes well for the rest of the season.