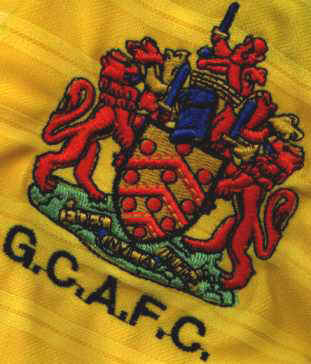 We welcome all contributions to the T-Ender. Send by e-mail to the address above.

Disclaimer
The views expressed on these pages are not those of Gloucester City A.F.C., it's directors, or of any other company mentioned. Neither do they represent the official views of the Gloucester City Supporters Club or its committee.
While we make every effort to ensure information placed here is accurate we do not accept responsibility for errors that may occour. If you do find a mistake please let us know.

All pictures unless otherwise stated are the site's own.
Saturday 22nd December 2001
Meadow Park
CITY v Gresley Rovers
Dr Martens League Western Division
City's Team

  

City made it three wins on the trot and showed guts and determination to send their fans home full of Christmas cheer and optimism. Old rivalries against Gresley were renewed in what turned out to be an enjoyable game full of drama and spots of pleasing play.

City's side is now taking on a welcome familiarity, with only Marshall missing and Luke Prince given a free role behind the forward pairing of Andy Hoskins and newly returned hotshot forward Karl Bayliss. However despite two previous wins City had not played since the 27th November but they did not look like a side lacking match sharpness. We tore straight into Gresley, themselves on an impressive run, and only good work by their keeper prevented City building a quick lead.

The work was all being done by Jenkins and Wilkinson but it was Prince and Webb who caught the eye with their runs down the flanks. City probed and pushed but needed a thirty yard screamer from Steve Jenkins to really threaten the goal, his drive forcing the keeper to tip the ball round the post at full stretch. From the resulting corner Hosky almost scored, the ball only half cleared and leaving him a chance to volley goalward only to see the keeper again alert to the danger.

Pic: Mike Dunstan

City then saw another good chance fall to Andy Hoskins, this time his header was hacked off the line. City were winning on points but were perhaps a little sluggish to respond when Gresley broke out of defence. Tom Webb was caught too far up the pitch and could only watch as the winger cut in and crossed to the far post. Matt Bath saved the initial shot but was helpless to stop Michael Moore's second effort nestling in the net with half an hour played.

Gresley knew they were fortunate to take the lead but then defended their lead stoutly until the break. City were visibly stunned by the goal and had fewer chances as they tried to get themselves back into the game. Prince forced a corner which was taken by Jenkins. again Gresley struggled to clear the ball and Neil Griffiths was unlucky to see his shot cleared off the line having traveled through a crowd of players.

However if City had been unfortunate in the first half they got a bit of luck in a bizarre sequence of events in the first few minutes of the second period. City attacked straight from the re-start and Prince saw a weak shot parried out. Tom Webb picked up the ball but his run seemed to have come to nothing as he was forced to dribble away from goal due to lack of support. However the ref judged the close attention of the defender merited a foul and newly returned local hero Karl Bayliss stepped up to take the kick. However the keeper made a good save and pushed the ball back out towards the onrushing Andy Hoskins, only for the ref to blow his whistle for a shove on Luke Prince. A Gresley player got booked for his protest, as did Hosky who was upset at seeing his chance to put in the rebound denied him. Once tempers calmed Baylo showed courage to step back up and put the second penalty resoundingly into the roof of the net.

With that Gresley capitulated and City were rampant. Prince continued to torment the Gresley full-backs on both sides and it was his good work that freed Steve Jenkins to put over a perfect cross for Bayliss to head. Some how the keeper recovered to flick the ball over the bar and keep his side in the game. However it was only a temporary reprieve for Gresley and the winner came on the hour. City had been camped out around the visitor's box and Luke Prince again beat two defenders on the left to then stand up a fantastic cross across the goalmouth. Bayliss is not the sort of striker to turn down that sort of invitation and his head supplied the finishing touch.

City had done all the hard work but seemed to slightly lose their impetus now they had the lead. City still played some attractive football but Gresley were able to push forward far more than they had previously threatened. Griffiths and Burns were both forced to make blocks and even then City needed Matt Bath to come out and force a Gresley forward to shoot wide having been put clear.

When the final whistle went City will have been relieved to have grabbed the three points they deserved. This was a fantastic display featuring some good attacking football, but also demonstrated a belief and determination the side simply did not have a few weeks previous. Many players had good games but some of that confidence is without doubt due to the return of Karl Bayliss to the side. City now look they are Tigers with bite and they certainly benefited from that cutting edge in this match.

  

Final
Score

Bath
Won
2-1
(HT: 0-1)

Webb
City
Scorers
(time)

Prince

Bayliss
(47 pen, 60)


Griffiths(c)

Attendance

Steadman

280
McCluskey
Bookings
Burns

Griffiths

Jenkins
Referee

Bayliss



R.Davies
(Brize Norton)

Hoskins

League
Position
(after)
Wilkinson
15th
(=)


Form
recent
last

L.Smith
(for 2; 81)
LLLWWW

Delves
Match
Report

M.Cook


by
t-towel
Something to say about this report? - Visit the City Open Forum

Match Reports
City Index