I normally try not to blame the officials for most of City's misfortunes, but on this occasion it is neither just a lazy excuse nor an exaggeration. This was always going to be a tough and niggley encounter given the past history between the sides, but the ref not only forced us to play twelve men but also lost control of the game to such an extent it was fortunate nobody got hurt.
City were forced to reshuffle at the back with Parnell missing, and actually looked more solid in defence with Tucks performing well just in front of the defenders. Early on this solid platform looked like it would serve City well with the Tigers all over their visitors for most of the first half.
Gloucester created a series of good chances early on, and it was perhaps missing those opportunities which ultimately did the damage. Chennas smacked in a long shot and then Tucks almost embarrassed the Evesham keeper with a long distance lob. Another chance then fell to Chennas who met Baylo's low cross, only to see his shot come back off Cox. Baylo himself then hit the post after running free down the left to latch on to a Chennas pass. The Evesham defence survived a strong penalty appeal after Cox was tripped, and Cox also worked a good shooting chance for himself having easily beaten the United left back who spent much of the game looking dizzy and distressed.

At the other end Evesham looked disjointed, and their forward players continued to endear themselves to the T-End with another display of spiteful gamesmanship. Hines was injured in an over the top tackle left unpunished by the ref who also missed an off the ball kick by Taylor. Their constant dissent and late challenges inexplicably brought no comment at all from the ref who was reluctant to get involved. How we did enjoy some of their pantomime performance, especially the two sliced attempts to put a shot in which led to them kindly putting the ball out for a throw-in when a goal looked likely.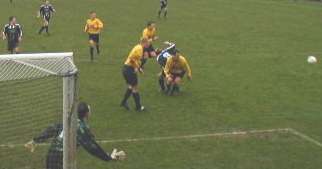 However as the first-half drew to a close Evesham began to link up some flowing football. Initially City seemed able to cope with both Tucks and Hunt making superb saving tackles just inside the penalty box. When the highly irritating Payne did get free Hines was able to smother easily at his feet. However Evesham's wind-up tactics eventually began to bear fruit as City began to go in a little too hard and late. Dicks escaped punishment for a retaliatory punch, but when Hunt bundled over an Evesham player just outside the area the free-kick led to the visitors taking an unmerited lead. The initial cross was only half headed clear by Marshall and Clark was left unmarked on the far post to stab the ball in.

There was only a minute left before the half ended, but that was time enough for Marshall to exact some retribution with a high late lunge with the referee then seeing fit to dish out a booking. While it may have been deserved City felt highly aggrieved as the ref should have had at least four Evesham players in the book by now. The ref promptly blew the whistle and scarpered into the dressing rooms, presumably for another fix of whatever hallucogenic had seen him through the first half.
The second half continued in the same fractious vein. An appalling tackle on Cox went unpunished by the ref, and proved one atrocity too many for Brian Godfrey who was asked to leave the dugout by our friend Mr Humphrey. City's heads were starting to be clouded by the red mists, and were fortunate that Hines saved well and then saw the offside flag save them when the rebound was put in the net.

What had threatened to be an entertaining game with some moments of good passing was largely being spoilt by limp refereeing and the grudge fights going on all over the pitch. However City's equaliser was well worth the admission fee. Tucks fed Cox on the right flank but there seemed no danger as he picked the ball up near the half way line. However Cox put his head down and accelerated past the hapless right-back and then cut inside past another defender. With Evesham trailing in his wake Cox had time to look up, drop his shoulder, and smash the ball past the keeper at the near post for another sensational strike.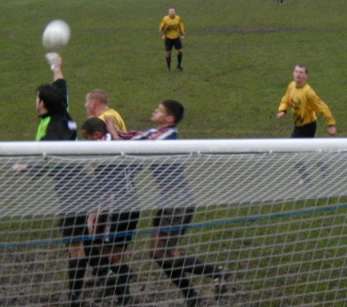 City bustled forward and looked capable of going on to win the game, but those plans were undone by a fluke goal only five minutes later. Super mouth Payne picked the ball up and sent over a looping cross that seemed to swirl over Hines and cannon into the net off the far post. Of course he meant it...

For a short while afterwards City still looked capable of getting at least a point back. Cox missed a good chance at the far post after Chennas and Baylo combined well, but his toe-poke just sliced wide. Sub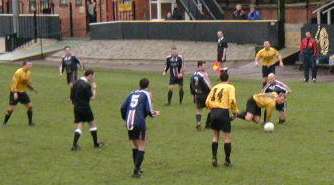 Billy Davis worked hard and was unlucky to see a neat header from a corner go straight into the keepers hands. However yet more trips on Chennas, Bayliss and Cox brought continuing leniency from the ref, and when he did eventually book Taylor for dissent it was probably eighty minutes too late. Even the linesman got in on the act with a highly dubious offside against Cox.
City were pushing forward as best as they could, but certainly by the last fifteen minutes they were visibly tiring. Not even the appearance of our latest boy-wonder saviour Lee Smith could lift the players enough. Tired legs after Thursday night's slog at Mangotsfield were not helped by a pitch that was getting heavier as squally showers added to the mud. With City trying to press forward they then got caught on the break to give the score line a highly unrepresentative gloss. The otherwise solid Steadman fluffed his clearance and Hodgetts smashed in his shot off the post.
Despite the defeat against what are fast becoming one of my least favourite DML Western sides there were crumbs of comfort for City fans to take from the match. The defence looked solid and even organised for quite long periods, even without Parnell. Cox showed again that he has frightening ability and Tucks looked like coming back into form. Oh, and Dicks did get away with that punch!