Evesham had plainly learnt lessons from their 6-1 mauling at our hands a fortnight ago, but despite a strong second half performance that should have seen the home side grab at least one it was City who escaped with the points. The vital breakthrough came through Jimmy Cox, scoring for the 3rd consecutive match to take his seasons total to 20.
City opened brightly after Burns was forced to reshuffle his pack, partly due to his own suspension. Jenks came in at the back, Wilkinson returned in midfield while Bayliss replaced the injured Hoskins up front. It was the return of Steve Jenkins that seemed important in the early exchanges, suddenly looking assured as he broke up an early attack and twice pushed the Tigers into attack with clever accurate passes from defence.
Cox and Smith also looked lively in this first quarter of an hour as City enjoyed several promising attacks. Twice Smith almost sent Cox free but both times the defence managed to muscle him out of his run before he could get clear. He did better down the right side, hooking over a good cross from the by-line that only narrowly eluded Bayliss and Webb in the goalmouth. City pressure mounted and Neil Griffiths was unlucky with a header from a corner that went close.
Evesham were not without their chances and they seemed to have plenty of pace once they managed to get past the hard working Wilkinson and Webb. One attack was stopped in its infancy by Tom Webb who got a lecture for leaving an Evesham player on the floor, but Griff was less lucky a few minutes later when he was booked for an innocuous clip on another forward. Neither of these free kicks led to anything, but in between the two Evesham created some space in our area only for their striker to slice his shot wide. The wayward boots were far from one sided though, how both the linesman and the ref managed to miss Wilko being kicked in the stomach from behind must have mystified everyone watching the game.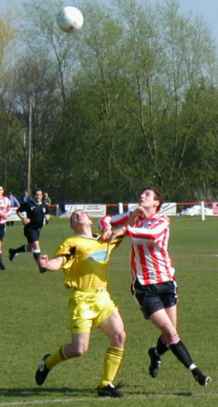 Cox is wrestled as he heads into the area
City were the main attacking force in the match but were struggling to find clear chances. Jenks tested the keeper with a low shot from the edge of the box. Smith enjoyed a good run and having slipped the ball infield to Webb he almost got Cox away. Karl Bayliss was looking as sharp as he has all season and was holding up play well and playing in some clever balls to his faster younger strike partner. Cox and Baylo almost got in each others way when Webb lobbed the ball over the defence, but when Cox got to the ball he couldn't bring it down and only nodded it gently goalwards. While City and put more pressure on the goal the best chance of the half fell to Evesham just before the break, a deep cross found a gap where Jenkins would have been had he not been recovering from a knock. However the unmarked forward put his header high and wide to keep the match level at half-time.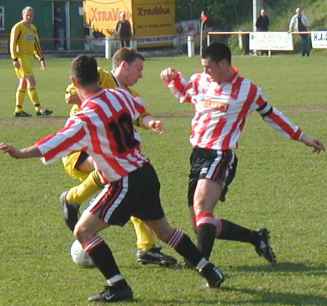 Webb tries to find a route through
The second half was so different it was hard to believe you were watching the same two teams. City were misfiring and our play increasingly disjointed as frustration grew with bad passes and hasty clearances. Evesham meanwhile were dominating proceedings and finding growing gaps in the City defence. The first ominous sign was a Jukes shot from the edge of the area that crashed against our post, but Matt Bath was now being pressed into regular service and had to make a fine save with his legs as Evesham's Nick Heath cut his way through. Only a combination of poor finishing and some brave if disorganised defending was keeping the game scoreless as a header flew wide. Both Webb and Smith were forced back to help out with some quick tackles, but none the less Bath was required to make another fine save from Evesham's Khela.
Just when it seemed the match was slipping away from Gloucester and the goalless draw looked a reasonable result we managed to snatch even more from a low key performance. A good run by Marshall lifted the City side and Smith picked up the ball with a good foray down the right. His swinging cross left Evesham stretched but could not find a City striker. However when Marshall played him in again minutes later Lee Smith's low cross shot had more venom this time and it beat the keeper. It's debatable if it would have passed the right side of the far post but Cox was following in and he wasn't going to take any risks, tapping in from close range.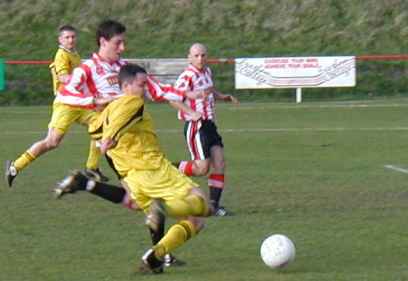 Smith shapes to slide the ball across for Cox to score
That really lit the game up and it was a shame the goal came so late in the match. City enjoyed a strong last few minutes and could have extended their lead as another deep cross whipped in from Lee Smith could have found its way in if Adie Harris had been able to find an extra inch. There was also time for Gary Marshall to have his obligatory scrap with the opposition but he seemed to escape unscathed to join his team mates in celebrating a great win, all be it a slightly fortunate one.