City boss Chris Burns was left looking again for the secret ingredient for success after a pre-match meal failed to fire the City side into top gear. In fact this was uninspiring fare from both sides, and despite failing to click at any point in the game the Gloucester side were perhaps unfortunate to lose to an equally lackluster Evesham team.
City could point to many limitations with the squad fully extended by injuries and absences. Andy Hoskins was suspended, while new starlet Luke Prince was sorely missed with a back strain. Steve Jenkins and Neil Griffiths were also both forced to sit out the game, while Chris Burns, Gary Marshall and Lee Smith all played despite knocks. At times we looked like we were struggling for movement, and perhaps the overwhelming evidence of strapping and ralgex helped explain why.

City in fact enjoyed the best of the early exchanges with Tom Webb again showing great touches. Craig Temple struggled manfully up front as a makeshift forward, but despite some bright movement he looked overly worried about the offside flag. That left Lee Smith to lead the line and the youngster did well. The Evesham defence never looked entirely comfortable with him, Smith couldn't get his head over his best opportunity though. Dunton had sent over an inch perfect long pass which Smith blazed at and sent high over the T-End.

In fact Evesham may consider themselves lucky Smith's pace didn't lead to them finding themselves a man down. Tom Webb again chipped the ball over the top and caught the visitors defence totally square. The youngster looked set to nip past the last man when he was clumsily clattered by Richard Clark. The ref gave the free kick but curiously booked the player, despite him being the last man - all be it some distance away from goal. Dunton took the kick with customary power, but the cannon fired harmlessly low into the wall beside the goal.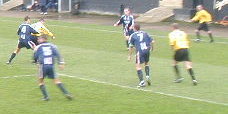 City try to battle down the right
It was not entirely one way traffic though. Marshall looked a shadow of his normal self at left-back, despite a typical moment of fierce commitment which saw him concede a free kick. Evesham swung the ball over and as it was nodded down only a sliding block from Will Steadman stopped Evesham going ahead.

City found themselves level at the break with the high flying visitors having shown little. However perhaps it was all too comfortable and City were again left ruing missed chances when on top. The warning came first when Dunton was on hand to break up an Evesham move when some slack City passing had almost gifted a chance. Evesham then thumped us with two quick blows on 55 and 56 minutes. The otherwise excellent McCluskey and Steadman lost each other briefly as Evesham arrowed in a low cross across the area. Brown nipped in to the gap to meet the ball at close range. The shock was palpable as City had not seemed under threat at all in the first half.
City were then guilty of a little mental immaturity as they were still replaying the previous incident when the next threat came. City had made a mess of the restart and before they knew it the ball was flying past Dunton at right-back. Brown was in possession on the edge of the area when Bennett made an ill-judged decision to charge out of goal, leaving him stranded when Brown knocked it past him for Hodgetts to knock into the empty net.
City had had the stuffing well and truely knocked out of them and struggled to find a spark to mount a recovery. Burns and Marshall were both patently suffering and Mike Cook was making a disappointingly anonymous home debut. City were reduced to a few efforts from distance from Craig Temple, admirable more in their intent than in their closeness to grabbing a goal back. Temple was replaced by Jamie Smith, but for all his much discussed talent he showed little sign of changing the match.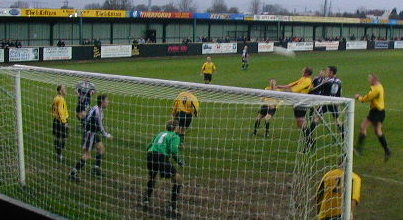 Burns heads clear as City get rid of a rare Evesham corner
City could easily have gone further behind but McCluskey, wearing the captain's armband, managed to track back and get in a challenge with the Evesham player bearing down on Bennett. City can take some crumbs of comfort from the performance of Steadman and Darren McCluskey at the back, but would have been even happier had Wilkinson scored to set up an interesting last few minutes. Lee Smith struggled past two challenges to set up the chance, but Wilko fired wide when he should have done better.
This was a particularly badly timed performance as it somewhat dampened the new spirit of optimism at Meadow Park with the arrival of Colin Gardner as the new chairman. Squinting into the gloom of the not very brightly lit pitch the new supremo must have seen the task ahead laid all too bare in front of him. The players applauded him when they were introduced before today's game, how Gardner must look forward to having some reason to applaud them in the not too distant future. Burns made it clear he was disgruntled with his team's lack of form and he will clearly be breathing more fire into the side in the coming weeks. However it's all too easy to be disheartened. The current squad simply cannot afford to miss the amount of players out, or who should have been out. There isn't a simple answer to that at the moment and we have to grin and bear it for the time being.