This was always going to be an eventful and memorable match, Clevedon not only being one of the favourites for promotion this season but also containing a whole host of former City players. Not least amongst these were fan favourites Wayne Thorne and Karl Bayliss, both still living in the city, plus last season's player-boss Tommy Callinan.
City were rightly apprehensive of a pasting but started with a huge determination that seemed to knock Clevedon straight onto the back foot. Gary Marshall was the very incarnation of that spirit and started in a typically combative manner, knocking Thorne off the ball and beginning a move that saw him almost get on the end of a Hoskins cross to the near post.

City were dominating the early exchanges and Clevedon were finding it difficult to settle, their rhythm as shot to pieces as that of their drummer boy. Although their midfield was fighting they could not live with Jenks and Webb who were both showing some pleasing subtle touches in the midst of the maelstrom. City again almost opened the scoring as a neat triangle of passes resulted in Temple galloping free to send a fizzing shot just over the crossbar.
Clevedon enjoyed a few spells of pressure, but Clevedon's former Tigers pairing of Bayliss and Keeling were finding their teeth blunted by Neil Griffiths and Will Steadman. Keeling did manage to shake free onto a ball from the ever popular Keith 'spiteful' Knight, only to blast his shot high and wide. At the other end of the pitch Marshall was a little hard done by to get booked for an exchange of handbags with Lee Jeffries.
Just as the T-End were beginning to adjust to our side's unexpected domination of the match when we got hit by a sucker punch. Dunton was enjoying himself so much on the right he got caught to far up pitch to cut out an angled ball into Keeling. The forward raced through but only half caught his shot and must have been hugely relieved to see Andy Cook get his angles all wrong in the City goal, letting the tame effort bounce over his arm and into the net. That goal threatened to rock the young Tigers, but Burns was vocal in his encouragement and City soon picked themselves back up with Steadman flattening first Keeling and then Knight. Cook then began to pay back his debt to his team mates by palming a Bayliss effort round the post.
The half-time break should have given Clevedon chance to reorganise, but instead it was City who came out with renewed vigour and all guns blazing. Substitute Lee Smith exposed the Clevedon defence's lack of pace and gave them something else to think about. after several warning shots City finally got the goal their approach play so richly deserved. Smith darted down the right flank and smacked in an early cross deep across the static Clevedon players who were left watching as Steve Jenkins slid in to knock the ball past the keeper.

Having levelled City were now pushing hard for a second and the vistors looked stunned. For fifteen minutes the youngsters played some of the best football seen from a City side for several seasons. Clevedon could simply not keep up as the ball was pinged around in neat little triangles and moved from wing to wing in search of the opening. Where City's remaining weakness lies however is in converting this dominance into goals. Hoskins did again get a spectacular volley on target after Jenkins and Burns had combined to again free Smith to cross from the byline. Burns himself flashed a near post header just wide from the corner.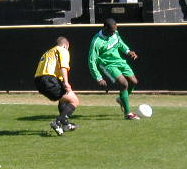 Dunton closes in on
Clevedon's Darren Keeling
City fans then enjoyed both Wayne Thorne and Keith Knight being subbed having lost the midfield battle, although in fairness to Bungle his heart was probably not in the game. The substitutions also brought Tommy Callinan into the fray, and instantly a good football match degenerated into a thinly disguised brawl. Tommy would have got a gentle reception from the City fans who respected his loyalty during difficult times at Meadow Park, but that went out of the window within minutes. Clevedon were defending a corner that was comfortably cleared, but Tommy took the opportunity to stamp on Neil Griffiths as he lay prone at the near post. The attack on a young player he'd until recently managed was so unprovoked it outraged the T-End and insured Callinan's reputation at Gloucester is now tarnished beyond repair. The incident was so far away from the ball that the ref totally missed it, although there was some retribution when Cally was booked for going over the ball in another violent challenge on new boss Chris Burns. That Griff had the maturity to not go seeking his own form of justice is perhaps a good sign of how far City have already come since Callinan's departure.
City were comfortably in control but almost blew it when Griff briefly lost Keeling as a long ball came over from the left. However Keeling had looked out of sorts all match and put his free header wide. His strike partner Baylo also had a quiet game and was well chaperoned throughout by Will Steadman who had one of his best games for a long time. The City defence still needs some improving, but on this showing not as much as was perhaps feared. They even coped with Clevedon failing to return the ball after it had been kicked off for a player to receive treatment, a disappointing bit of gamesmanship in what was almost a family affair.

Gloucester had further opportunities to take all three points as Clevedon lost their shape and became frustrated at their own mistakes. A lobbed pass from Temple sent Hoskins haring through the defence but his touch forced him wide and allowed Jeffries to chase back and clip his heels. The referee decided other players would make it back to cover and allowed the centre-back off with a yellow card, perhaps a little lenient for what was a cynical piece of defending. A further shot from Jenkins went narrowly past the post before substitute Lee Allen created a good chance with a sharp run. Jenks spotted him and sent him through but Allen's touch left him with to much to do and the keeper beat him to the ball.

There was a sense that Clevedon had under estimated City and hopefully other teams will do the same, football kept simple and played to feet is a wonderful thing to watch and difficult to defend against. Playing like this and working that hard the side will get results and give the fans something to take pride in again. The appreciation of the fans was clear as they applauded the side off as if the point had been a title win. It's early days yet but this was a clear demonstration of what Burns' new young cubs can do, now they need to be able to perform like that on a regular basis.