City came into this match high on confidence after three wins and set about dismantling an out-of-sorts Clevedon team that no longer looks to have a promotion challenge in them.

City kept much the same side as that had turned on a good second half performance against Gresley, but brought Gary Marshall back in for Webb to strengthen the defence. It was always going to be an interesting combative clash with many links between the two sides, not least a host of former City players in the Clevedon team including former captain Wayne Thorne. In the City side was Karl Bayliss, making a quick return to the side he walked out on just weeks previously to return to his home club.

The first half was a grim and dour affair with neither side able to put moves together and settling for a midfield battle of attrition. Clevedon seemed disjointed and were worried throughout by the pace of Luke Prince who made the most of his floating role. Early on Prince took the ball up down City's right and ran at the home defence, halted unceremoniously by Thorne who went over the ball to scythe him down. However City wasted the free kick and sent it over the bar.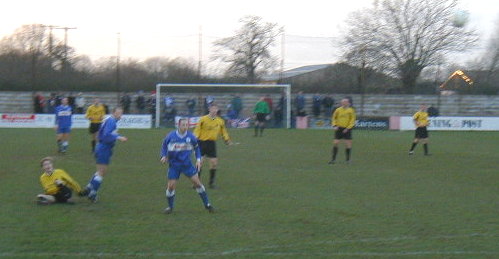 Clevedon watch as City send a speculative shot over the crossbar.
There was little to liven a respectable crowd freezing in the breeze blowing across the ground. However City were slowly exerting some authority over the game with Dave Wilkinson and Steve Jenkins working in tandem in the midfield engine room. Realising that the midfield was not going to be a productive area for them Clevedon effectively by-passed the centre circle with long balls they hoped would be held up by their forwards. City's defence had some scares with Thorne and Clode both going close, but largely City's defence held out well under unfamiliar aerial bombardment.
The second half was a more productive affair for City with Luke Prince now entirely dominating the attack. His sparkling runs were causing Clevedon's rigid defence all sorts of problems and they had real trouble picking him up when he drifted deep to look for the ball. It was from one of these runs that City got a penalty, Prince jinking past two before being upended by Mark Clode for the clearest of penaltys. Karl Bayliss stood up to take it against his former club, and put memories of his Gresley miss behind him by crashing the ball past veteran keeper David Mogg.
With one goal in the bank City settled and were able to use the next twenty minutes or so to really prove themselves the stronger team. Burns was controlling things from the back, barking out orders and stopping the team losing shape as they pushed forward. With Jenkins and Wilky full of running against a tiring and ageing Clevedon midfield duo of Smart and Lester it was easy for Prince to find support when needed. He withstood a few heavy challenges and still got back up to carry the game to the home side. It was his deep looping cross that saw Bayliss plant a firm header goalward only to see it clawed out by Mogg. However the keeper was stranded when he beat out a Hoskins shot only to see Luke Prince loft a brilliant delicate lob over him and into the net from a narrow angle to double City's lead. It was his first goal in City colours, hopefully one of many until the inevitable bigger clubs come calling.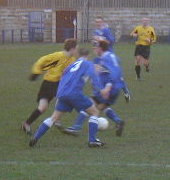 Luke Prince cuts inside the
Clevedon defence.
While Clevedon had not produced much in the way of craft and guile they were still a powerful side and twice threatened to come back into the game. Frustrated by the blocking and marking of Neil Griffiths in particular they were now reduced to shooting from distance. Most were wayward and hurtled out of the ground, but Gary Smart suddenly found his range to smash one against the bar. The rebound fell to Steve Lester and it took a good low stop from Matt Bath to keep his shot out.
With ten minutes remaining Clevedon did pull one back as City failed to deal with another long ball and allowed the Seasiders to get forward in numbers. Eventually a low ball across the six yard box was tucked in at the far post by Allison. However any hopes of a home comeback were quickly dashed as Bayliss added his second with an exquisite finish. Wilkinson won the ball and found Steve Jenkins in space, his ball set Bayliss clear at an angle to the box and Baylo shot low onto the inside of the post with a pinpoint finish onto the only possible part of the goal that would see him score. Five goals in four games since coming back to Meadow Park for the City legend.

Clevedon were disappointingly off form, but even so this was a huge win for a Gloucester side that proved to themselves that far from being relegation candidates they could compete with the top teams in the division. On the day City's midfield looked strong with Wilky and Jenks both impressing, while Luke Prince ran the game and Clevedon found no answer to him. Reasons to be cheerful indeed, and up three places to mid-table respectability. The only question is if we can find the consistency to play like this against teams lower down the table.