This was a long awaited showdown with our Cotswold rivals as City players and fans were keen to avenge an unlucky defeat in the away fixture only five weeks previously. With the two teams vying for promotion spots as well as local pride this was always going to be a hard fought game and for once a much anticipated fixture lived up to the billing as both teams put on a fantastic advert for the game at this level.
With just two points separating the teams before kick-off City had a slight edge having gone four games unbeaten since losing that match 2-1 at Ciren's Corinium Stadium. Ciren have had a slight wobble in their form with two previous defeats and will have been very aware that City had been missing four key players through suspension for that match. Griff, Webb, Mustoe and Hoskins all claimed their starting places for this one. The match opened in predictably tense and nervy fashion with neither team daring to venture too much in attack for fear of leaving themselves vulnerable.
City were the first to threaten the opposition goal and it looked as if Jimmy Cox may have found the net as he latched on to a delicately weighted Howarth punt which had been flicked on by Hosky. Cox shook off Fitch's challenge and his shot beat keeper Paul Thompson only for Davis to scamper back and scrape the ball off the line. Much had been made of youngster Ben Fitch's absence when the teams met in February but the winger failed to impress in this game and he spurned Ciren's best early chance when he ghosted in at the far post only to tamely shoot straight at Matt Bath to give the tigers defence a real let off.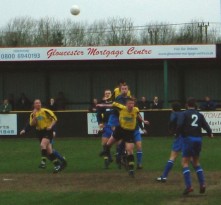 Griff gets crowded out in the box
City were starting to find some real shape in midfield with Mustoe snapping into challenges in typically combative fashion and Tom Webb dashing around with frightening enthusiasm. His harrying won possession and allowed Adie Harris to gallop down the left. having beaten Davis his pull back was left by Hoskins and Chris Thompson shaped to drill in a shot, but his thunderbolt turned out to be a rather sad affair that trickled gently to namesake Paul in the Ciren goal. The same player was a little unlucky to find his way into the book for a sliding challenge that seemed to take the ball, but the ref did well through most of the match and let an entertaining game flow. With City fizzing it seemed as if Cox had again undone the visiting defence as a clever reverse pass by Hoskins sent his strike partner racing in on goal. This time though the keeper was alive to the danger and he raced out to hack the ball out of the ground just ahead of the attacker.
City fans could have been forgiven for thinking it was just a matter of time before they took the lead but Ciren are a good side and have not risen so high up the table by accident. Having been given a bit of a scare by Gloucester's pacey attack they managed to steady themselves and much of the remainder of the first half saw our new found defensive solidity tested to the full. The visitors struggled to create that many clear chances thanks to the hard work of the City defenders, but the pressure was unrelenting and a few narrow crapes were inevitable. Burns used every moment of his considerable experience as he saw Hopkins placed unmarked as the cross came in from the right. By the time the dangerous striker shot past Bath he found Burns in place to clear off the line.
There were then a few minutes where City fans were reminded what an important role Matt Bath still plays in this side as those on the T-End behind the City goal had a great view of a string of show stopping saves to thwart the Ciren attack. Ciren picked up a free kick for a Howarth foul on the edge of the box and it was only blocked leaving Jackson to fire in an excellent swerving drive that looked destined for the top corner until Bath leapt upwards to palm it away. Minutes later Bath was again showing his reflexes as he made a point blank save from a Gary Wotton header as the Tigers struggled to defend a barrage of corners.
It was far from one way traffic as City managed to go close themselves. Chris Thompson and the City fans thought they had taken the lead as Burns connected to a vicious inswinging Mustoe corner that was knocked goalward by Thompson. The players leapt up but the keeper had just managed to grasp the ball as it squirmed past him towards the goal line. Another corner led to another narrow miss as the clearance fell to Adam Howarth on the edge of the box and his curling effort swept just past the post. At the City end we had cause to again be grateful to Bath as Howarth stumbled in the box, allowing a Griffin cross to find Hopkins with time and space. His low shot seemed good enough for a narrow half-time lead but somehow the Gloucester keeper got across and at full length pushed the ball round the post.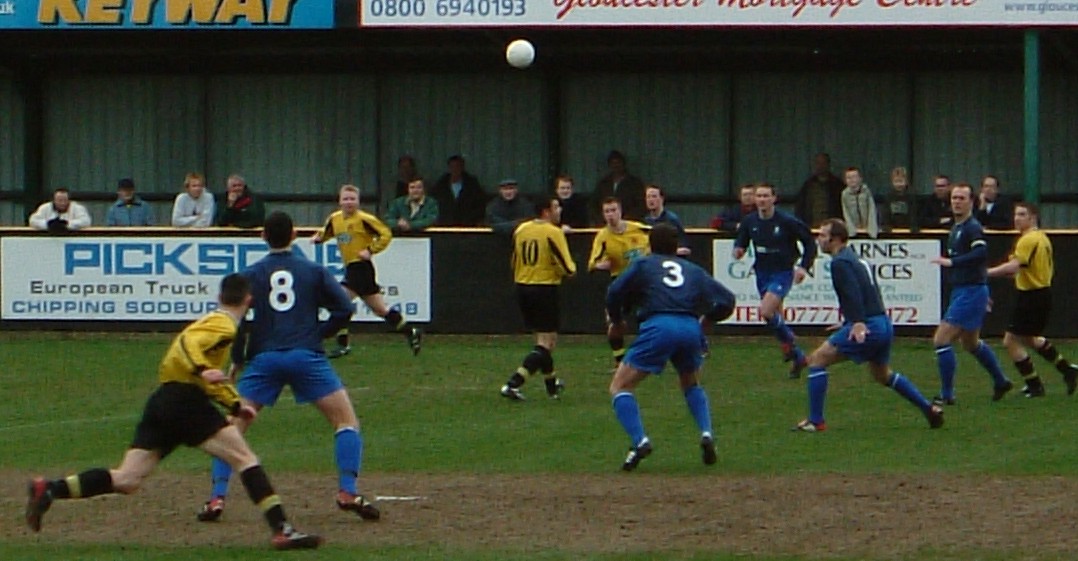 Mustoe sends a cross field ball over for Lee Smith to chase
Redditch were a strong side and did well to marshal Hoskins, crowding the City striker with at least two
The second half would need to do much to live up to the pace and excitement of the first half and City fans knew our side needed to find another level to take the points. Ciren may have slightly edged the first half but it was in the opening moments of the second that they had their best opportunity to grab the lead. With most of the City support still filing out of the bar to take their places on the T-End the impressive Hopkins managed to find a way past Griff and Burns before sending in a low cross that found Fitch at the far post. With the goal at his mercy the youngster yet again spurned the chance and rather lamely dragged his shot wide.
That seemed to serve as the final reminder that the City boys needed that they were in a real contest. The extra zip in our play suddenly returned and Webb and Smith were creating those wonderful moving triangles that seem to hypnotise defences. Mustoe's raking passes were finding both wings with aplomb and Adie Harris was beginning to create a furrow down the left wing as he effortlessly found his way round the defence. For all the exciting play we were struggling to find any gaps in the Ciren penalty box and every cross, high or low, seemed to be met by the ageless Gary Wotton. However the momentum was now with City and on 61 minutes the vital breakthrough came. The ball was being moved about with ease by Mustoe and Webb and when it found its way to Hoskins his pass inside suddenly sent Jimmy Cox racing clear and into space. Cox has not been as confident in front of goal this season and with an age to close in on the keeper many in the suddenly silent T-End had their hearts in their mouths. But quality produces when it matters most and Coxy slid the ball below the keeper and watched it gently roll into the net for his first goal at Meadow Park since early January. Cue delirium from the City fans and an agitated inquest amongst the Ciren players.
City were now rampant and the ever willing Lee Smith was almost able to cause havoc at will with Fitch looking even more hapless in defence than he had with his woeful finishing. Hosky again played Smith down the wing and having surged in between two blue shirts found himself closing in on the Ciren area. He selflessly pushed the ball in field towards Cox who was presented with an easier chance that he'd scored minutes earlier. This time though the keeper rushed out and Cox's forced shot was half saved allowing Ciren to chase back and clear the danger. However with City desperate for the killer blow the visitors were struggling to get any sort of possession. Smith was once again the threat and he was pulled down by a clumsy challenge on the right. Mustoe stepped up to take the free kick and his perfect delivery found Chris Thompson's late run and he headed home for his first of the season.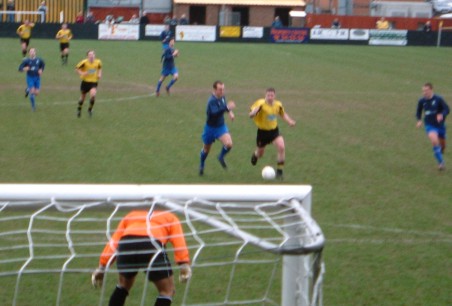 A familiar sight for City fans as Cox escapes from another
defence and prepares to put City ahead
City still looked the most likely to score but with a two goal advantage Burns' decided to opt for Knight's experience and composure to tighten things up in the closing section of the match. however Smith's departure robbed us of one of our main attacking threats and helped Ciren come back into a game that had looked likely to overwhelm them. With City now content to play the game out the visitors were able to get close to goal again and Matt Bath was called upon once more. This time when Fitch got on the end of a long low cross he kept his head down and got his effort on target, only to be thwarted by Bath who flung himself low by the post to scrape the shot away.
From that point on Ciren tried to throw everything at the City defence but were finding it more difficult to get past the massed ranks of yellow shirts determined to defend the precious win. The Ciren team was reduced to tame long distance efforts that failed to trouble the impressive Matt Bath. It looked increasingly desperate for the visitors and their manager Brian Hughes was good to wave at the T-End who still remember his time at Meadow Park with affection. He cannot have been amused by the sight of Adam Hemming coming on to replace the shattered Jimmy Cox, the youngster's pace led his tired defenders a sorry dance in the last few minutes as he chased down every long clearance into the corner.
This win, a third consecutive victory, really cements City's presence in the top seven and is just the lift needed for a tricky away game at Team Bath next week. More than that this was a professional impressive victory over a strong team that will surely have even the most skeptical stay away City fan realise this is a set of players who are putting the pride back into the yellow and black shirt after a few difficult years. Tell it on the streets - we really are roaring back.
* The win sees City leapfrog Cirencester and go into fourth spot, a point ahead of our local rivals. Redditch and Halesowen both dropped points as they fought out a goalless draw and City's next opponents Team Bath fell to a shock 1-0 defeat at Swindon Supermarine under new manager Mark Collier. At the bottom Cinderford showed signs of life with two Richard Kear goals grabbing a rare win at Gresley's Moat Ground.