Refs are always an easy target for the disgruntled football fan, but that doesn't always mean they're the wrong target. A mixture of one-eyed refereeing, slack marking from free kicks and some wayward finishing left City without even a point from a game that saw them comfortably match local promotion rivals Cirencester.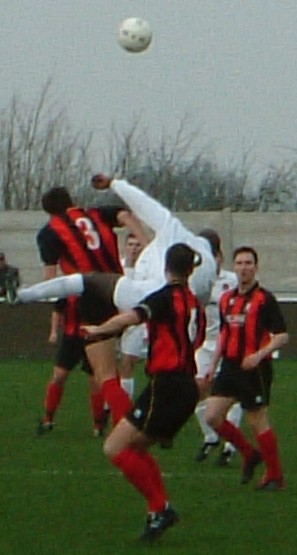 Mingsy gets an early tumble
- free kick referee !
Ciren's long run of form had not seen them lose a home league game since the first week of September but they got an early shock in this game. City boss Chris Burns had lost four key players through suspension and those who had been able to take to the pitch seemed intent on showing they were not going to be a push over. City won an early corner and the dangerous cross from Keith Knight caught defence and keeper looking at each other. The ball dropped in the six yard box and Wilko came close to scuffing the ball over the line before Adie Mings got the vital touch to give us a first minute lead.
City's defence had plenty to worry them with Ciren's forward line having been in red hot form recently and the absence of skipper Neil Griffiths keenly felt at the back. However City had a clean sheet from their trip to Halesowen to bolster their confidence and new signing Adam Howarth again impressed. Having successfully snuffed out Yeltz's Jason Ashby last week he got up close and personal with Scott Griffin this time, the striker getting an early taste of what he would have to deal with as he found himself patiently shepherded out of the penalty area by Howarth. A few minutes later City had reason to be thankful for Jeffries as he beat Hopkins in the air. The early goal had rattled the home team but despite creating a couple of chances they could not get back on level terms. Hopkins went closest with a far post header, but when that was blocked the loose ball fell to Ciren but the follow up shot went blazing over the bar.
City had to withstand a 20 minute spell of concerted pressure from the home team before they could come back at the Centurions, but the early goal and some strong defending visibly increased the belief of the Tigers. The strong north wind froze the watching fans but also made it difficult for either side to play much passing football, City's players seeming to use the breeze better - one Knight pass cleverly using the wind to drop behind the defence for Smith to chase onto.
The match was not full of great football but City were looking the better side by the end of the first half. Chris Thompson was restored to midfield and enjoyed a good first half, at the heart of a great move with Harris and Knight that saw him almost carve a good opening. Cox was also lively with a couple of sharp turns that could have led to more goals, one quick twist throwing Mayo and leading to a low cross that almost found Adie Harris at the far post. Mings was energised, perhaps by his goal or perhaps by the impending conclusion of his current loan deal with the club. He competed for many of the string of high swirling clearances, but was frequently penalised by the referee, often in highly dubious circumstances. He did get close from one long clearance, winning a header that sped off the hard pitch and seemed to catch Ciren's keeper unawares as it crashed back off the post. Thompson scrambled to the rebound, his weighty bulk wrapped in a fetching orange fluorescent shirt making him look like an oddly mis-shapen weather blimp as the cutting wind flapped past him.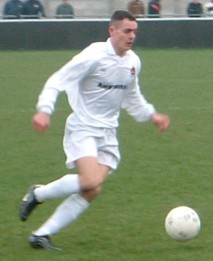 Lee Smith escapes down the right
Ciren didn't look like the side we expected to see and struggled to put their game together, resorting to the hopeful long ball in a way you wouldn't expect from a Brain Hughes coached side. Jeffries and Burns were meeting most of the high balls and even when Richards did well to slip past Smith he found his way swiftly blocked by Burns. Wilkinson's work in midfield was stopping the home team setting any pattern to the game and Howarth studiously watched Griffin. As the diminutive former Cinderford forward saw the ball taken from off his toe yet again he seemed to raise his hands to Howarth, an incident the ref chose to deal with without a yellow or red card. Ciren were being limited to the odd rare chance and things were going considerably better than expected.
As the first half came to an end City played some of their best football, dominating the game and creating several good chances that could have seen us extend our lead. The best chance fell to Jimmy Cox who ran on to another slide rule pass by Knight after good midfield work by Thompson. He out paced one defender and let fly with a firm shot that looked destined for the net until the orange barrage balloon cut loose of his moorings and managed to push the ball wide. Coxy is not getting much luck this season, but in a strange way his overall game has actually improved and his work rate and awareness of his team mate's positions has improved no end. When the goals start flowing again he will be an even more dangerous forward than he was when so prolific last season.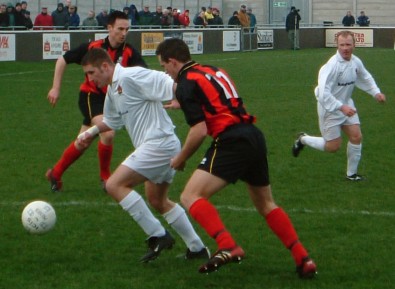 Cox was too much for the Ciren defence
The half-time break was an unwelcome interruption for the City side who were in full flow. Unsurprisingly the second half saw a more focused Ciren effort and the match became more even. The midfield battle was fierce and Ciren made an effort to leave less space for Thompson and Knight to work in. Neither side really created much as they fought for possession. Thompson's period at the back seems to have improved his timing and he made a few excellent tackles to break up attacks. Adie Mings and Jimmy Cox were still making selfless runs and Mings was continuing to be penalised for challenges when defenders were jumping all over him.
The match seemed to be progressing well and despite the improved Ciren performance City could have extended their lead. Smith scampered down the right and broke free of the full back to send in a low shot that flashed across goal and just wide of the post. Cox showed great poise to chase the ball into the channel and having picked it up near the by-line waited for others to join the attack, his chipped cross almost finding Wilkinson in the goalmouth. However the warning signs were there at the back and Matt Bath was having to deal with more of the high balls as the defence were finding themselves outnumbered against Ciren attackers.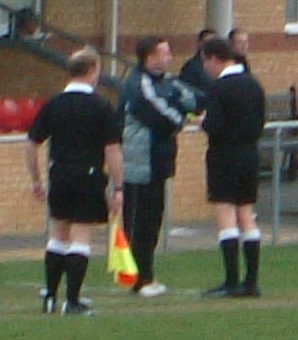 Cookie gets a lecture
The game changed with one mistake. Howarth had again followed play but having won the ball he was penalised by the linesman who gave a dubious free kick. The high cross came towards the far post but City were guilty of not picking up all their men and left Gareth Hopkins unchallenged as he leapt to put his header into the net to level the scores after 63 minutes. City were shell shocked as Ciren had not really looked all that dangerous, but we were heavily punished for a momentary lapse. The shrill celebrations of the Ciren fans were in stark contrast to the stoney silence from most of the crowd, tending to suggest that the majority of their season's best attendance were unhappy City fans.
The goal did change the City approach and what had been becoming a rather defensive display protecting our lead saw us mount a more sustained effort to get forward ourselves. Sub Adam Hemming had an early chance to show his speed but the ball got caught up under his feet and went begging. We had more luck down the right where Smith again did well to beat his man but sent an effort wide when better placed options were available to him in the area. City were starting to get more frustrated with what seemed like an increasingly systematic refereeing approach that saw every physical challenge by Mings penalised. Matters seemed proven beyond doubt when the ref gave a free kick for a foul on the keeper at a City corner, even though no City players was within ten feet of him when Thompson leapt for the ball.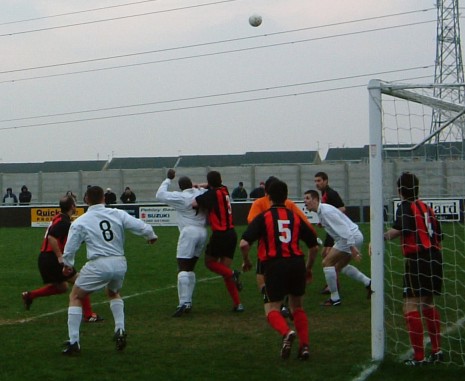 McEnteggert climbs all over Mings - guess who gets
the free kick..?
The ref then gave another free kick for a clumsy challenge and City showed they had not learnt the earlier lessons. The cross was again not dealt with and found its way to Marc Richards who nodded into the net past the stranded Matt Bath to put the home side ahead after 70 minutes. City tried to respond, the tiring Knight replaced in midfield by Marvin Thompson. however City again fell into the familiar trap of allowing themselves to try and battle both the ref and the opposition. The ref did have a poor game though, he missed a further confrontation between Griffin and Howarth where Griffin slapped the centre back. Having missed that the ref eventually booked Griffin a few minutes later when he childishly kicked out at the defender having lost out to him in the challenge yet again. A clattering challenge on Wilkinson led to Mike Cook being talked to by the ref, Cook having pointed out that the ref was not enjoying the best of matches and the linesman having snitched. Frustrations were further added to when Wilko was himself booked for a bad tackle, but not one any worse than that on himself that had gone unpunished.
City tried to get some forward movement going again, but were struggling to find a way through some determined defending. Wilkinson earned a free kick as he finally crumpled with two players hanging off his back and another hacking at his ankles. Ironic cheers met a free kick given against Wotton as he climbed all over Mingsie - what made that different from all the other similar incidents that had been given the other way was far from clear. City added pressure but struggled for the definitive opening, Mings came very close to meeting a low Cox cross but is just eluded him. A corner saw Adam Howarth ghost into the six yard box but he got underneath the ball and should have done better with a free header that close to goal. Real controversy came five minutes from the end as a half cleared Smith cross saw Cox and Mings close in on the loose ball near the penalty spot. As Mings took a touch he was felled by one tackle, and then Cox was smothered by a clumsy challenge as the players fell in a heap. Mings was then prevented from getting up, and to cap it all off a Ciren arm scooped the ball towards the keeper. You could choose what to give a penalty for, unless you were the referee who waved them all away. Perhaps we should have been grateful that Mingsie wasn't booked as doubtless the ref thought he'd thrown himself on the defender despite being in with a decent chance of leveling the scores from ten yards out.
As it was the game ended amidst bad feeling and with City feeling hard done by not to get anything from a match where we deserved at least a share of the spoils. There is much to be taken from the match where every player had worked hard and could not be faulted for their effort. Howarth seems to be settling in well and given his form the return of Griffiths could well see Chris Thompson restored to midfield where he looked comfortable this afternoon. If Ciren are one of the best sides in the division it bodes well that we were unlucky not to get something from them away from home without four key players.
* City are left clinging on to the last of the seven promotion places after the defeat, with it looking increasingly that nine clubs will be scrapping for the seven spots in the new DML Premier. Ciren leap to a well placed third while Halesowen and Team Bath also overtook us, a lone Hollis strike for the Yeltz edged out Bedworth while Luke Prince scored one of Team Bath's goals in an impressive 2-0 win over Sutton Coldfield. Redditch took a firmer grasp on the title by coming back from 2-0 down against second placed Rugby to win 3-2, the winner from Matt Hall coming in the last minute. Bromsgrove and Solihull also closed the gap on us with wins over the bottom two, beating Cinderford and Shepshed respectively.