City turned in another disappointing Jekyll & Hyde display to chuck away a strong half-time position in the derby match against bottom placed Cinderford. The Foresters had been through a world of changes since the encounter last month at The Causeway, with their new manager bringing in several new loan signings that had visibly strengthened their side. City meanwhile reshuffled too, with Parnell passing a fitness test and Jenkins winning a spot in midfield.
Jenks repaid Callinan almost immediately. Dicks worked the ball down the left towards Cox who sped to the by-line before crossing behind Baylo but leaving Jenkins to smack the ball in from six yards. It was his first for City's senior side, and the second minute goal settled our team and left the Cinderford plans in pieces.
Although Cinderford tried their luck with a free kick it was City who were playing all the football. For once we seemed able to keep the ball and were putting passes together well. Jenks and Chennas were bossing the midfield and Dicks had plenty of room to push forward down the left. City won a free kick after Chennas was tripped, and caught Cinderford flat by pushing in Dicks down the left. His near post cross was dangerous but the keeper just reached it before Marshall.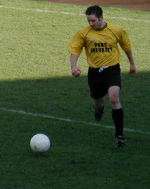 Baylo was guilty of misfiring on a couple of occasions as City seemed able to create chances at will. First Chennas chipped in a cross for Baylo to blaze a volley high over the bar from the edge of the area. Minutes after Cox and Chennas broke through and again Chennas slid in a weighted pass only for Bayliss to hit a rather lame shot straight at the keeper. He made full amends on 28 minutes when a Chenoweth run broke down. The ball went wide on the right to Jenks who hit a first time cross straight into the run of Bayliss who crashed his header past a stranded goalkeeper.
City carried on to create more chances although the speedy on-loan Frankie Bennett was having to be watchfully marked by Parnell. Cox saw one good run come to a crunching end, before another run forced a couple of corners. From one Chennas cross Baylo almost added a third but his header clipped the post.

However the second half started badly for City and went downhill as cruise control quickly became panic stations. City survived a couple of early scares as a header crashed down off our bar and Hines needed his defenders to help him scramble away a free kick. However on 52 minutes City committed the cardinal sin of not playing to the whistle. As they stopped for a possible Addis handball the game carried on and seconds later an unmarked Donnelly had headed one back.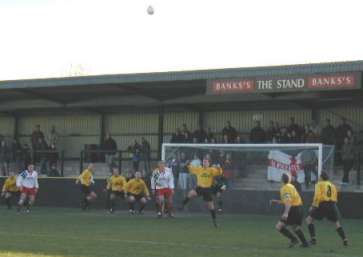 As so often this season City's confidence immediately collapsed and every Cinderford clearance left us looking vulnerable. Some of the last ditch defending was fabulous, but unfortunately we lacked the cohesion to ever look in control of the situation. The runs of Adie Harris, Campbell and in particular Bennett were leaving us looking decidedly stretched. Hines was again impressive after his extended workout at Bilston, saving at the feet of Addis before the forward had time to dig out his shot.

Although Cinderford were posing a serious threat City did have further chances, with Cox in particular unlucky after a good interchange with Bayliss saw him scuff his shot harmlessly into the keeper. With City struggling to regain the tiller Cally put himself on, but sadly he wasn't able to stamp any authority on a game which was now all flowing one way. Callinan did have a rare glimpse of goal later in the game, but his header went high and wide.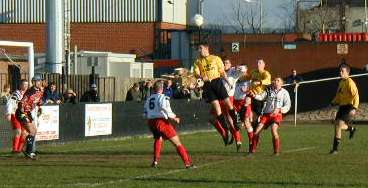 City's defence was exemplified by an excellent saving tackle by Abbo on the diminutive Adie Harris. The desperate lunge was immaculate, taking the ball and robbing Harris from a clear shot at the last possible moment. However good the challenge, and similar others during the game, a well rehearsed defence would not be so exposed by simple balls over the top.

The ball kept coming back at City, but as time ticked on there was always the outside hope Cinderford wouldn't manage to grab the equaliser. On 82 minutes Cinderford swapped passes on the right and then worked it to Campbell who from just outside the corner of the box rifled his shot past the fully outstretched Ally Hines.
City finally seemed to realise they were in trouble and Cox and Bayliss both had chances as we piled some pressure on. However the best opportunity came at the other end as Cinderford sub Scott Medcroft was unlucky to see an opportunity to seal it flash past him.

It was a disappointing result for City who will be hoping they find form soon to start climbing back up the table. Cinderford though will surely avoid the drop on this form, while City's most pressing problems continue to lie away from the pitch.