With promotion already confirmed the unspoken fear was that City would take their foot from the pedal in this local derby encounter with relegation threatened Cinderford. Instead, Burns' team undid the hard working opposition in five devastating second half minutes and in doing so kept up the pressure on top side Redditch who are showing every sign of wilting in the final straight of the championship race.
Cinderford had helped City no end with their shock 2-0 win over Redditch on Saturday, but found their team depleted further with loan players recalled and another suffering with a virus. With two games in three days and promotion in the bag Burns also made some changes, not least deciding to give his own aging legs a little relief. The 40 years young Adie Harris was also given a breather with Adam Hemming taking up his place on the left. Returning club captain Neil Griffiths only made the bench as Burns made a point after he'd missed the trip to Supermarine due to a family emergency. This left Chris Thompson to drop back into defence and Keith Knight to start in midfield with Tom Webb.
Cinderford had clearly gained confidence from their incredible Saturday result and set out to attempt to frustrate City from the first minute. Some strong defending from the Foresters made it clear to Hosky and Cox that they would not get much time to settle on the ball. City did begin to suggest a way through, but when the ball squirmed through to Lee Smith he had to stretch and blazed over the bar. Cinderford were pressing hard but for all their massed closely packed defence Cox managed to spin away and pulled the ball back to Hosky but his shot was wild and ended up in the car park.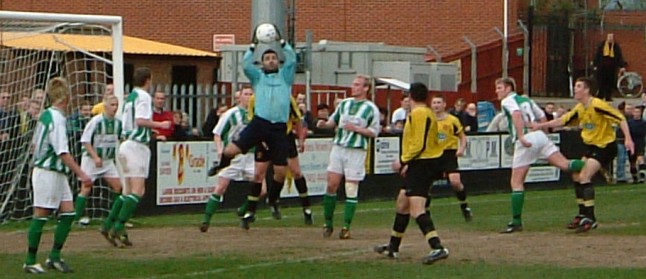 Cinderford's Andy Fisher claims an early City corner
Cinderford did not look like relegation fodder as there players snapped into challenges and their physical presence was making it hard for players like Webb and Hemming to get into the game. Mustoe's passing was often wayward but even when he misfires he never stops making himself available and chases the ball all over the pitch. It was one of his better touches that should have led to the opening goal, he slipped Cox free down the left where he skinned one defender before pushing the ball back to Hemming. The youngster's cross was excellent and evaded all the defenders before finding Lee Smith again at the far post. He kept his shot down this time put the drilled strike was well stopped by Andy Fisher in the opposition goal, with Smith putting the rebound over the bar.
While City were the stronger side Cinderford's good start was giving them confidence and the Tigers defence was forced to do some hard work of their own. Adam Howarth looked beaten but he recovered well to stretch out a leg and rob Jamie Hart as he entered the penalty area. The warning signs were there and a few minutes later some confusion in the Tigers area allowed Julian Addis room to fire in a shot from distance that whistled uncomfortably close to Matt Bath's post.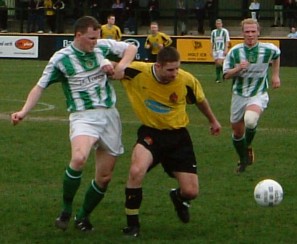 Cox enjoys the attentions of David Cairns
City may have been misfiring slightly but when our players found room there was a clear extra touch of class about our play. another move down the left proved the point and led to the vital breakthrough. Cox and Mustoe were again able to work some room to send Adam Hemming down the left wing where his pace took him clear of a defender and able to whip in another dangerous cross. This time Hoskins had escaped his marker and found himself alone to emphatically head past a stranded keeper. Incredibly that marked the strikers 35th goal of the season, meaning he's now scored as many in this campaign as in all of his previous three at Meadow Park put together.
If City thought that the Cinderford side would now crumble without further resistance they clearly had other ideas. Instead their manager screamed from the touchline and his players responded by giving City a tricky five minutes. Matt Bath was forced to make an excellent reaction save from close range as Daryl Addis span on a free kick in the six yard box. A few minutes later we were again a little fortunate to preserve our goal intact as Steve Lutz leapt highest to meet a cross and with Bath beaten Mustoe was on hand to clear off the line. The match was in danger of descending into a midfield war of attrition and the desperation to get back on the attack was too much for Smith who went into the book for leaping into a challenge as he tried to clear our lines. Webb also got into the wars after a difficult first half, bleeding from the mouth after a wayward Cinderford arm caught him as he leapt for yet another high ball in the crowded centre circle.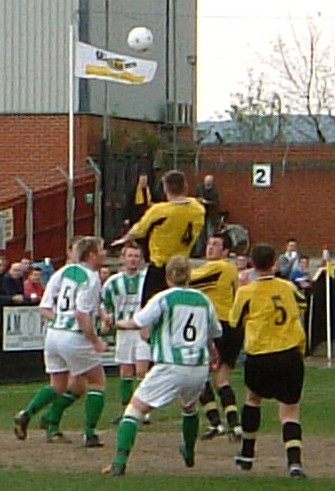 Howarth jumps highest in the
Foresters box
The second half saw Neil Griffiths restored to the side as Webb's injury forced Burns to reshuffle his pack. Griff's arrival restored Chris Thompson to midfield and the City side suddenly looked more assured at the back and to have more forward invention. City launched several promising attacks but the match turned on one long ball. With most of the players still compressed into a narrow strip around the half way line the hard working Hoskins managed to muscle his way onto the ball and instantly sent Cox chasing into the Cinderford half. The City forward barged his way beyond Cairns and as he set himself to race into the penalty area the Cinderford defender despairingly grabbed at him and hauled him to the floor. Despite all the predictable antics of the Cinderford side the ref had no option but to wave a red card for a professional foul and having consulted with his linesman give a free kick just outside the box. Hoskins tried to blast the ball through the wall, but it stood firm as Knight tried a second effort. However, the loss of a key defender gave an already stretched Cinderford defence one final problem too many.
The Tigers side was now really beginning to show its teeth and there were a few flashes of what was coming as only a firm challenge by Will Steadman prevented Hemming slipping past a second defender and breaking through. Cox was champing at the bit and almost slipped the defence but the ball was just a bit too long for him and the keeper was able to gather it up before he reached it. The Cinderford keeper was struggling with a rib injury and had not been taking his own goal kicks so Hosky was perfectly within his rights to chase him as he took the kick. In the good old days of football when anything short of using a bladed weapon was all part of the rough and tumble of the game you were still allowed to challenge the keeper. In these rarified days you cannot touch the keeper but Hoskins was very hard done by to be booked for obstruction when it seemed a legitimate attempt to win a ball no longer in the keeper's control. At least he's learnt to keep his mouth shut, a year ago such an injustice would have led to a red card.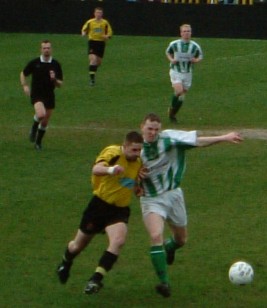 Cairns loses out to Cox and
brings him down
It was not long before City had made sure of the game with a fitting goal for Neil Griffiths, marking his 200th appearance in City colours. It was not a classic goal but that hardly mattered. Knight had been tripped on the edge of the box and he then tried to curl the ball around the Cinderford wall. The shot was blocked but not cleared and it fell to Griff six yards out. his first attempt was blocked by Fisher but it fell again to the now grounded Griffiths who hooked it back towards goal where Fisher flapped like a landed fish. His efforts only succeeded in carrying the ball over the line.
Cinderford tried to respond and former City favourite Will Steadman came close to cutting the lead as he got on the end of a deep free kick but his header sailed over the cross bar. The Foresters' defence was not the most solid we've seen and a minute later it was sliced clean open. Thompson carried the ball from the back and slid in Adam Hemming down the left. With the wide open spaces of Meadow Park in front of him Hemming played in Cox who knocked the ball beyond Steadman and hurdled his desperate challenge to leave him clean through on goal. Cox has been criticised this season for lacking a sure touch in front of goal but this was a classic finish with the dropped shoulder opening up the keeper and the ball knocked confidently into the net.
Cinderford looked anxious at how easily they had been carved open and within a minute they were even further behind. City poured forward sensing blood and Hemmings' cross was met by Hoskins whose shot was well saved this time by Fisher. However he could only palm the ball onto the post and it rebounded straight back into the penalty area. A desperate lunge blocked Hoskins' sight of goal but he had the presence of mind to square the ball and leave Cox to knock in his second within as many minutes and his 23rd of the season. Cinderford's assistant was so angry he smashed a seat in the away dugout. with our financial circumstances far from secure that's a bill that will be heading to The Causeway.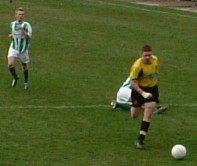 Cox evades Steadman and heads
for goal
With the match won City began to make some substitutions with veteran striking legend Karl Bayliss coming off the bench to replace Hosky. The arrival of Bayliss did little to stem the flow of yellow shirts towards the Cinderford box but did seem to effect the rest of the City players in front of goal. We suffered slightly from the playground sentiment of trying to set up someone to score rather than taking our chances. Strangely the worst culprit was Cox, himself on a hatrick. At tone point a great one-two with Adie Harris put him through on goal but with a shooting chance he tried to square the ball to Baylo who actually had a more difficult job than he did. The lead could have been further extended when Howarth almost got a header on target but he'd had to reach behind him.
Cinderford were now well beaten but they never stopped trying to play football and the handful of Shepshed fans who travelled down to see their relegation rivals beaten will not be too comforted on their journey home as, result aside, Cinderford performed well. They could have grabbed a late consolation as a good passing move ended with Lutz shooting at Matt Bath but even from close range the City keeper's reactions were equal to the challenge. City could have put further gloss on the score line in the last minute as Adie Harris slid the ball through for Baylo to latch on to as quickly as his aching knees would allow. He did well to reach the ball but with the keeper approaching he lifted his shot well into the T-End.
* The final whistle sealed another impressive three points and a seventh consecutive victory for City, but the dramatic news from the Valley Stadium really kept City's season alive. League leaders Redditch had been held at home by lowly Stourport Swifts with the Easter weekend seeing their lead over us cut from ten points to just five. With a game in hand and a visit to Redditch still awaiting City know that, incredibly, their title hopes are in their own hands and should they win their final four matches the championship would be ours.

City have also now opened u pa three point gap over third place Cirencester who were held to a goalless draw by Clevedon. Rugby United and Halesowen were both also held to 0-0 draws against Bedworth and Bromsgrove respectively in a day of few goals in the DML Western division. City's next opponents Sutton Coldfield went along way to getting a DML Premier place with an important 1-0 win over fellow hopefuls Solihull Borough thanks to a second half Dean Perrow strike.