City had to battle in a keenly contested local derby on a very heavy pitch but were simply too strong for a weak Cinderford side.

This fixture last season saw the Tigers comprehensively crushed 4-0 but that seemed a very long time ago as many of the same players comprehensively out classed the Foresters. City reshuffled the side with some of the older legs excused from the muddy conditions, both Knight and Burns dropping to the bench to make way for Adam Hemming and Chris Thompson. Cinderford gambled on the fitness of veteran forward Leroy May and gave a debut to Wes Joyce as his strike partner.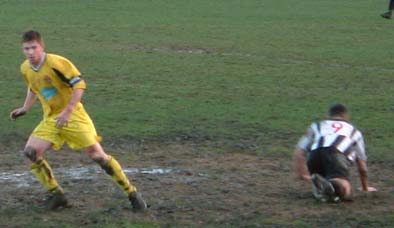 Griffiths gets the best of Darryl Addis
The early exchanges were well contested, but the teams were getting to grips with the conditions as much as each other. The pitch was flat, but boggy patches meant even the heaviest of passes were held up in the soup. An early high ball from Mustoe saw Steadman seem to grapple Smith as the pair fell to the ground, but Super Will escaped. After ten minutes most of the players were covered in a fetching brown mud paste. It seemed as if this might help Cinderford cope with the quicker and slicker City side as the home team threatened more in the early minutes. City's defence were sliding around with Jeffries and Thompson both needing to be rescued by some smart covering play by Neil Griffiths. However some strong running by debutant Wes Joyce was almost entirely unsupported by the labouring May left in his wake. May did have a good chance early on when Matt Bath struggled to clear the ball from the mud and his clearance fell to the former Halesowen striker. He too struggled with the cloying mud and his effort was poor. Lee Jeffries picked up an early booking for a needless trip on Addis in midfield, but apart from that the ref did well to let the match flow and to allow for some wayward sliding challenges from both teams.
City conceded a couple of quick corners but Cinderford were no match for Griff and Jeffries in the air. One of the corners saw Griff send Cox clear down the right and his pace took him to the ball first each time he pushed it further through the mud. His eventual cross whipped across the open face of the goal and Mustoe, who had done well to reach the ball, put his diving header well wide. That seemed to lift the visiting team who stabalised things and were grateful to Tom Webb's energy as he popped up all over the pitch, harrying and sliding all over the pitch. City were finding it difficult to make chances, but were now dominating the game.
On 35 minutes City got the break through they needed just as it was starting to feel as if all the pressure may come to nothing. A corner appeared to have been cleared but as Smith picked up the loose ball and looked to push a little wider to find space he was hacked down by a clumsy challenge from their right back. Hoskins showed courage and self-belief by stepping up to take the penalty having made a right hash of his last one against Mangotsfield on Boxing Day. With City boss Chris Burns joining most of the City fans in covering his eyes Andy Hoskins belted the ball into the net.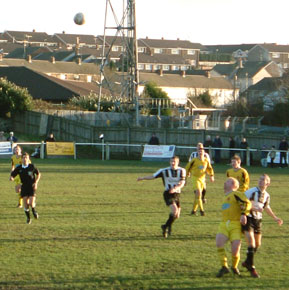 Mustoe scraps for possession
The second half was no less frenetic but while Cinderford never gave up they never managed to threaten City's control of the game. City threatened down both flanks in the early minutes after the break. Hemming had another strong run, beating one man with sheer pace and then turning sharply in the mud to cut past another defender only to see his cross poked away as it veered towards the near post. Soon after Smith had a strong run only to be crowded out down the touchline. However on 50 minutes it was Smith's trickery that opened up the Forester's defence. He jinked his way past three defenders as he broke into the area and was desperately unlucky to see his shot crash back off the post. The rebound flew out and then stuck in the mud for Cox to crash into the net from close range.
That seemed to finish any remaining Cinderford resistance and from then on the home team did well to keep the score from rocketing upwards. City were by and large content to keep the ball in the middle of the park, but playing passing football in these conditions was at times treacherous and it was great credit to Burns' side that they did so well. Hemming had the beating of the poor Cinderford right-back who looked totally fed up with life as the youngster continually pushed the ball past him and then raced past him to collect it. Hemming did well, varying his crosses and once straightening to shoot into the side netting. City were causing all sorts of problems and Cox was working hard to make clever runs, but Cinderford defended with spirit and always managed to get a last ditch leg or head in the right place.
Although Cinderford looked well beaten they did force Matt Bath into one fantastic stop when a high cross was met by a thumping header that looked destined for the top corner of the Gloucester goal. The agile Bath had done well not to doze off with so much of the action at the other end, but he was alert enough to tip the ball over the bar with little time to react. From the resulting corner Lee Jeffries took a nasty bang to the head and was immediately replaced by Cheltenham youngster Marvin Thompson, and it was to his great credit that the departure of City's towering centre back was barely noticed. Thompson seemed to have the happy knack of being in the right place at the right time, on several occasions showing a good touch to bring the ball out from the back and use it wisely.

Griffiths clears from a short corner
City could easily have added to the score when Hoskins saw a low snap shot drilled just wide. The much put upon Cinderford full back must have been delighted to see Hemming go off, but his last ten minutes hardly improved as Adie Harris got a chance to continue his recovery from a groin strain and he quickly showed what City have missed in recent weeks. The speedy winger quickly nut-megged his way past one man and skipped past another before seeing his cross headed clear. Wilkinson then forced a good block as he tried a drive from the edge of the box. The resulting corner was half cleared but then saw a desperate melee inside the Foresters' six yard box as Cox inadvertently blocked a Hoskins drive and then saw his own effort hacked clear by Steadman. A further late chance saw sub Lee Davis work his way across the box before finding Adie Harris who waited for Mustoe to make distance from midfield before giving him an opportunity to let fly from distance.
City could not add to the score but this was a far more comprehensive win than 2-0 may suggest, although it did give the Gloucester side a very welcome clean sheet, our first for four matches. We will play many more accomplished sides than Cinderford this season but it is often these fixtures against less able opponents on difficult pitches that have seen us throw away points in the past. To win this local derby in such fashion will be a welcome boost to the squad who now have less than 48 hours to recover before facing Supermarine at Meadow Park.

* Several other results in the DML Western fell City's way today and enabled us to rise three places to 5th spot, one of four teams on 34 points. Halesowen shared six goals with Bromsgrove while Solihull and Sutton Coldfield also drew to help City's cause. However Redditch marched on with a crushing four goal win at Stourport while second placed Rugby smashed Bedworth 4-1 to maintain their momentum. Cirencester made it 12 without defeat by beating Clevedon 3-2 and Team Bath thumped four past Taunton without reply to continue the Somerset side's misery.